EMT Packet
---
Welcome to the Emergency Medical Technician Program at College of the Canyons.
6-23-2020 - NOTE: DUE TO COVID-19 WE ARE REVAMPING PLANS FOR THE FALL 2020 EMT CLASSES - WATCH THIS SITE FOR UPDATED INFORMATION.
The campus is not currently open and students should not come to campus. Services available online.

This packet contains necessary information and the physical form that must be completed during the first few weeks of the semester. Please read the information in this introduction, and visit the links, throughout the page.

The EMT Program is currently a one semester, 9.5 unit course, Health Science 151. It is strongly recommended that the student successfully complete Health Science 046 prior to enrolling in the EMT Program. The expected outside study time for the EMT course is approximately 35 hours per week.

Students must attend the first day of class. During the first class session the student will be oriented to the EMT program and have the opportunity to ask questions of the instructor. EMT Program paperwork will be distributed and discussed by your instructor the first week of class. If you do not attend the first class session you will be dropped from the class and your spot will be given to a wait-listed student.

Due to contractual requirements of our clinical site partners, all students must be at least 18 years old by the first day the class meets. There are no exceptions to this requirement.


---

Student Expenses
The following list of expenses does not include College of the Canyons fees. COC fees may be found in the Schedule of Classes.
Textbooks:
- Required books - AAOS, Emergency Care and Transportation of the Sick and Injured 11th edition, Jones & Bartlett (the orange book) (Check COC Barnes and Noble Bookstore web page for ISBN. )
- EMT Skills Book available only in COC bookstore - Look for August 2020 on cover.
CPR Card: American Heart Association BLS Provder card (aka Healthcare Provider card) is required. The EMT Program DOES NOT accept any other CPR card. Check the American Heart Association website for providers in your area. A copy of the EHS e-card is acceptable. Approximate cost is $65-$90. We do not accept CPR classes that are 100% online.
Healthcare Fire and Life Safety Card (aka Fire card): See below for additional information. Approximate cost $50
Drug test: See below for additional information. Approximate cost $55
Background check: See below for additional information. Approximate cost $50.
Health Clearance/Physical: See below for additional information.
EMT Name Badge: A student name badge may be obtained from the Office of Student Development located in the Student Center, room 102. You must take proof of enrollment in the Health Science 151- EMT class to the Office of Student Development in order to obtain an EMT Student ID. DO NOT wear a hat to take your picture. Approximate cost is $5-6.
Uniform: Navy blue or black slacks (Dickies or BDUs are OK), COC EMT logo polo shirt (is available through the COC Barnes and Noble Bookstore), black leather oxford type shoes or lace-up boots, and a plain leather or military style belt with plain silver buckle. A plain white short-sleeved t-shirt with round neck must also be worn under the polo. All tattoos must be covered during clinicals or ridealongs. You will need a uniform for ride-alongs and clinicals; your instructor may require you to wear your uniform to class on selected days.You DO NOT need the uniform for the first day of class. Approximate cost $40-$90.
Safety Vest: which meets Federal specifications (available in COC bookstore). Approximate cost $10
Required supplies: You will need a stethoscope, watch with a second hand, safety glasses. You can purchase these at any uniform shop or in the bookstore. You will need your stethoscope and watch ASAP for skills practice. A standard 3-ring notebookat least 2". Approximate cost $30-$50.
Other expenses after successful completion of EMT class - NREMT exam fees, Live Scan fingerprinting, and Los Angeles County/State of California certification fees. Additiional fees and licensing required for ambulance jobs. Information available from NREMT, Live Scan vendors and L.A. County EMS Agency.
---
7-3-2020 - WE ARE STILL UPDATING THIS INFORMATION DUE TO COVID-19 AND PUBLIC HEALTH GUIDELINES. THERE WILL BE MANDATORY ZOOM ORIENTATION MEETINGS IN AUGUST - DATE TBD.
PAPERWORK - IE DRUG TEST FORM AND REQUIRED FIRST DAY PAPERWORK IS CURRENTLY IN PROCESS OF BEING PLACED ONLINE.
DO NOT SUBMIT ANYTHING TO COC AT THIS TIME. HAVE PDF COPIES OF YOUR FIRE CARD, CPR CARD, ID AVAILABLE FOR SUBMISSION WHEN REQUESTED.
WE HAVE JUST LEARNED THAT THE STUDENT HEALTH CENTER IS WORKING TO ACCOMODATE STUDENTS IN THE FALL, HOWEVER, WE DO NOT KNOW IF THEY WILL BE ABLE TO DRAW BLOOD, GIVE IMMUNIZATIONS OR TB TESTS. UPDATES WILL BE ON THIS PAGE.
First Day of Class:
- Bring your drivers license or California ID or other proof of identity (passport) to first day of class.
- Bring black pen.
- Bring notepaper. Bring your EMT skills Book (August 2019) - available only from Bookstore.
- Bring your textbook - AAOS 11th Edition - check Bookstore for ISBN.

Prior to the first day of class you should:
- Obtain an American Heart Association's "BLS Provider" card (CPR)
- Obtain a Fire and Life Safety card (aka, "Healthcare Fire Safety card").
- Pick up a drug testing referral form and complete the drug test.
- Start working on completing the FEMA courses required for class.
- Order your EMT polo shirt through the Bookstore.
- Start working on your Health Clearance.
- Start reading the textbook - minimally, Chapters 1-3.

CPR Card:
The American Heart Associations BLS Provider is the standard in the EMS community. This is the only card accepted by the COC EMT Program.
If you do not have the CPR card, you will need to obtain during the first few weeks of class. Online cards are unacceptable.
Make a copy of your signed CPR card (both sides) and bring it to class the first day. Bring the original CPR card in case of questions.
Health Clearance: Do not start the Health Clearance until you have officially enrolled in and paid for the EMT class.

A health clearance is required in order for you to participate in class, clinical and ride-alongs. You may obtain the health clearance/physical from your own provider or use the Student Health & Wellness Center.
The Student Health & Wellness Center, located in the Student Center, is able to provide most required immunizations, perform TB tests and draw required titers (blood tests) at cost. The health clearance forms are included in the link below. Please read the forms carefully. Please submit copies of the required blood titers with your physical form to your instructor. The student must make an appointment with the Health Center to use these services. 661-362-3259. (AT THE MOMENT, NO SERVICES AVAILBLE AT THE HEALTH CENTER)

The Student Health center will not be able to perform a physical. The Student Health Center has referrals available for students to a local urgent care for brief physical exam at a low cost. No appointment needed to pick up referral form.

You may use your own physician.

Kaiser patients are now required to request their medical records through the Release of Records office. This may take 7-10 days or more. Plan accordingly!
FORM: EMT Student Physical (if link broken, physical form may be picked up outside Towsley Hall 102A. )
Healthcare Fire and Life Safety card (aka Fire card):
All EMT students will be required to obtain a Fire and Life Safety card (aka "Healthcare Fire Safety Card" or "Fire card"). Classes are available through the college's Community Education Department - listed as "Healthcare Fire Safety". Register through the Community Education website.

Make a copy (both sides) of the "Fire card" and submit it to the instructor. Deadlines for copies of the card to your instructor for will be included in your syllabus.


DO NOT OBTAIN A DRUG TESTING UNTIL YOU HAVE ENROLLED AND PAID FOR THE CLASS.
Drug Testing:
A 10-panel drug test will be required of all EMT students. The test cannot be completed more than 30 days before the first day of the class. The drug test instructions and referral forms may be obtained from either the School of Health Professions & Public Safety in Bonelli 243, or outside of Towsley Hall 102A in pamphlet rack. Students are required to use our vendor. We cannot place these forms online. Despite California law, if you have a positive marijuana drug test, you shall be dropped from the program. WE WILL BE PLACING THE DRUG TESTING FORM ONLINE ON THIS PAGE SOON.
STUDENT SHALL BE DROPPED FROM THE CLASS IF CLEAN DRUG TEST IS NOT SUBMITTED TO THE INSTRUCTOR BY THE DEADLINE.


DO NOT OBTAIN A BACKGROUND CHECK UNTIL YOU HAVE ENROLLED AND PAID FOR THE CLASS.
Background Checks: EMT - College of the Canyons

DEADLINE for: CPR, physical, immunizations, titers, background check, fire card, drug tests and uniform is approximately 2 weeks into class during Summer and approx 4 weeks into the semester for Fall and Spring classes. Exact dates will be provided on the syllabus the first day of class.

Failure to complete any of the above items by the required dates may result in dismissal from the program.
SOCIAL SECURITY NUMBER
A social security number is required to take the National Registry exam and to certify as an EMT in the State of California.

---
Have any questions? Please
contact the EMT Program Director, Patti Haley
.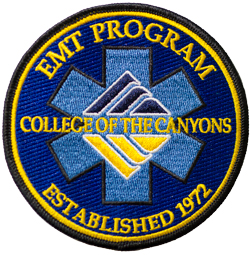 ---