AS-T Online/Hybrid Pathway
---

Program Description

The Administration of Justice program focuses on the study of law enforcement in the United States with the primary emphasis on California law, procedures, and evidence. The student gains an insight into the history of law enforcement, the evolution of law, both Constitutional and statutory, investigative techniques, report writing, evidence, and criminal procedure.

The Associate Degree for Transfer (AS-T) is a special, new degree offered at California Community Colleges designed to make it easier for students to transfer between two school systems. Students who earn a AS-T degree and meet the minimum eligibility requirements are guaranteed admission to a CSU, but not necessarily to a particular campus or major. With the AS-T degree, students may be given a GPA bump when applying to an impacted campus outside the local area or an impacted major that is deemed similar. Visit the counseling office to learn more about how this joint transfer program can help you achieve your educational goals.

The Administration of Justice Pathway is appropriate for students interested in a career in law enforcement or work in the criminal justice system, such as lawyers, probation officers, correctional officers, and crime scene investigators, as well as others.

Student Learning Outcome:
Students will be able to analyze, interpret, and evaluate concepts related to the administration of justice.

Recommended Course Sequence - highlighted course represents major requirement.
---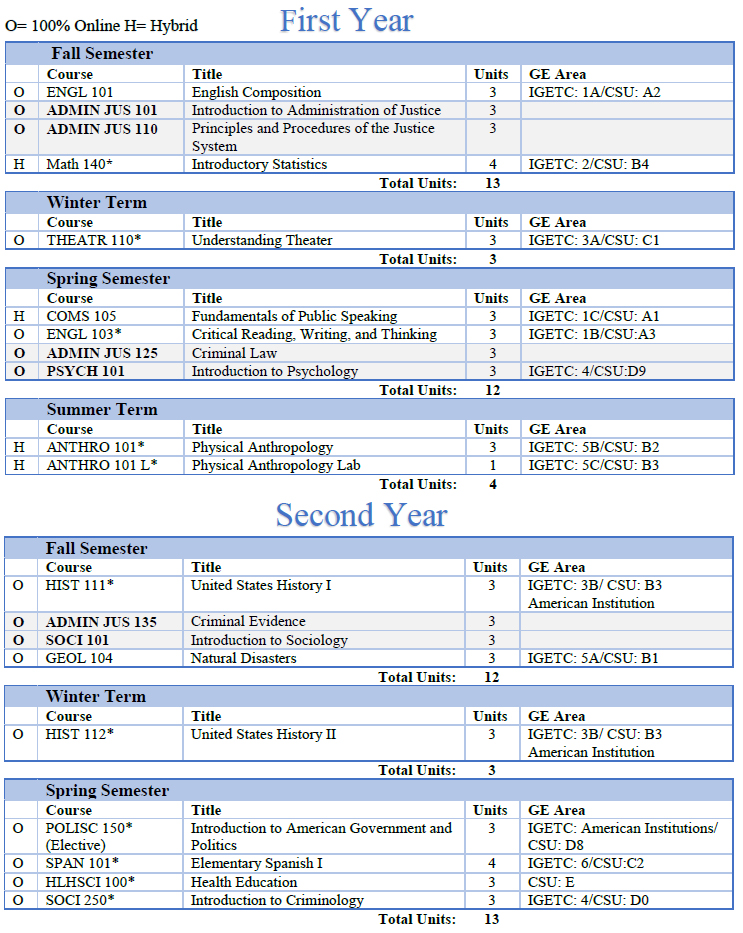 Important Notes:

This pathway assumes the student is college ready in mathematics and English upon entry to the College.

This pathway fulfills the requirements for AS-T in Administration of Justice, CSU GE or CSU IGETC certification and minimum CSU admissions requirements. The AS-T is intended for transfer to a CSU campus, this pathway alone will not fulfill all UC transfer requirements, see counselor for more information.

*This pathway has suggested courses to complete your AS-T degree, non-major general education courses listed are a suggestion for completing the degree in an Online or Hybrid format. Alternative courses can be used to fulfill these requirements please consult with the Counseling Department for guidance.


---