Welcome!
Well-planned and engaged teaching are the primary ingredients for successful instruction, whether online or on campus. Enjoy exploring this curated collection of resources and recommendations for desingning your Distance Education courses. If you have any suggestions for additional resources or materials to include, please let us know!
---
| | |
| --- | --- |
| | |
| The College of the Canyons Course Design Checklist is designed to be a tool to enable you to compare existing courses with the best practices for online education established by the Online Education Initiative (OEI). | Going through the checklist (basic) and/or the Course Design Rubric (intermediate) has been shown to increase student success and retention, and can lead to more engaging and satisfactory online experiences for both teachers and students! |
Do you need some inspiration with a particular section of the rubric? Peruse Course Design Showcase to get instant access to creative course design practices and strategies shared by online faculty, archives of webinars, and other resources. You'll see the cascading array of approaches there are to designing a quality online course.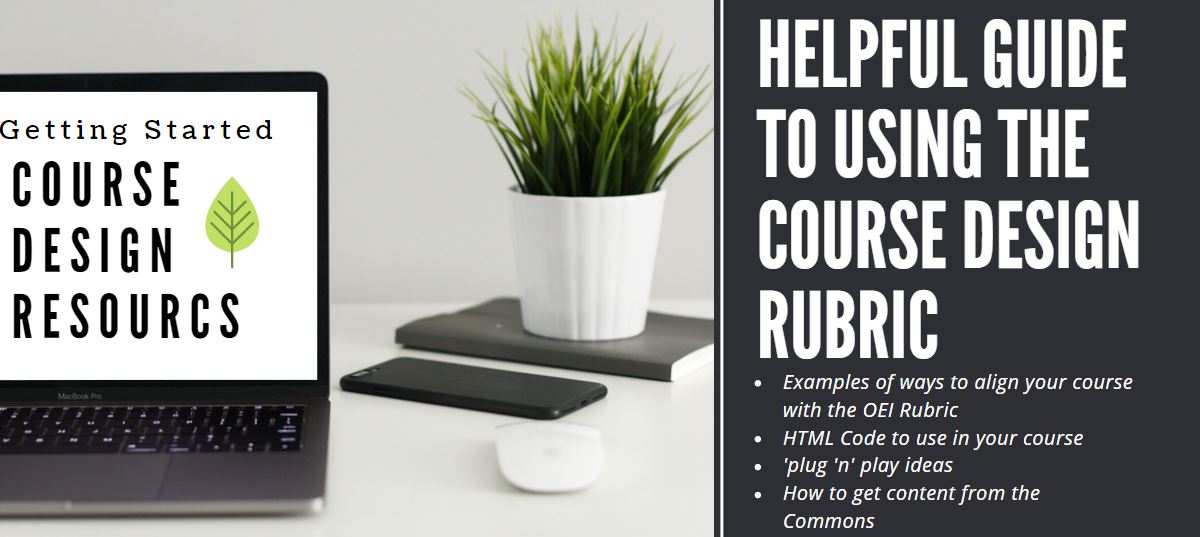 Are you trying to align your course to the CVC-OEI Course Design Rubric? Check out Course Design Resources! While the CVC-OEI Course Design Rubric provides clear, concise guidelines for the design of your online course, there are infinite possibilities for how to apply those guidelines based upon your students, subject matter, and teaching style!
Let's Think About Instructional Design
Course Design Checklist: Content Presentation
Course/Unit/Chapter Objectives/Learning Outcomes are included in the course (e.g., syllabus, modules, and chapters).
Course is easy to navigate.
Course navigation menu displays only items that are relevant to the course.
Units/Modules/Pages are chunked into manageable segments.
A variety of modalities, (e.g., text, audio, video, images, graphics) are used.
Course design includes instructions for learners to work with content in meaningful ways (e.g., instructing students to take notes during a video, explaining the purpose of an external resource).
Individualized learning opportunities are provided (e.g., optional academic support workshops through the TLC; links to practice activities, videos, or audios; activities that present more challenging concepts; self-checks).
Learners have the opportunity to give anonymous feedback to the instructor regarding course design and or course content.
Institutional policies and services relevant for learner success are included (e.g., plagiarism, academic honesty, technical support, TLC, technology support, library, veteran's office, AAC, Health Center) and are easy to find (e.g., syllabus, modules, and external links.)
This 5-minute video highlights the basic principles of effective online course design.Assessments
Course Design Checklist: Assessments
Assessment activities lead to the demonstration of learning outcomes.
Both formative and summative assessments are used.
Multiple modes of assessment are used throughout the course.
Instructions for all assessments are written clearly with exemplary detail to ensure understanding.
Students are given clear instructions on accessing feedback in Canvas and guidance on applying feedback to improve learning and performance.
Multiple opportunities for student self-assessment with feedback are present.
---
Canvas Course Template
Want to make your course design easier? Check out the College of the Canyons Online Course Template! This resource course shell includes a variety of ready-to-use course components for you to choose from, including an orientation module, example home pages and content module, and several powerful supplemental resources—all of which leverage effective pedagogy and accessibility principles.
Learn More: Online Course Template
---
Assessment Best Practices, Strategies & Ideas
---
Interaction
Course Design Checklist: Interaction
The Instructor initiates contact prior to or at the beginning of course and provides the syllabus, welcome letter, or other relevant resources.

The instructor's engagement in regular and effective contact includes the use of a variety of communication tools (e.g., email, inbox, announcements, chat).

Contact information for the instructor is easy to find (e.g., syllabus, syllabus page, home page, modules) and includes expected response times.

Opportunities for student-initiated interaction with other students and the instructor are clearly available and encouraged in the syllabus and monitored by the instructor (e.g., discussion forums, synchronous chats, email).

Student-to-Student collaboration is designed to build workplace skills such as teamwork, cooperation, negotiation, and consensus-building (e.g., discussion forums, group projects).

The design and facilitation of communication activities are responsive to the variety of cultures and communication styles in the class.

Rubrics or details of grading criteria are included for all assessments.
Humanizing with Video
The following resources and tools for Humanizing with Video were provided for College of the Canyons faculty by Tracy Schaelen at the 2019 Online & Hybrid Instructor Retreat.
| | |
| --- | --- |
| | |
| Learn about recording software and resources for adding images, making, storing, captioning, and sharing your videos. | View Sample course Welcome, Faculty Introduction, Course Tour, and Postcard videos. |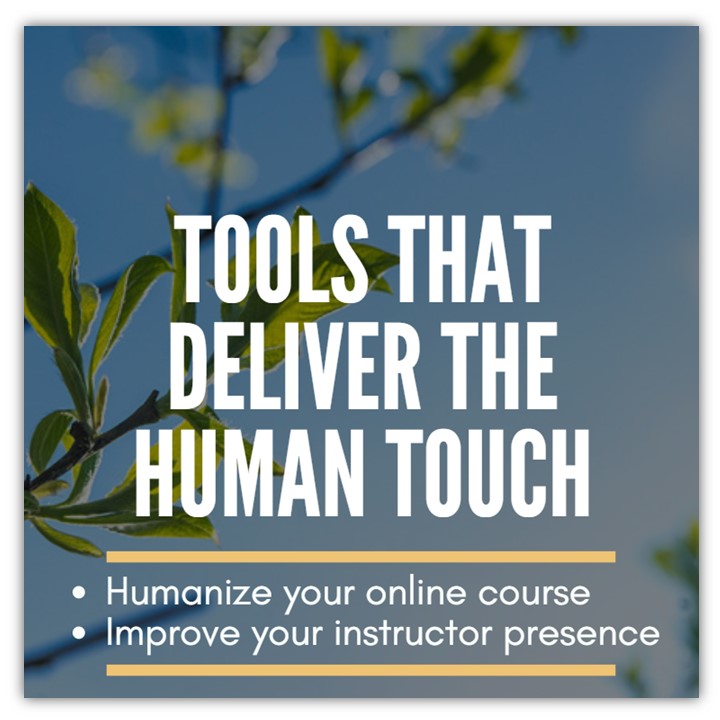 Collection of emerging tools for Humanizing your online course, communicating and interacting with students, and creating beautiful course content.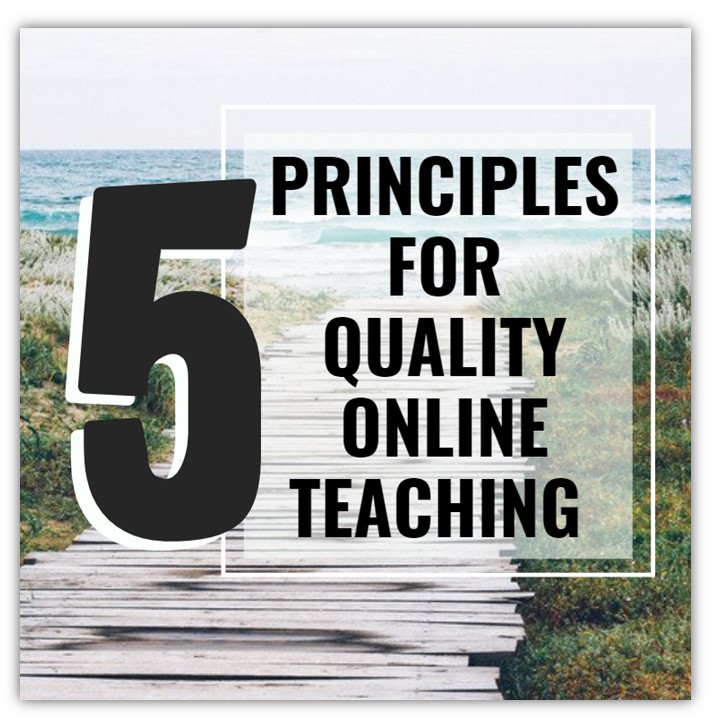 Teaching strategies and behaviors that work hand-in-hand with the course design elements outlined in the OEI Course Design Rubric to support student success.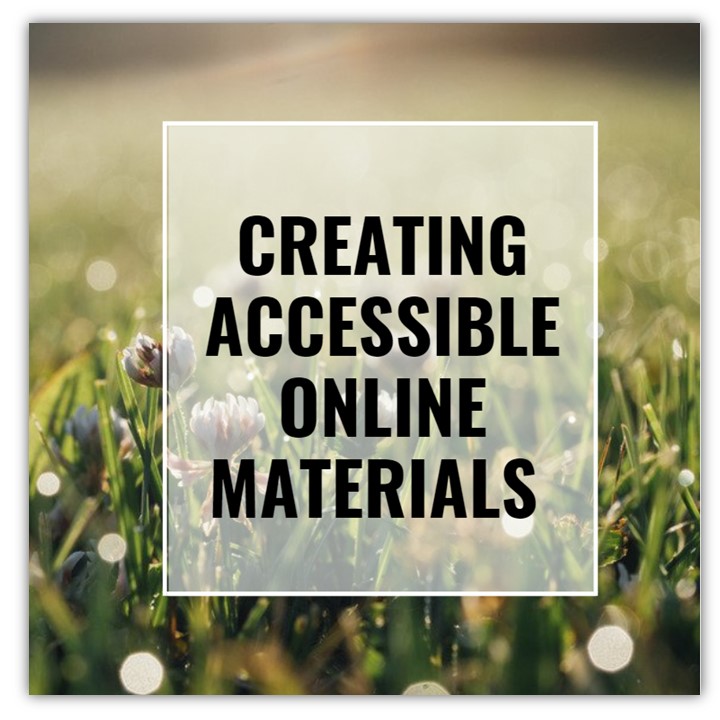 Improve your skills in creating accessible online content with these free, self-guided micro courses (scroll down to "Self-Paced Online Courses").
Have a question that's not answered here? Contact the Online Education team.