Instructional Continuity - Faculty Resources
A variety of circumstances might require you to temporarily teach your class remotely with minimal notice: a campus closure, increased absenteeism during a flu outbreak, a family emergency requiring your presence elsewhere, etc. This guide will provide you with some actions to take and resources to reference when making that shift quickly.
| | |
| --- | --- |
| | |
| | |
| | Explore upcoming workshops that support the development and delivery of quality online education |
| | |
| | |

For the latest information and resources, please visit COC's COVID-19 Information Website
Quick Vids
Short form videos on available online technologies
Quick Links
Canvas

Canvas guides

- Canvas 24/7 Support: 1-833-286-2864
How to use Canvas Commons

Remote Instruction
Zoom
Orientation Letters
Resources for moving labs online
Online Proctoring
Converting Paper Exams to Canvas Quiz

Respondus 4.0 License

Same Login as email:

Username: staff\lastname_first initial (ie. doe_j)

Password: (same as email)

SPSS

SPSS License Windows/Mac


Same Login as email:

Username: staff\lastname_first initial (ie. doe_j)

Password: (same as email)

Captioning Videos

Need captioning for pre-recorded video? Apply for DECT funding!

Need captioning or an interpreter for a live ConferZoom class? Contact DSPS.

Internet Access Options for Students/Faculty/Staff
---
Faculty and Staff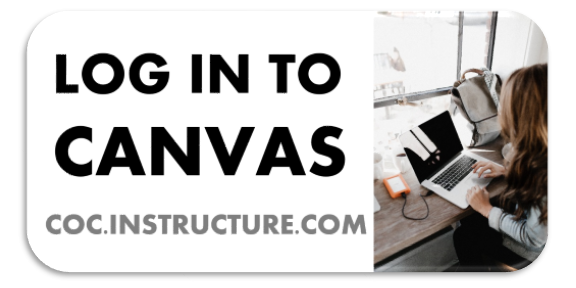 Canvas: Your Online Classroom
Log into Canvas: coc.instructure.com
Username: Network login (ex. 'smith_j')
Password: e+employee ID # (ex. 'e123456')
If you do not know your Employee ID, click here.
After first-time log-in or if you do not remember your password, change your password.
Per the Emergency Qualifications for Distance Education Instructors approved by the Academic Senate on 3/13/2020, one portion of the Online Hybrid Instructor Requirements are temporarily waived.
If you do not yet have access to your instructional course in Canvas, please make sure to attend the following training:
Please see the Workshop Calendar for dates and times when these and other workshops will be offered to support your transition to remote instruction.
---
How to Sign Up for Zoom
Registering
Open a web browser and go to: http://conferzoom.org
Click on the "Sign-Up" button: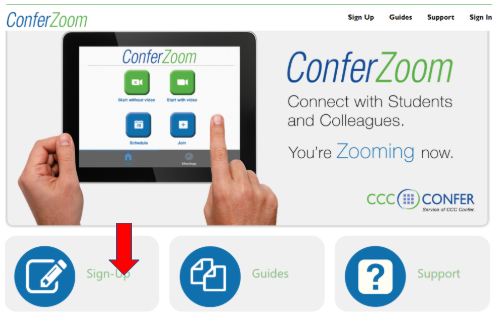 Fill out the form accordingly then use your firstname.lastname@canyons.edu (ie. john.doe@canyons.edu) email account.
You will get an email from ZOOM confirming your account creation.
Click on "Sign Up with a Password"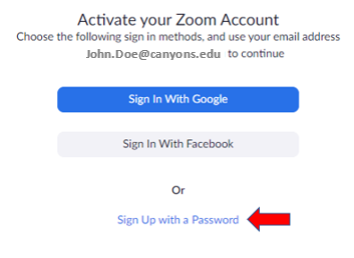 You will be asked to create a password.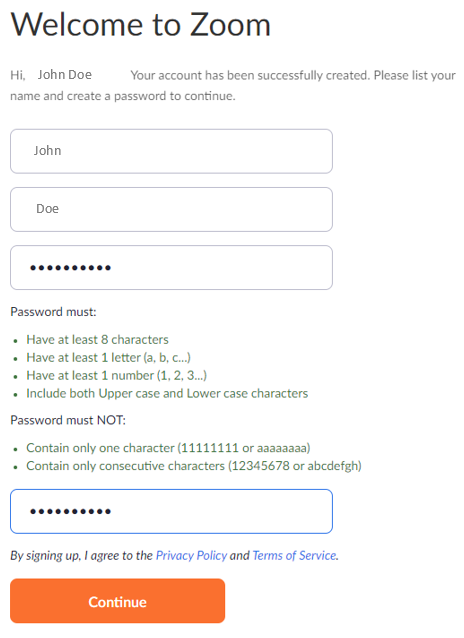 Now you're ready to sign in.
Need help with Zoom?
---
Using Zoom in Canvas
In College of the Canyon's Canvas instance, Zoom is titled "ConferZoom".
To Enable ConferZoom within Canvas:
Enter your Canvas course
Click Settings on the course menu
Click the Navigation tab
Click the 3 dots to the right of ConferZoom and select Enable.
Click the Save button
ConferNow menu item will now appear in your course menu.