6th ANNUAL ONLINE INSTRUCTOR RETREAT
At the 6th annual Online & Hybrid Instructor Retreat, you'll hear about what's new in online ed, explore the latest online instruction ideas and best practices, and get inspiration for the coming year while networking and sharing your knowledge and experiences with colleagues!
The recording of the Retreat is available at:
https://cccconfer.zoom.us/rec/share/xOV0dZv5zU5Ib7PUr1vtZrd-Q4Pvaaa81CcZr_oKnkm5f4l3HPOWdZ_tKvUeJwVj?startTime=1597431009000.
View the Retreat Zoom Recording & Transcript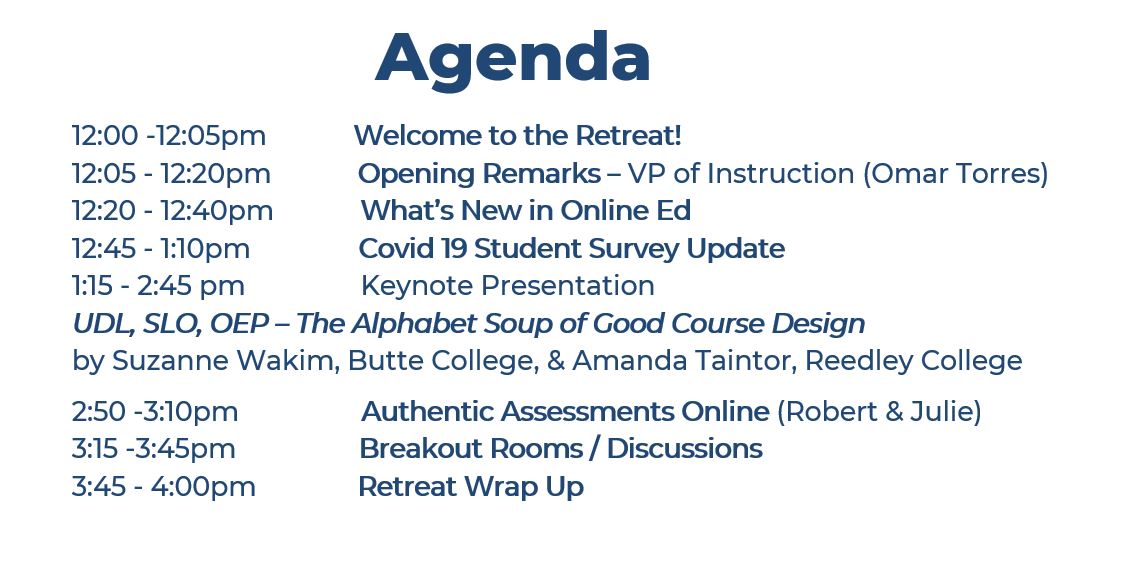 Presentation Slides
Keynote Presentation: UDL, SLO, OEP – THE ALPHABET SOUP OF GOOD COURSE DESIGN
Friday June 19th, 2020 at 10:00 am - 10:50 am
Presenters: Amanda Taintor & Suzanne Wakim
There is no "typical" student. How can we design courses that engage diverse students and provide mechanisms for students to accurately demonstrate their learning? Universal Design for Learning (UDL) helps us build courses accessible to all students. UDL encourages course designs to empower students in how they acquire information and demonstrate learning. Open Educational Practices (OEP) can be a key strategy to help establish UDL in your courses. We will look at course designs that increase student choice, encourage critical thinking, and improve learning. When paired with Backwards Design, UDL and OEP strategies also help us build assignments that more accurately measure student learning outcomes (SLO).This session will demonstrate how these frameworks can be used to design effective and engaging online learning activities and assessments.
---
View Past Retreat Archives: