CAWT-160 - Microsoft Access I - Sara Stuart - Hybrid
| | |
| --- | --- |
| Course: | Microsoft Access I |
| Professor: | Sara Stuart |
| Email: | sara.stuart@canyons.edu |
| Format: | Hybrid |
| Textbook: | MindTap for Shelly Cashman Series® Microsoft® Office 365 & Access 2016: Comprehensive. Authors Pratt and Last |

Course Information
On the first day of class students must have the following:
Cengage Unlimited MindTap account

which includes access to the MindTap Program and the E-Book
The complete Microsoft Office 2016 Suite application (special student pricing available at

http://foundationccc.org/CollegeBuys

)
This course will be conducted mainly online. Please check the schedule of classes for class meeting dates and course start date. Canvas will not be available until the first day, so please wait until then to try to log in.
In this day and age, we are fortunate to be able to offer distance learning courses in order to accommodate so many of you who may not have the time or resources to attend classes on campus due to modern societal pressures, including professional obligations, familial responsibilities, and financial or health concerns. It should not, however, be assumed that a distance learning class is in any way easier than an on-campus class. In fact, just the opposite may be true since, to be successful, students in online classes must rely more on their own resourcefulness, discipline, good time management and study habits, as well as finding within themselves the means to remain motivated. Although this course is taught entirely online with no campus attendance requirement, my hope is to get to know each of you the same as if we interacted face-to-face in a classroom.
Course Description
CAWT160 introduces Microsoft Access, including creating, querying, and maintaining relational databases. Skills are developed from basic functions through intermediate features such as designing and building databases; creating tables, reports and forms with wizards; maintaining and updating databases; developing data access pages and combo boxes; and using OLE fields, hyperlinks, and subforms. Prepares the student to take the Microsoft Office Specialist (MOS) certification core exam in Access. Formerly CIT-160.
CAWT 160 is required to obtain the following degrees and certificates offered by the Department of Computer Applications and Web Technologies:
A.S. Degree and Certificate of Achievement in Computer Applications
A.S. Degree in Web Development
Certificate of Achievement in Web Development
Textbook
MindTap for Shelly Cashman Series® Microsoft® Office 365 & Access 2016: Comprehensive
Authors Pratt and Last
E-book is included in the Cengage Unlimited – MindTap Account
Printed textbook rental cost is $7.99 through Cengage Unlimited
This course uses the MindTap with SAM programs as well as MS Office 2016.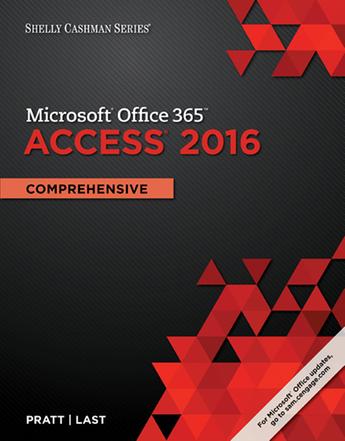 Students must have a current MindTap account, which includes the e-book.
Students who need a MindTap account, may purchase from Cengage Unlimited.
CENGAGE UNLIMITED:
Cengage Unlimited is a new subscription program from Cengage Publishing.
If a student subscribes to Cengage Unlimited, they will have access to ALL Cengage digital learning platforms, e-books, and online homework and study tools, for one price, for the length of their subscription, for any course that uses Cengage materials.
The cost of the 6 month Cengage Unlimited subscription is $119.99 and can be purchased from the Campus Bookstore or from Cengage.com directly. The price is same. This option will carry over to continuation courses during the following semester at no extra charge. (An example of a continuation series of courses would be Access 1 and Access 2).
FAQ page for students https://www.cengage.com/unlimited/faqs#students
Cengage Unlimited Information https://www.cengage.com/unlimited
Canvas Accounts
Student Canvas accounts are created automatically once course fees are paid. All student assignments will be submitted on Canvas or submitted directly to the MindTap website through the individual assignment links in each module on Canvas. The course can be accessed via Canvas at cv.canyons.edu on the first day of the course. Follow the login instructions at the bottom of the log in screen. Here, you can also access Canvas user guides with helpful tips for navigating and using Canvas. For any Canvas related issues please call the Canvas Student Support line at (661) 362-3344 during college business hours, or (877) 889-9052 for 24/7 support. For technical support using Canvas, visit the Canvas tech Support page for students.
IMPORTANT: Students must log into Canvas daily and are responsible for reading all content posted in Canvas. All students must log into Canvas and complete the orientation assignment by the posted due date. If this first assignment is not completed, you may be dropped from the course.
Please note: You are responsible for dropping the class by the official college deadlines if you choose not to complete the course.
Hardware Requirements
It is the student's responsibility to assure that their equipment is dependable and in good working order. An alternative is to work on campus where such hardware is available during school hours. (NOTE: Technical support is not provided by the instructor)
Cengage Unlimited MindTap account which includes access to the MindTap Program and the E-Book
Microsoft Office 2016 Suite application, which includes Access (special student pricing available athttp://foundationccc.org/CollegeBuys)
Reliable access to broadband Internet
A computer with Windows 7 or higher
Browser software (Latest version of Google Chrome or Mozilla Firefox)
Adobe Reader, Version 9 or higher (free download at adobe.com)
Adobe Flash Player, latest version (free download at adobe.com)
Izarc, Winzip (free download from download.com), 7 zip (free download from www.7zip.com) or an equivalent archive and file extracting utility (a zip and unzip program)
Windows 7, Windows 8, and Windows 10 have a built-in archiving utility
A media player that is compatible with mpg4, mov, wmv, and swf formats (free VLC media player is recommended: videolan.org)
A College of the Canyons e-mail account
IMPORTANT: Students must have access to a desktop or regular laptop computer to work effectively with Use of the Surface Pro, tablets, or smartphones is problematic with SAM and these devices are not adequate for this class
NOTE: MAC COMPUTERS WITH MS OFFICE 362/MS OFFICE 2016 FOR MAC MAY NOT BE USED FOR THIS COURSE
Other Requirements
Prior to taking this course, students must have in their possession or access to the following:
A valid MyCanyons e-mail address
Knowledge of how to e-mail, attach documents, and view attachments
Proficiency with your computer's operating system
Proficiency with computer file management (i.e., how to name, rename, copy, move, delete, nest, navigate, organize, and archive files and directories, as well as manage paths)
Proficiency with the Internet, including navigation and how to upload and download resources
Experience with browser software, including management of plug-ins and how to search online resources
Effective time management skills
Good study habits
Motivation and discipline to work independently
Internet connection or computer issues are not considered excuses for missing any assignment or quiz in this class, nor is missing important announcements because you didn't check your e-mail.
Contact Information and E-mail
All students must use their MyCanyons.edu e-mail. Due to FERPA regulations I can only respond to your MyCanyons email address. When sending me an e-mail, make sure that you type your course number (CAWT160) in the subject line of your e-mail message.
Online Resources
Check out the Online Education website for more information on a variety of topics that can help you be a successful online student such as: exam proctoring, learning styles, computer skills, and tips for student success. If this is your first online course, feel free to take our online learning readiness assessment to assess your skills.
The Learning Center (TLC) provides FREE face-to-face and ONLINE tutoring, proctoring for courses that have required proctored exams, Study Jam review sessions, computers with over 300 software programs, and more! Go to:

www.canyons.edu/TLC
Disabled Students Program & Services (DSPS) provide educational services and access for eligible students with documented disabilities. Find information about this program and how to access these services at:

https://www.canyons.edu/studentservices/dsps/
Online Counseling can help you map out a plan to reach your educational goals as well as advise you on course selection and registration. Visit the

Online Counseling website

to learn more.
Management of Stress and Mental Health - College of the Canyons cares about your emotional and physical health. Learn more about the broad range of confidential student services, including free counseling and mental health services available by visiting the Student Health & Wellness Center website or by calling them at: 661-362-3259.

The National Suicide Lifeline number is 1-800-273- 8255 (TALK). Please call it if you or someone you know is having thoughts of suicide or is in severe distress – it could save someone's life.

You can also use the Crisis Text Line: Just text "Courage" to 741741. It's free, available 24/7, and confidential
I look forward to meeting you online and at our hybrid class meetings.
Sara Stuart
Computer Applications and Web Technologies