CAWT-170 - Website Development I - Teresa Pelkie
Course:
Website Development I
Professor:
Teresa Pelkie
Email:
teresa.pelkie@canyons.edu
Format:
Online
Textbook:

Web development and Design Foundations with HTML5

9th edition, Pearson, 2019, Author: Terry Felke-Morris

ISBN-13: 978-0134801148
Introduction
Welcome to CAWT 170 Online!
My name is Teresa Pelkie and I will be your instructor for this course. I created my own business, WWW Sights, a website development company in 1996, developing websites for many local small business clients. I have taught classes in web development since 1999 at community colleges in San Diego County, and starting at Canyons in 2017. I am excited to be teaching this course and I look forward to working with you this semester!
Please visit the Online Education website for more information on a variety of topics that can help you be a successful online student:

If this is your first online course, please take the online learning readiness assessment to assess your skills:

Course Description
CAWT 170 WEBSITE DEVELOPMENT I
Units: 3.00
CSU 36.00 hours lecture, 54.00 hours lab
Introduces web site creation and remote web site administration using HTML, CSS, and FTP. Also includes related topics, such as information architecture, Internet infrastructure, security, and accessibility. Proficiency with Windows or Mac, the Internet, a browser, and a PC or Mac skills is assumed. Formerly CIT-170.
CAWT 170 is one of six courses required to complete a Certificate of Specialization in Web Site Development offered by the Department of Computer Applications and Web Technologies (CAWT). This is the foundational course in the certificate's 15-unit course sequence and should be taken before any other courses in the program.
This 3-unit course introduces you to the creation of web sites using markup language and cascading style sheets (CSS). The markup language we will use is HTML5 (the latest version of the Hypertext Markup Language specification). We will also be working with CSS3 (the latest version of the cascading style sheet specification).
Studying markup language involves learning a system of simple codes used to instruct a browser on how to format a document. These languages are not difficult to learn and do not require programming skills. No code conversion applications or authoring tools, such as Dreamweaver, are used or permitted in this course. A major objective of the course is to teach you how to efficiently code and create effective web pages that adhere to standards of usability, accessibility, and design.
In addition, you are required to use an FTP client program to upload and manage web content remotely.
By the conclusion of this course, you will have created and published a web site of your own design.
Student Learning Outcomes
At the conclusion of this course you will be able to:
Plan a comprehensive web site, demonstrating integration of efficient coding as well as the application of good design, accessibility, usability principles, and knowledge of Internet infrastructure.
Construct a comprehensive web site, demonstrating familiarity and proficiency with the topics listed in the previous bullet point.
Textbook information: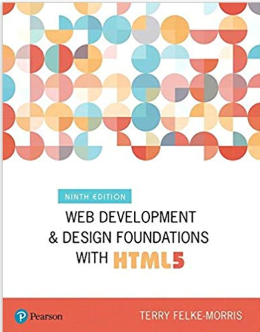 9th edition
Pearson, 2019
Author: Terry Felke-Morris
ISBN-13: 978-0134801148
*This textbook is also used in CAWT 171 Website Development II
Text Companion Website: http://webdevfoundations.net
You can purchase the textbook at the campus bookstore or online. You can also purchase the textbook or other digital version of the book online from www.amazon.com and www.pearson.com . Students have also rented the book or sections of the book for the semester at www.chegg.com
A copy of the textbook is on reserve in the campus library. This textbook is also used in CAWT 171 Website Development II.
Other relevant course information
Web Accounts
You will be issued a web account so that homework can be uploaded to the CAWT web server. The account will be issued near the end of the sixth week of the semester. Detailed information regarding the account will be provided at that time. Uploading homework to the CAWT web server and managing web sites remotely is a required, graded component of the course. Homework is not accepted or graded unless uploaded to the web server and viewable on the web, except in rare cases when alternative instructions may be provided.
Course Delivery - Canvas
Canvas learning management system (LMS) Canvas login page: http://cv.canyons.edu
This course is administered in Canvas, an online learning management system. You are issued a Canvas account once enrollment fees for the course are paid. Accounts are automatically created and take
one-to-three business days after fees have been recorded. To ensure the best learning experience,
you should register and pay any required fees before the first meeting.
All aspects of the course, including exams, are administered online. On-campus attendance is not required. The course syllabus and other important information are available in Canvas. You should log into Canvas daily to check for announcements and to utilize the course materials. It is your responsibility to become familiar with the Canvas interface and all major Canvas tools, especially the Assignment Manger, e-mail feature, and the Grade Center.
Canvas is accessible 24x7, but is occasionally unavailable during the early morning hours on weekends so that maintenance can be performed.
Canvas Assistance
The Canvas URL is http://cv.canyons.edu
Follow the login instructions at the bottom of the screen to log in. You can also access Canvas user guides with helpful tips for navigating and using Canvas, along with written and video Canvas tutorials.
For any Canvas related issues, please call the Canvas Student Support line at (661) 362-3344 during college business hours, or (877) 889-9052 for 24/7 support.
Additional Resources
The Learning Center (TLC)
The Learning Center (TLC) URL is /academics/tlc
The Learning Center is a FREE tutoring resource that provides assistance to current COC students seeking to supplement classroom instruction to reach their educational goals. A COC Student ID is required. The TLC resources available to COC students include:
In-person and online tutoring
Testing Center: offers test proctoring services for courses that have required proctored exams
Study Jam Review Sessions
Computers with over 300 software programs
For more information visit the TLC Website.
Disabled Students Program & Services (DSPS)
College of the Canyons DSPS provides educational services and access for eligible students with documented disabilities who intend to pursue coursework at COC. A variety of programs and services are available which afford eligible students with disabilities the opportunity to participate fully in all aspects of the college programs and activities through appropriate and reasonable accommodations. For more information on their services visit the Disabled Students Program & Services website.
Online Counseling
The Counseling Department offers appointments online. You can schedule an appointment by visiting the Online Counseling website. Counselors can help you map out a plan to reach your educational goals as well as advise you on course selection and registration.
Computer Requirements
You will need access to a reliable computer that meets the minimum requirements shown below. An alternative is to work on campus where computers are available during school hours. A data backup strategy involving daily backups of your work is strongly recommended. Automatic offsite backup, such as offered by Crashplan or Carbonite, is even better.
Suggested Minimum PC Requirements: Windows
Intel® Pentium® 4 or AMD processor or equivalent
Windows 7 or Windows 10
2GB of RAM
4GB of available disk space
1366x768 minimum resolution display with 16-bit video card
USB port
Reliable broadband Internet connection
Sound card or integrated sound capability
Minimum Macintosh Requirements: Mac OS
Multicore Intel processor or equivalent
Mac OS X v10.5.7 or v10.6
2GB of RAM
4GB of available disk space
1366 x768 minimum resolution display with 16-bit video card
USB port
Reliable broadband Internet connection
Sound card or integrated sound capability
Software Requirements
No costly software is required for this course other than your computer's operating system. All other applications that are used in the course, including text editors, browsers, FTP clients, and media players can be obtained free of charge on the Internet.
An ASCII plain-text text editor for writing code (e.g., Notepad, Notepad++, Notepad2, Sublime Text, Adobe Brackets, Text Wrangler)
NOTE: A word processing program, such as Microsoft Word, is not acceptable for writing code
An FTP client (you will learn about this in the course)
Reliable access to the Internet (preferably broadband)
Adobe Reader (formerly Acrobat Reader), Version 9 or higher (free download from www.adobe.com)
The following browsers are the minimum required: Internet Explorer 11 (or Edge), Firefox Web Developer Edition browser (or Firefox standard edition) AND Google Chrome (latest versions)
The latest Flash Player browser plugin (www.adobe.com) to play SWF files
A media player that is capable of playing WAV, WMV, AVI, FLV, SWF, and MOV files (Free VLC Media Player is recommended)
An archive utility, such as WinZip, that can create compressed archives in the ZIP format (RAR is not acceptable).
NOTE: Windows Vista or higher includes a built-in archive utility
Other Requirements
In addition to those requirements cited above, you will need the following to successfully complete this course:
Access to a reliable Internet connection and computer (NOTE: I cannot provide technical support for these requirements)
A valid MyCanyons e-mail address
Due to FERPA regulations, all course-related e-mail must originate from a student MyCanyons
e-mail account
Knowledge of how to use e-mail, attach documents, and view attachments
Proficiency with your computer's operating system
Proficiency with computer file management (i.e., how to name, rename, copy, move, delete, navigate, organize, and archive files and directories, as well as manage paths)
Proficiency with how to cut, copy, and paste from one document to another
Proficiency with the Internet, including navigation and how to upload and download resources
Experience with browser software, including management of plug-ins and how to search online resources
Effective time management skills
Good study habits
Motivation and discipline to work independently
IMPORTANT: All students must log into Canvas during the first week of class and read the discussion board assignment posted in Canvas and perform the designated activities. This will count as credit and will indicate that you have made a presence in the class. Failure to do so by the end of the first week will result in your being dropped from this class.
Important URLs
Canvas login page and Canvas support: https://www.canyons.edu/academics/onlineeducation/
Textbook Companion Website: http://webdevfoundations.net
Instructor's Department Web Page: https://www.canyons.edu/academics/computerapplications/faculty/pelkie.php
I am excited to be teaching this course and I look forward to working with you this semester. I hope that you will find the course to be an enjoyable and worthwhile experience.
Sincerely,

Teresa Pelkie
Adjunct Professor, Computer Applications and Web Technologies Department