---
Students
Message for Students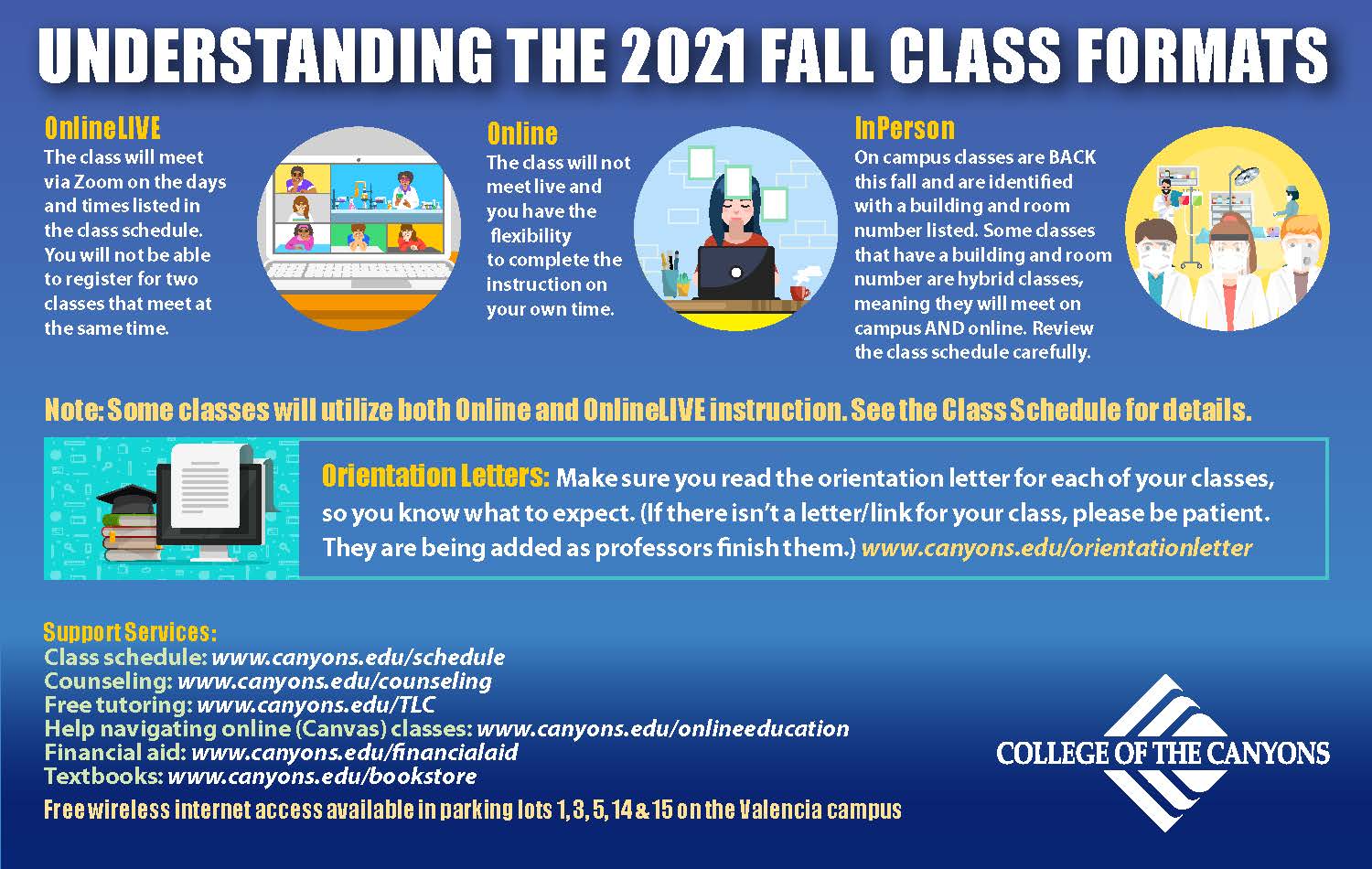 We know you have questions. We're committed to providing the information you need to succeed in your classes, and to stay healthy.
---
Library Pickup Service
The Valencia campus Library provides pickup service for materials.
Service is available:
Monday – 9 a.m. to noon; 1 to 4 p.m.
Tuesday – 9 a.m. to noon; 1 to 4 p.m.
Wednesday – 9 a.m. to noon; 1 to 4 p.m.; 5 to 7 p.m.
Thursday – 9 a.m. to noon and 1 to 4 p.m.
Friday – 10 a.m. to 1 p.m.
Information: Head Librarian Peter Hepburn | Email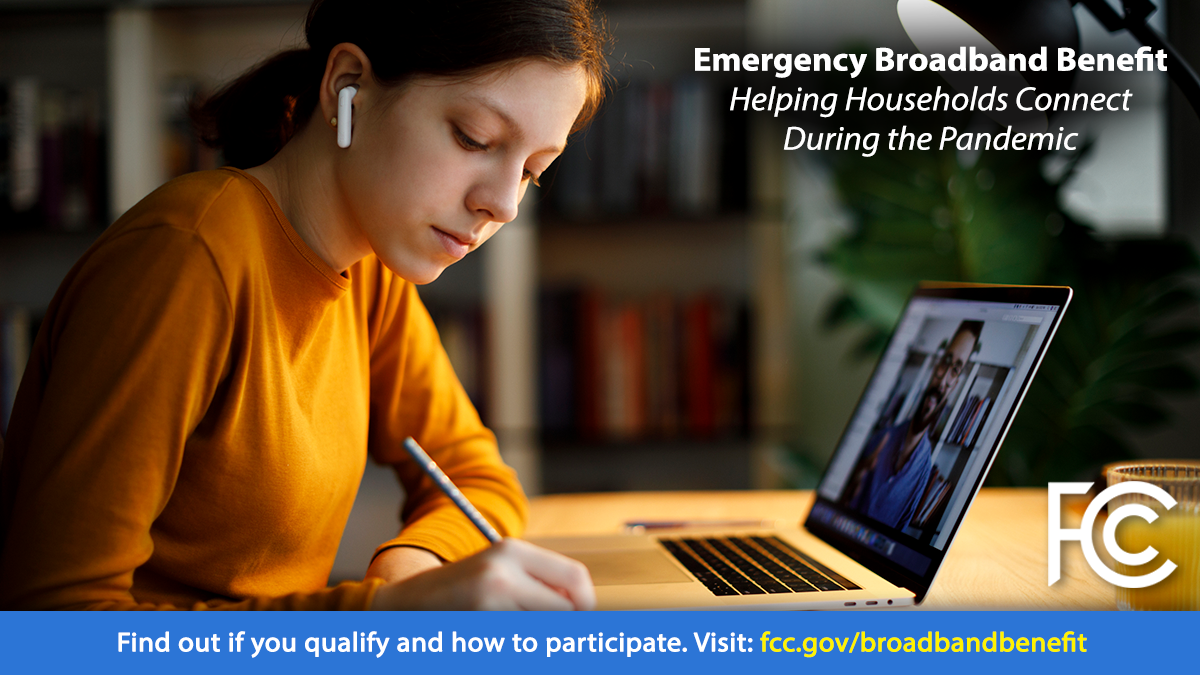 Struggling to Pay for Internet Service?
The Emergency Broadband Benefit is a temporary FCC program to help households struggling to afford Internet service during the pandemic. To see if you qualify and to apply:
---
Technology
---

Frequently Asked Questions
Answers to frequently asked questions about COVID-19 vaccination and testing requirements for accessing our campuses and facilities can be found here.

If you have symptoms, do not come to campus, and instead let your faculty member know you will be absent, contact your primary care physician. If you have tested positive for COVID-19, immediately contact the Student COVID Officer at studenthealthcenter@canyons.edu.
Do not use the drinking fountains. Instead, bring your own water bottles, or use the water bottle fill-up feature found on many of our drinking fountains.


In addition, we encourage you to watch these videos to learn more about how you can prevent the spread of COVID-19:

Symptoms of COVID-19
Discusses the symptoms of COVID-19. If you are experiencing these symptoms, please do not come to campus and be sure to contact your local health care provider. (21 seconds)

Proper Respiratory Etiquette
Reviews how COVID-19 is spread. (01:30)

Hand Hygiene
Reviews the proper way to wash your hands. (01:07)

Cloth Face Coverings
Reviews types of face covering and how to wear them. (02:09)

Physical Distancing
Reviews how to socially distance. (01:07)

Taking Your Temperature
Reviews how to take your temperature. (46 seconds)

What To Do When You Are Feeling Sick
Shows what to do when you are feeling sick. (01:10)

Please be aware of the following:


Thank you for following these important safety steps and doing your part to help ensure we remain safe and healthy.

Yes. The Learning Center (TLC) is offering students a quiet study space on campus in LTLC-126, next to the Library on the Valencia campus. You must make a reservation to book a study space. Reservations can be made at the TLC website.

Online Education has information, resources and links to the most frequently requested help topics.

Review your professor's orientation letter for details.

Will I get my financial aid disbursement?

Yes. The Financial Aid Office will still be processing disbursements. Financial aid funds will be disbursed as regularly scheduled. Please refer to the disbursement schedule for dates and details.

What will happen if I drop a class?

All withdrawals are included in a financial aid student's academic eligibility calculation. Any student, who is determined ineligible for financial aid due to a withdrawal that affected either their GPA or Pace of Progress, may appeal for reinstatement based on the impact from the school closure. Any withdrawal that results in a change to a student's enrollment status (i.e. full-time to half time) may result in a reduced award or repayment. Students should refer to Section XV of the Financial Aid Eligibility & Academic Standards policy for more information on how changes in enrollment affect financial aid disbursements.

How do I turn in documents?

During remote operations, financial aid required documents can be submitted to the Financial Aid Office via the student drop box at both campuses.

Valencia Campus: The drop box is located in the drop-off zone on College Circle, the main entrance off Rockwell Canyon Road near the Performing Arts Center.
Canyon Country Campus: The drop box is located at the top of the campus, just past the bus stop at the drop-off zone (between Rooms 400 and 401).


Students who are unable to use a drop box can mail documents to:

Financial Aid Office
College of the Canyons
26455 Rockwell Canyon Road
Santa Clarita, CA 91355

How do I check my financial aid application status?

You can check your financial aid application (FAFSA) status online through My Canyons.

Can I continue to be paid through Federal Work Study?

Yes, students who receive Federal Work Study can continue to be paid since the college has made arrangements for college assistants to work from home. Students should coordinate with their supervisors on the details for working from home.

How do I contact the Financial Aid Office?

To contact a financial aid representative, please send an email. We appreciate your patience. Please allow 72 hours for a representative to respond to your email.

Personal Counseling

Although our campuses are closed until further notice, the mental health staff of the Student Health & Wellness Center will continue to provide free personal counseling via 50-minute phone appointments. To schedule an appointment, please call (661) 362-3259. We will get back to you within 24 hours on a weekday.

If this is a crisis and you need immediate assistance, remember that you can call 911 or the Suicide Lifeline at (800) 273-Talk [8255], or enter "Courage" on the Crisis Text Line at 741741.

Yes. In-person services at the bookstore are limited to picking up online orders and returning rental textbooks.

Rentals can also be returned by shipping them to the bookstore. Information

Please visit the bookstore website for additional details.

The bookstore is open for pick-ups. You may also call the bookstore directly at (661) 362-3255 to make arrangements for picking up books. Please visit the bookstore website for additional details.

New, used and rental textbooks can be ordered online from the bookstore. Orders will be shipped to your home with free shipping.

Store and curbside pickup are also available on a limited basis (see previous question/answer).

Please visit the bookstore website for details.

The bookstore is committed to providing textbook buyback service at the earliest opportunity. Because that process is limited to cash only, it can only provide that service when the store is open. The buyback program will be available as soon as normal operations resume. Returns for outstanding books will be accepted without late penalties at that time.

You can return your book rentals by shipping them back to the bookstore through UPS. Follow the link below for a UPS return shipping label.

Wireless Access at Valencia Campus

The best wireless Internet access is available to students from five parking lots at the Valencia campus:

Lot 1 near Library
Lot 3 near Performing Arts Center
Lot 5 near Pico Canyon Hall
Lot 14 near Academy of the Canyons / University Center
Lot 15 near TLC

Residential Internet Service

We understand some students do not have access to the Internet at home. Some companies are temporarily offering free or low-cost Internet services. There are restrictions, but please review the information provided below to see whether you qualify for one of the free or low-cost programs.

Comcast

You may qualify for the Comcast Internet Essentials program if:

You are an active participant in programs such as: Head Start, National School Lunch Program, Medicaid, SNAP, SSI, WIC, VA Pension, Public Housing, TANF, LIHEAP, Tribal Assistance
You do not have outstanding debt to Comcast that is less than a year old. Families with outstanding debt more than one year old may still be eligible.
You live in an area where Comcast Internet service is available.
You are not an existing Xfinity Internet customer and have not subscribed to Xfinity Internet in the last 90 days.


If approved, you could have a home Internet connection in 5 to 7 business days.

Charter/Spectrum

You may qualify for the Spectrum Internet Assist program if one or more members of your household is a recipient of one of the following assistance programs:

National School Lunch Program (NSLP)
Community Eligibility Provision (CEP) of the NSLP
Supplemental Security Income (for applicants 65 or older)


You can apply in English or Spanish:

Charter also offers households with K-12 or college students free Spectrum Wi-Fi for 60 days. (It is important to note that customers who sign up for the free service will automatically be billed for using Internet access after the first 60 days unless they contact Spectrum to cancel the service.) There is no online or downloadable application. To enroll your household in the free Spectrum offer for students, call (844) 488-8395.

Peer Advising

Our Peer Advising Program staffed by College of the Canyons students is available to help. We have many ways to connect beyond email, including Zoom meeting sessions and Google Hangout.

Canvas

For help with Canvas, please visit the Online Education website for video tutorials, tips and tricks. You can also email cvsupport@canyons.edu.

Library

The Library's website has resources for:

Finding full-text article databases and e-books
Receiving reference support via Zoom, chat and email
Finding streaming media
Learning how to use remote Library services and conduct research

The Learning Center

TLC offers online tutoring in math, science, & writing during normal hours of operation. Canvas support for students continues to be available.

California Community Colleges

Answers to questions such as:

With most colleges transitioning from in-person to online classes, what do I need to do to prepare, especially if I've never taken classes on line?
Do you have any other tips for succeeding in online classes?
There are lots of labs that involve in-person training, especially in career education fields. What's going to be done to address this?
What if I don't have a computer or live in an area that has limited or no broadband access?
How are colleges and the Chancellor's Office addressing the issue of access to computers and broadband availability for students who have needs in this area?
Academic Support
Reporting
---
Will I be required to receive a vaccine for influenza, and will these shots be made available on campus?
Per the orders of the Los Angeles County Department of Public Health, students who report to campus are required to receive an influenza immunization unless contraindicated by personal medical conditions. You should check the college's COVID-19 website for the availability of influenza vaccinations on campus. You may also access influenza vaccines from your primary health-care provider or local pharmacy once they become available.
---
What happens if I am unwilling to sign the COVID-19 Acknowledgment of the Risk and Consent Form for Students, Visitors, and Vendors (COVID-19 Acknowledgment of the Risk Form)?
The COVID-19 Acknowledgement of the Risk form is mandatory for all students voluntarily participating in on-campus instruction for the fall 2020 semester and beyond. The COVID-19 Acknowledgment of the Risk Form sets forth the risks of attending in-person instruction and requires that students acknowledge that they have read the COVID-19 Containment, Response and Control Plan. Students who are unwilling to sign the COVID-19 Acknowledgement of the Risk Form will not be permitted to resume in-person instruction.
---
How long will I have to stay away from campus if I am quarantining due to symptoms of COVID-19, a positive test, or exposure to a confirmed or presumed positive case of COVID-19?
If you have received a confirmed positive diagnosis of COVID-19 or presumed positive case of COVID-19, please reference COVID-19 Exposure Protocols in the COVID-19 Containment, Response and Control Plan. Generally, if you are experiencing symptoms of COVID-19, you will be prohibited from returning to campus until you meet the quarantine requirements established by public health officials.
---
How does contact tracing work and will I be identified to other students or employees if I disclose symptoms or a positive COVID-19 test result?
Consistent with the Los Angeles County Department of Public Health's Protocol for COVID-19 Exposure Management in Institutes of Higher Education and CDC guidelines, the college will initiate limited contact tracing (i.e., within the campus community) for confirmed and presumed positive cases of COVID-19. Please reference Campus Exposure and Contract Tracing in the COVID-19 Containment, Response and Control Plan. In general, the college will interview the COVID-19 positive individual to determine which spaces and individuals they came in close, prolonged contact (defined as 15+ minutes within six feet, or unprotected direct contact to body fluids) so that the college can notify those individuals and take appropriate remedial measures. Your identity and testing status will be maintained in strict confidence and will not be disclosed to your coworkers or other students. The college may continue its contact tracing efforts by interviewing relevant individuals about who they came in contact with and what spaces they recently used. Some of those individuals may be advised to stay home due to a higher risk of having been infected.
---
If there is a case of confirmed or presumed positive COVID-19 within a classroom, will all persons in the class be directed to leave campus and self-quarantine?
The college will make the determination as to whether an entire class will be asked to leave campus and self-quarantine based on the specific factual circumstances presented and consistent with public health guidance. At a minimum, those students and instructors within a class who come in close, prolonged contact (defined as 15+ minutes within six feet, or unprotected direct contact to body fluids) with a confirmed positive case of COVID-19 will be directed to self-quarantine. As for others present at the time of instruction, the college will consider the nature and length of the contact and any environmental considerations (e.g., outdoor instruction, physical barriers present, etc.). In making such determinations, the college will consult medical professionals or, where appropriate, local public health officials.
---
Who do I contact if I have symptoms of COVID-19 or have been in close physical contact with someone who has a confirmed or presumed positive case of COVID-19?
All persons who have symptoms should contact their own healthcare provider or, where necessary, 911. Persons without a doctor or without health insurance should contact 211 for available community resources. If you do not have insurance, you may contact Los Angeles County Department of Public Health (LADPH) for the location of a free testing center. After reaching out to a healthcare provider or LADPH:
Students should contact the Student COVID-19 Compliance Officer at (661) 362-3259. The Student COVID-19 Compliance Officer will help identify available community resources.
---
What if someone tells me they believe they were exposed to coronavirus?
If someone reports to you that they have been exposed, but are not exhibiting symptoms:
Instruct them to contact their healthcare provider or the Los Angeles County Department of Public Health at (888) 397-3993.
If the person is an employee, they should also contact the Employee COVID-19 Compliance Officer at (661) 362-5563 for more information and directions based on their specific circumstances.
If the person is a student, they should contact the Student COVID-19 Compliance Officer at (661) 362- 3259. The Student COVID-19 Compliance Officer will provide more information and directions based on their specific circumstances.