FAQs
---
Q. What is an Automotive Technician and what does he/she do?
A. Technician has all the same qualities of the mechanic but also has extensive knowledge of the computer control system on modern vehicles. They can repair or rebuild engines, transmissions, differentials or any other parts needed. They can also diagnose and repair the computer networking systems, electrical issues and all other computer controlled aspects of the vehicle.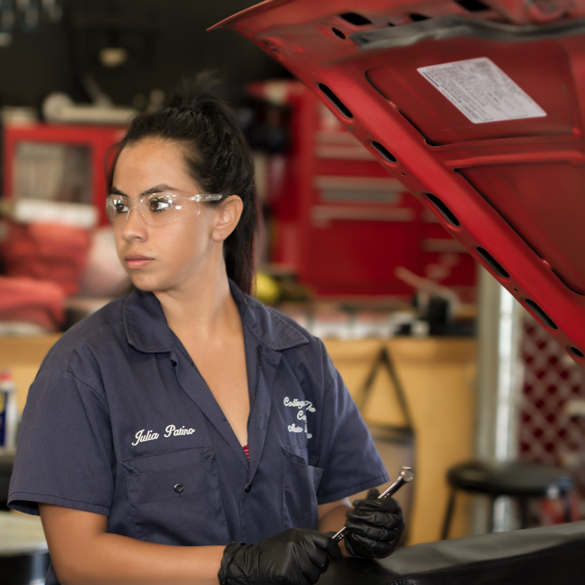 Q. What career paths are available?
A. Our courses will give you the knowledge and confidence you need to enter into or advance to many different occupations within the Automotive Industry. Equipment mechanic, Auto technician, Lube technician, Quick service, Parts person, Service writer, Service advisor, Shop foreman, Shop manager and many, many more. There is a job for those who enjoy working under the hood and for those who would rather specialize in the computer aspects of the vehicle.
Q. How long does the Automotive Technology Program take?
A. This really depends on the individual and the coursework completed in the program. Our courses are designed to allow students to get through the program as quickly as two semesters. Our classes are fast paced and cover a lot for information so this fast track is not advised for those with little-to-no automotive background. As a general calculation, anticipate the program taking 4 semesters or approximately 2 years to complete.
Q. Will I be able to get a job? Does the program provide job placement services?
A. Although the program does not provide formal job placement services, most of our students are hired before they complete their program. We work closely with local industry and provide internship opportunities. Additionally we frequently receive inquiries from industry looking to hire our students and provide this information to all the students in the program. Here on campus we also have a Career Services office that (free of charge) can assist students with finding employment including resume writing/review, job searches, workshops, interview practice, etc.
As an industry, the need for Automotive Technician is on the rise. For more specific information, check out the Bureau of Labor Statistics website.
Q. What kind of certification do I get when I finish the program?
A. Depending on which courses you take you could receive an Automotive Tech. MLR Certificate, or Automotive Tech. MLR with a minor in Diesel Certificate.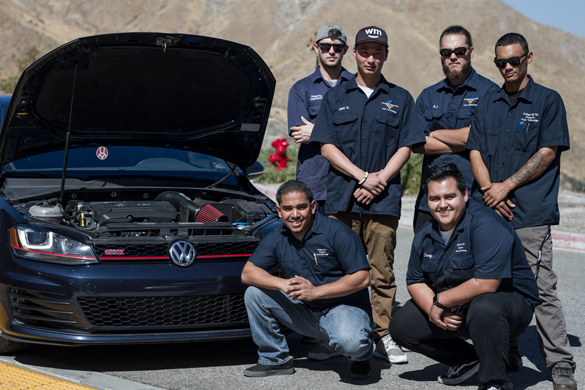 Q. What is the employment outlook?
A. As long as there are vehicles on the road, there will be a need for highly skilled automotive technicians. The supply of trained automotive technicians cannot keep up with the demand. Automotive dealerships and independent service providers are constantly in need of trained technicians. Projections from the U.S. Department of Labor, Harris Interactive Research, Automotive News Magazine and other sources, indicate the demand for trained automotive technicians will not diminish in the near future. Technicians currently in the field will have to continue their training as new technological advances are made in the industry. Equipped with this training, you will have job mobility and the security of knowing that your skills will always be in demand, anywhere.
The certificate and degree program both require students to complete internships or work experience in the field. This provides students who complete the program with the advantage of establishing a working relationship with an employer.



Don't see an answer to your question?
Contact Gary Sornborger, Chair Automotive Technology Program at Gary.Sornborger@canyons.edu or (661) 362-3881 for further information.