Our Students Need You!
The Student Resource and Success Fund will help students overcome the unprecedented challenges created by the COVID-19 pandemic.
Many of our students are facing extraordinary and unexpected challenges such as:
Loss of employment
Cancellation of childcare
Increased healthcare costs
Lack of technology for remote learning
Inadequate food supplies
Your help is needed now more than ever!
---
Because We Are Canyons
The College of the Canyons (COC) Foundation is a 501(c)(3) non-profit auxiliary organization formed to generate philanthropic support for College of the Canyons. The Foundation is governed by a Board of Directors who are an enthusiastic and committed group of volunteer business and community leaders who donate their time, resources and energy to positively impact educational access in the Santa Clarita Valley. The board's mission is to provide an affordable and accessible college education for all having the desire to succeed.
Like other educational institutions, our college needs charitable gifts to endow scholarships and to support educational programs and capital improvements, which can mean the difference between ordinary and extraordinary programs and services for student success. Through annual giving, special events and scholarship programs, the foundation provides the college with crucial private financial resources.
Contributions of cash, real estate, bequests and other legacy gifts enable the college to provide specialized educational programs and perform beyond the achievement level that tax dollars alone can support. Each year, the foundation grants funds to support college programs. It has granted as much as $2.9 million back to the college.
The Foundation encourages inquiries about the wide variety of college programs and opportunities supported through generous donations.


Publications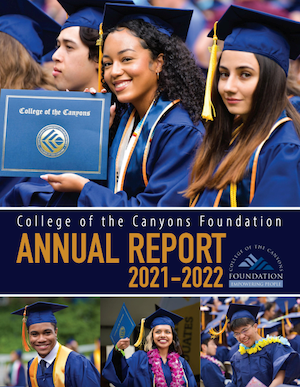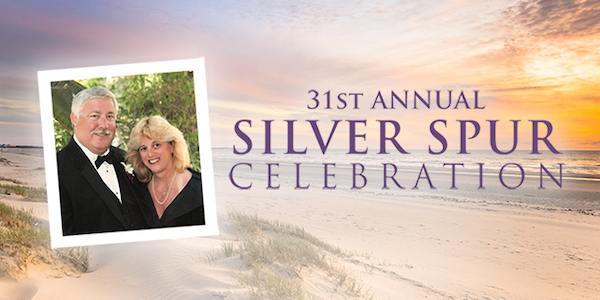 Silver Spur Celebration
Please join us as we honor Randy Moberg and Mitzi Like-Moberg for their community service during our 31st annual celebration on March 11, 2023.
---
Chancellor's Circle
---
Patrons of the Arts
Governance
The foundation is guided by a Board of Directors composed of community and college leaders who meet regularly to ensure the foundation is fulfilling its mission.
Contact Info
Mailing Address
College of the Canyons Foundation
26455 Rockwell Canyon Road, Santa Clarita, CA 91355
Main Phone: (661) 362-3434 | Email: Contact Us