COC Global
---
COC Global Meeting Dates (2023/2024)

2:00PM - 3:00PM

ISP Office (X6) - Room 110

| | |
| --- | --- |
| FALL 2023 | SPRING 2024 |
| Wednesday, September 6, 2023 | Wednesday, February 7, 2024 |
| Wednesday, October 4, 2023 | Wednesday, March 6, 2024 |
| Wednesday, November 1, 2023 | Wednesday, April 10, 2024 |
| Wednesday, December 6, 2023 | Wednesday, May 1, 2024 |

Agenda and Meeting minutes can be found on the COC Global Microsoft Team

Please email cocglobal@canyons.edu
for the zoom link.
---

---
Mission Statement
To lead students to be successful in a globally interconnected world.
Vision Statement
The CI Committee envisions a future where all students, both domestic and international, will succeed in a world marked by interdependence, diversity, and rapid technological change, by supporting faculty in the development of a comprehensive educational experience that emphasizes global awareness, responsibility, participation, and leadership.
Philosophy Statement
The CI Committee fosters a climate characterized by civility, collegiality, and acceptance and aims to instill in our students' honesty, integrity, social responsibility, and ethical behavior.
Advocate (Institution-Focused)

Advocate for policy and curricular initiatives to advance Comprehensive Internationalization, support the integration of international students into COC campus life, and develop equity-minded student mobility programs.

Build Support (Student-Focused)

Build support on campus and among key community stakeholders to advance the interests of international students and further efforts towards Comprehensive Internationalization.

Contribute (Faculty-Focused)

Create a wide variety of initiatives in support of faculty professional development and contribute to ongoing faculty efforts to advance Comprehensive Internationalization.

Develop (Campus Community-Focused)

Develop greater global cultural competence among students, faculty, and staff to advance Comprehensive Internationalization across COC departments and disciplines.

Focus (Globally-Engaged)

Focus on raising COC's global profile​.
---
Lecture Abroad Opportunities
As the International Affairs office continues to expand our international recruitment efforts to different regions, we have also solidified partnerships with various universities and we are looking to send for 1-2 faculty COC Professors to Lecture abroad each academic year (depending on travel restrictions).

Dates for lecture: After last day of semester (total of 7-10 travel days).

Travel logistics: ISP will cover the roundtrip airfare and visa (if needed).

In-country costs are typically covered by partner schools.
| | |
| --- | --- |
| Larry Alvarez, Summer 2019 | David Andrus, Winter 2018 |
If you are interested and have more questions feel free to contact Maritza.Munzon@canyons.edu
---
ISP Partner Institutions
Click here or on the map below to visit an interactive map of ISP's Global Partners!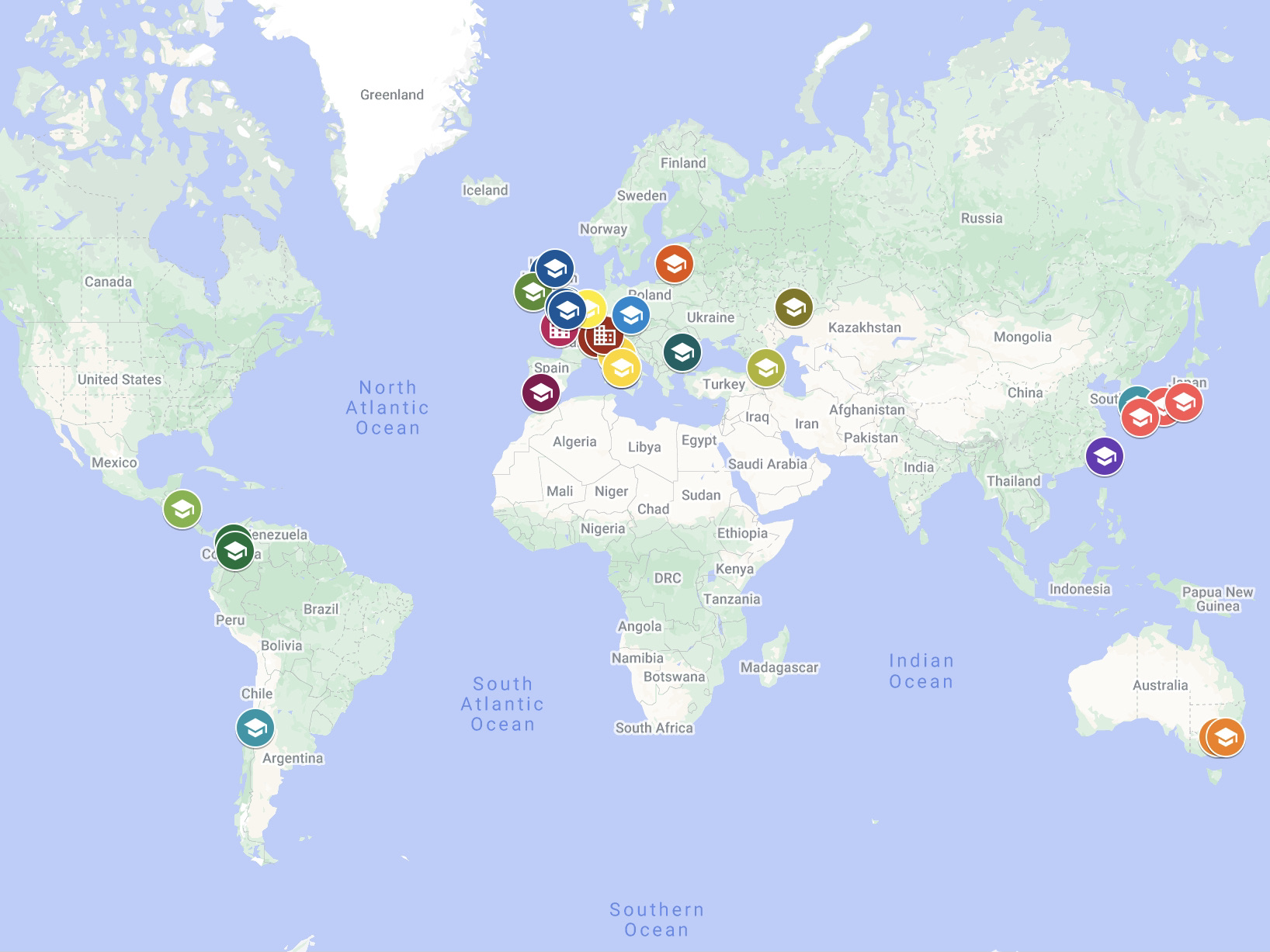 Institution
Country
Region
Program(s) of Focus
Project(s) in Progress
Photo
A. Baitursynov Kostanay Regional University
Kazakhstan
Asia, Central
General Courses
Prospective Grant
American University of Rome
Italy
Europe
General Courses
Study Abroad
APEX Foundation
Taiwan
Asia, East
Educational opportunity for students in Taiwan
Centro Universitario EUSA
Spain
Europe
Communications,
Advertising,
Business,
Journalism
Study Abroad
Charles Sturt University
Australia
Oceania
General Courses
Study Abroad
Dong-A University
South Korea
Asia, East
Business
Study Abroad
EHL Hospitality Business School
Switzerland
Europe
Hotel/Restaurant Management
Site Visit
Florence University Of The Arts - The American University of Florence | FUA-AUF
Italy
Europe
Media/Arts
Study Abroad,
COIL,
Faculty Lecture Exchange
Georgian National University SEU
Georgia
Eurasia
Education,
ESL
Fulbright,
Prospective Grant
Glasgow Caledonian University
United Kingdom
Europe
Hotel/Restaurant Management,
Psychology
Articulation,
Study Abroad
IMI International Management Institute Switzerland
Switzerland
Europe
Hotel/Restaurant Management
Study Abroad,
Articulation
John Cabot University
Italy
Europe
General Courses
Study Abroad
Kansai University of International Studies
Japan
Asia, East
Business
Short Term Courses
Nagasaki University of Foreign Studies
Japan
Asia, East
General Courses
Study Abroad
National Taipei University of Business
Taiwan
Asia, East
Business
Study Abroad, Prospective Grant
Rennes School of Business
France
Europe
Business
Articulation
Richmond American University London
United Kingdom
Europe
General Courses
Articulation
Spiru Haret University
Romania
Europe
Sustainability
Micro-Hub,
Recruitment
Technological University of the Shannon
Ireland
Europe
Hotel/Restaurant Management
Articulation,
Study Abroad
Temple University Japan
Japan
Asia, East
General Courses
Summer Courses,
Study Abroad
Thomas More University of Applied Sciences
Belgium
Europe
Media/Arts,
Nursing
Study Abroad,
Articulation,
Grant,
Erasmus+
Transport and Telecommunication Institute
Latvia
Europe
Computer Science,
Communications
Articulation
Universidad de Antioquia
Colombia
America, Latin
General Courses
Study Abroad,
Language School
Universidad De Chile - Faculty of Architecture And Urbanism
Chile
America, Latin
Architecture,
English,
Sustainability
Language School,
Instructor Training
Universidad de Ibagué
Colombia
America, Latin
General Courses
100K Grant
Universidad Nacional Autónoma de Honduras
Honduras
America, Latin
ESL
Language School,
Instructor Training
University for the Creative Arts
United Kingdom
Europe
Media/Arts,
Design
Study Abroad,
Articulation,
Non-Credit Courses
University of Brighton
United Kingdom
Europe
Business,
Media/Arts
Articulation,
Study Abroad,
IFY
University of Canberra
Australia
Oceania
General Courses
Articulation,
Study Abroad
University of Dundee
United Kingdom
Europe
Media/Arts,
Architecture
Articulation,
Study Abroad
University of New York in Prague
Czech Republic
Europe
Political Science
Articulation,
Study Abroad
Univesitá Telematica Internazionale Uninettuno
Italy
Europe
General Courses
Study Abroad
---