Welcome to DECT!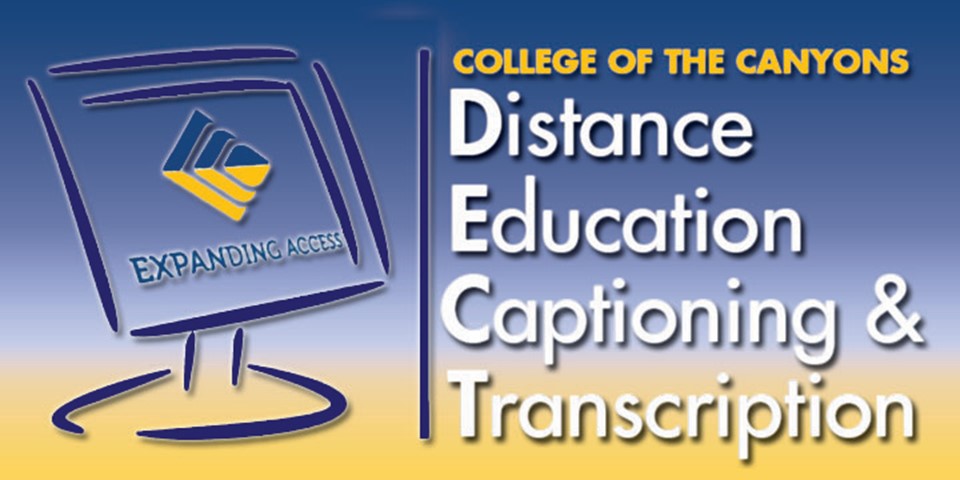 About FAQs Forms Pre-Approved Vendors Accessibility Contact
Distance Education comprises the fastest growing delivery mode in California Community College (CCCs). In order to provide access to all students and to comply with federal and state law, some components of distance education classes may need to provide captioning or transcriptions.

The Distance Education Captioning and Transcription grant (DECT) provides CCCs with funding for live and synchronous captioning and transcription as a means of enhancing the access of all students to distance education courses. Further, the DECT promotes and supports awareness of available funding as a means to support faculty efforts to develop high-quality, media-rich distance learning courses.
IMPORTANT: Please note the following language that is included in the DECT application for funding:

Regulatory Compliance - By signing this Application and Agreement and accepting Grant funding, Applicant District agrees that it will comply with all California Education Codes, Public Contract Codes, other applicable laws and regulations and Applicant District's policies and procedures and, further, certifies that Project as submitted is allowable within the terms of the Grant as described on the website.
The following is a list of qualifying projects:
Online Classes
Hybrid Classes (some instructional hours offered at a distance)
On-campus Classes utilizing distance methods of content delivery as they evolve (e.g., class capture, web conferencing, vodcasting, podcasting, content posted within a Learning Management System)
Digital Learning object repositories used to college and make available digitized content: this content could be used by on-campus, hybrid, online, and other delivery methods
If an award is not used in the term for which you applied, your award will automatically be closed at the end of that term and the monies will be returned to the pool of funds that may be awarded to other colleges. If you have unused funds by the end of a term and still have captioning/transcription needs, please submit a new application for the following term. For example, you were awarded $1,000 for a project to be completed during the Spring semester and you did not use these funds before the end of the Spring semester. Your award will automatically expire and the $1,000 will return to the pool of monies that may be awarded to other colleges. If it turns out that the project you planned for Spring will be delayed until the Fall semester, please submit a new application for Fall