History of College of the Canyons
Part 1 | Part 2 | Part 3 | Part 4
---
Chancellor Marks 25th Year
The college's continued growth was reflected once again at graduation time. The Class of 2013 was the largest yet, with 1,317 graduates, a 9.1 percent increase over the previous year. As commencement transitioned into summer, Chancellor Van Hook was not only honored by her alma mater, she celebrated a local milestone. The California State University Long Beach Alumni Association honored her dedication to the field of education by selecting her as its 2013 Distinguished Alumna for the College of Liberal Arts. Then, on July 1, 2013, the college celebrated the 25th anniversary of her arrival at College of the Canyons, noting the college's tremendous progress under her leadership.

The wandering culinary arts program, housed in a former restaurant in Castaic, received welcome news, the result of a fortuitous turn of events led by the college's cost savings from the recent Library/TLC expansion. Combined with a capital campaign that raised about $1 million – representing more than 700 community members and 96 percent of the college's full-time employees – the college embarked on a plan to build a permanent facility devoted to the culinary arts. A groundbreaking ceremony in August made it official, signaling the start of construction on a state-of-the-art facility at the Valencia campus that would be known as the College of the Canyons Institute for Culinary Education (iCuE).
Students turned in some spectacular performances of note. Among them were the college's speech team, which won a college-record seven medals – two golds, four silvers and one bronze – at the 2013 California Community College Forensics Association State Tournament. The college's Future Business Leaders of America chapter won first place at the California State Fall Business Leadership Conference, besting teams from big universities such as UC Berkeley and USC. And, freshman track and field athlete Tim White capped an amazing season by winning the national championship in the triple jump at the U.S. Junior Outdoor Track and Field Championship.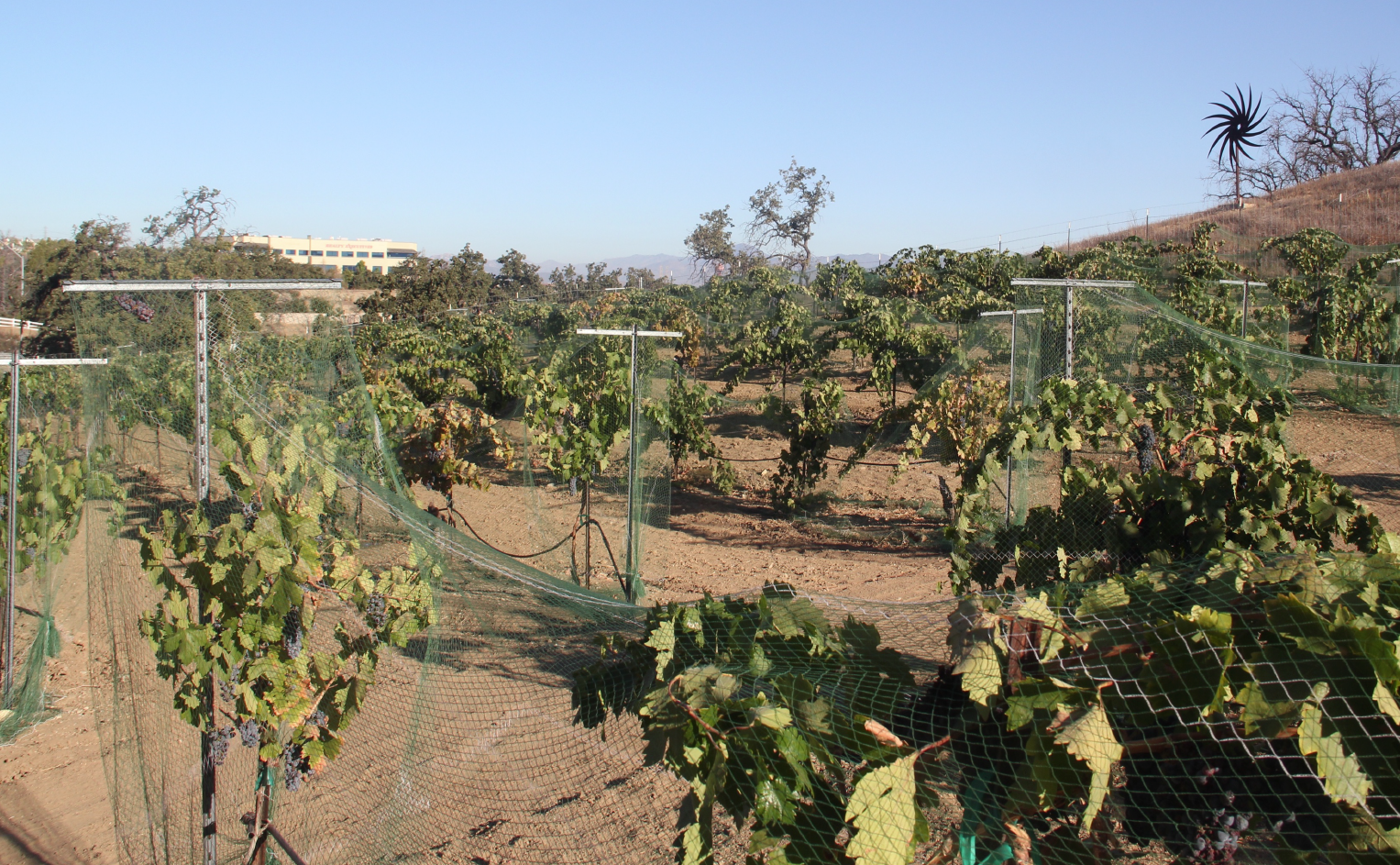 The college planted a vineyard with grapes donated by Remo Belli Vineyards of Paso Robles.

As 2014 began, the college planted its first vineyard, tucked away along the western edge of the Valencia campus and featuring California Zinfandel grapes donated by Remo Belli Vineyards in Paso Robles. And, the college presented its second TEDx conference, whose theme of "perspectives" offered just that, and on a variety of topics. The commencement ceremony broke records yet again, becoming the biggest yet with 1,343 graduates.
At the Performing Arts Center, country superstar Willie Nelson performed to a sold-out house, followed by a 10th anniversary season lineup that included Grammy-winning artist LeAnn Rimes, comedian Paula Poundstone, Rock 'n' Roll Hall of Fame inductees Dave Mason and Mavis Staples, folk singer Arlo Guthrie, and rising stars 2Cellos.
The college's 45th anniversary was officially noted during a ceremony at the Valencia campus flag pole. On hand were Chancellor Van Hook, as well as Board of Trustees members Bruce Fortine and Michele Jenkins, both with strong ties to the college's formative years. Fortine served on the college's first Board of Trustees, having been elected in 1967, the same year voters decided to create College of the Canyons. Jenkins, whose 30 years of service made her the longest continually serving board member, was also one of the college's first students, having attended classes the inaugural year. She also held the distinction of leading the Board of Trustees in 1988 when it offered the position to Van Hook, a decision that profoundly changed the college's trajectory. "She had the courage to lead the board in hiring a woman to head the college when there were just a handful of female community college presidents in California," Van Hook said. "But that speaks to Michele's courage as a leader, and her belief in the potential of people."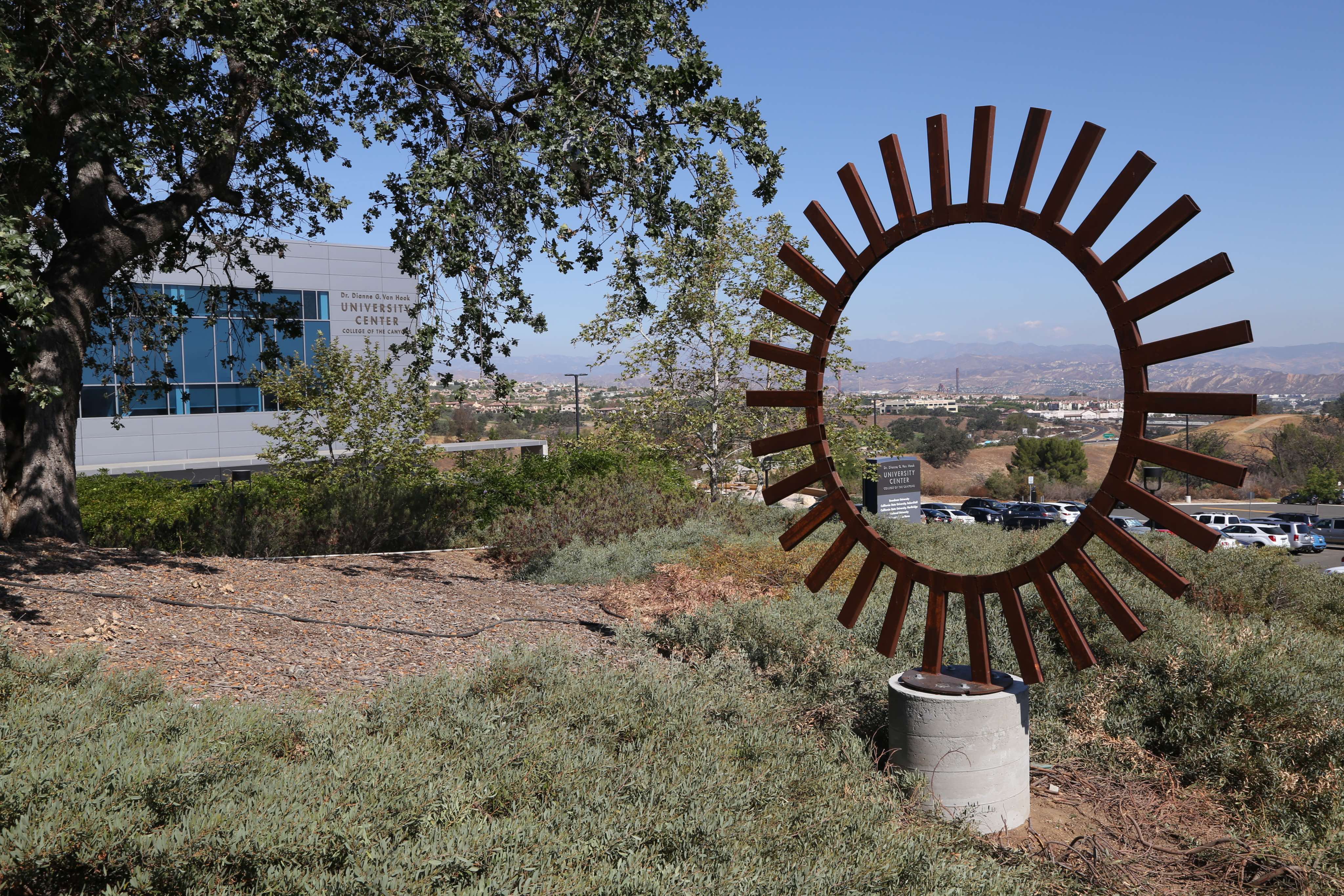 A Simi Dabah sculpture keeps a majestic oak tree company outside the University Center.

Over the summer of 2014, a collection of unique welded-steel sculptures started to quietly pop up on both campuses. The sculptures were the work of Southern California artist Simi Dabah, who donated them for permanent installation. The collection was officially unveiled as the largest permanently installed Dabah collection during a dedication ceremony at the Performing Arts Center on Nov. 6, 2014.


Athletic Supremacy
The College of the Canyons Athletics Department achieved something it had never before accomplished. It won the Western State Conference Supremacy Award for the collective performance of its 16 intercollegiate athletic teams, wresting the recognition from longtime powerhouse and 14-time defending champion Ventura College. The Cougars absolutely dominated the 2013-14 season, winning WSC championships in women's volleyball, men's cross country, women's soccer, men's track and field, and men's golf, as well as a co-championship in softball. Athletic dominance continued when, on Nov. 22, 2014, the men's cross country team hoisted a state championship trophy for the first time since 1975.
As 2014 drew to a close, College of the Canyons was named the second fastest-growing community college in America by Community College Week magazine.
A nearly two-year institutional review process culminated in February 2015 with the announcement that the Accrediting Commission for Community and Junior Colleges had reaffirmed the college's accreditation at the highest level of approval possible.
After 45 years of excellence, innovation and service to the community, College of the Canyons put the crowning touches on its first campus in early 2015 by completing the key projects – and then some – outlined in the previous Valencia campus master plans.
First to be unveiled was Canyons Hall, the Center for Student Services and Community Engagement, which replaced the old Administration Building and stands prominently at College Circle, the main entrance to the Valencia campus. Guests at a March 25, 2015 open house were treated to a variety of presentations, followed by tours of the new home for Admissions & Records, Financial Aid, Counseling, the Transfer Center, the Job & Career Center, administrative offices and others.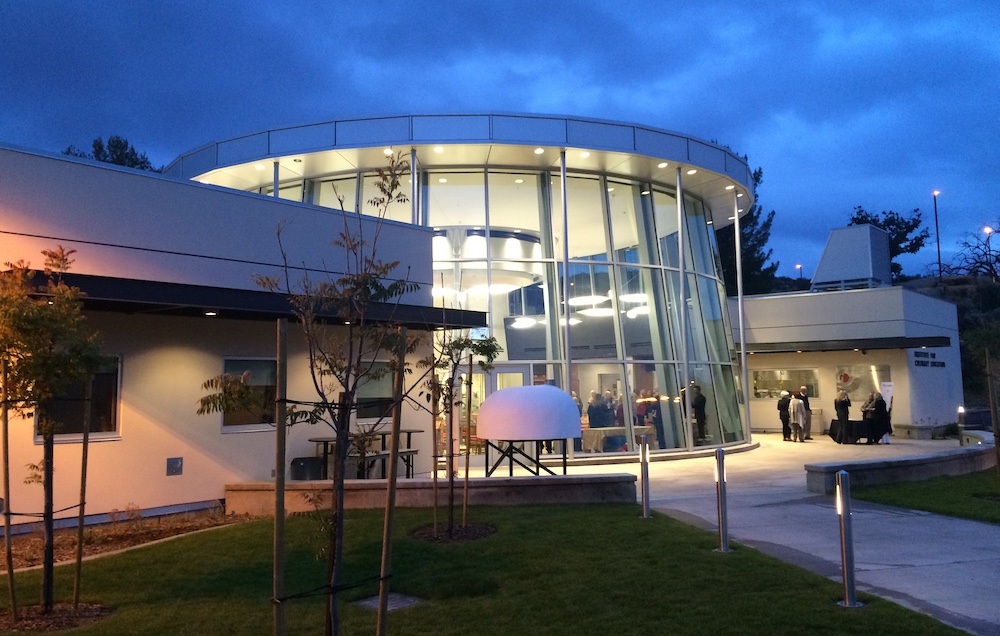 The College of the Canyons Institute for Culinary Education debuted in 2015.


Culinary Center Debuts
Then came the College of the Canyons Institute for Culinary Education (iCuE), which was officially revealed during a ribbon-cutting and open house on April 15, 2015. The gleaming new building presented a veritable feast of state-of-the-art teaching kitchens and educational facilities to train the next generation of culinary arts professionals. The 12,200-square-foot building, anchored by a central glass-enclosed dining room where students could demonstrate their newly honed culinary skills, included a Show Kitchen, Savory Kitchen, Sweets Kitchen, Wine Studies Room and Culinary Lab. More importantly, the facility expanded a premier culinary arts program whose quality is comparable to those offered by private culinary arts institutions, but at considerably less expense.
The college was recognized in April during the Open Education Global Conference for its leadership in promoting the use of Open Educational Resources (OER) – textbooks and other learning resources in the public domain – to reduce student costs and increase access to higher education. The college pioneered the effort to adopt Open Educational Resources, a term that has since been replaced by ZTC, or Zero Textbook Costs. Students consistently point to the high cost of textbooks as a significant barrier to their educational goals. Most ZTC textbooks, on the other hand, are free. Students using them saved an estimated $4 million per year.
The 2015 commencement ceremony saw 1,462 students graduate, a nearly 9 percent increase over the previous record-setting year. And, as if that wasn't quite enough to impress, the June 5 ceremony also featured the college's oldest-ever graduate, 99-year-old Doreetha Daniels, who strode to the podium, picked up her diploma and accomplished her goal of earning a college degree before her 100th birthday.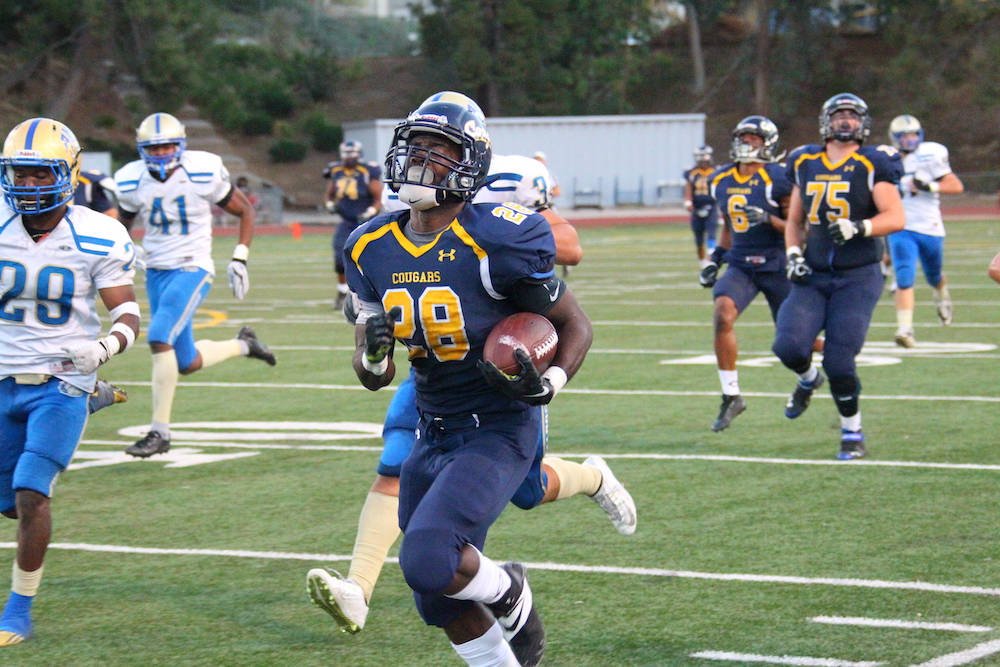 Cougar Athletics continued to dominate, claiming its second-straight Western State Conference Supremacy Award in 2014-15.


Cougar Athletics continued its dominance, claiming a second-straight WSC Supremacy Award for winning six conference championships – women's volleyball, men's cross country, women's golf, women's soccer, women's track & field and men's golf – during the 2014-15 season. Men's cross country and men's golf went on to win their respective California Community College Athletic Association titles as well.
Longtime higher-education advocate and U.S. Congressman Howard P. "Buck" McKeon retired from public office in 2015, but not before cementing his legacy by establishing the McKeon Archive, McKeon Scholars Award endowment and McKeon Leadership Forum at the college. The forum debuted Nov. 6 with a keynote presentation by Marine Corps Gen. John F. Kelly, who would later head up Homeland Security and serve as White House chief of staff.


Academic Innovation
Academic innovation was recognized when the California Community Colleges Chancellor's Office honored College of the Canyons with the 2015 Student Success Award for its pioneering approach of condensing remedial coursework in math and English to save students time and money and enhance completion. And, the college's career-preparation prowess was bolstered when it received a $5.5 million grant to create four career pathway programs in partnership with the William S. Hart Union High School District and business leaders. The pathways allow high school students to complete specific courses at their school or the college that lead to associate degrees or industry certifications in advanced manufacturing, computer networking, construction technology and legal studies.
Student success was recognized as well. The California Community Colleges Chancellor's Office ranked student success rates at College of the Canyons as some of the best in the state. Statistics for the 2014-15 academic year revealed that first-time COC students who graduated high school as "college prepared" and were eligible to enroll in degree applicable math and English courses posted a combined completion rate that was a full 10 percentage points greater than the statewide average. The results ranked second among California's 113 community colleges – and best of all community colleges in Los Angeles County. And, the Speech Team achieved a No. 1 national ranking after winning a combined 14 medals – including three gold, three silver and eight bronze medals – at the annual Phi Rho Pi National Tournament in April 2016.
Students and staff members interested in Science, Technology, Engineering, Art and Math (STEAM) got a boost with the 2016 opening of MakerSpace, a center designed to spark creativity, spur collaboration and fuel innovation. The Valencia campus center provided a collaborative learning area that gave users free access to tools, materials, technological resources, skills training and a variety of entrepreneurial opportunities. A second MakerSpace center later opened at the Canyon Country campus.
As the spring 2016 semester drew to a close, a welcome diversion arrived courtesy of the entertainment world. Proving that she knows the subject she teaches, English professor Erin Delaney scored a two-day winning streak on the game show "Jeopardy" by correctly answering questions about Robert Louis Stevenson's novel "Treasure Island" and Oscar Wilde's play "Lady Windermere's Fan." She walked away $54,999 richer.
The number of graduates continued to grow and defy projections. The 2016 commencement ceremony was the largest yet with 1,766 graduates, a 21 percent increase over the previous year.


Commitment to the Future
The community stepped up on Election Day on June 7, 2016 by approving Measure E, a $230 million bond measure that would allow the college to build urgently needed classrooms and labs for the training of critical professions, as well as serve a growing population of local students who choose College of the Canyons for the first two years of college as a cost-effective alternative to more expensive four-year colleges and universities. Measure E was the college's third successful bond measure in 15 years, preceded by Measure C in 2001 and Measure M in 2006. Collectively, the bonds enabled the college to access state construction funding, build the University Center and other key facilities, acquire a site and build the Canyon Country campus, and begin modernization of the Valencia campus, where many buildings are more than 40 years old.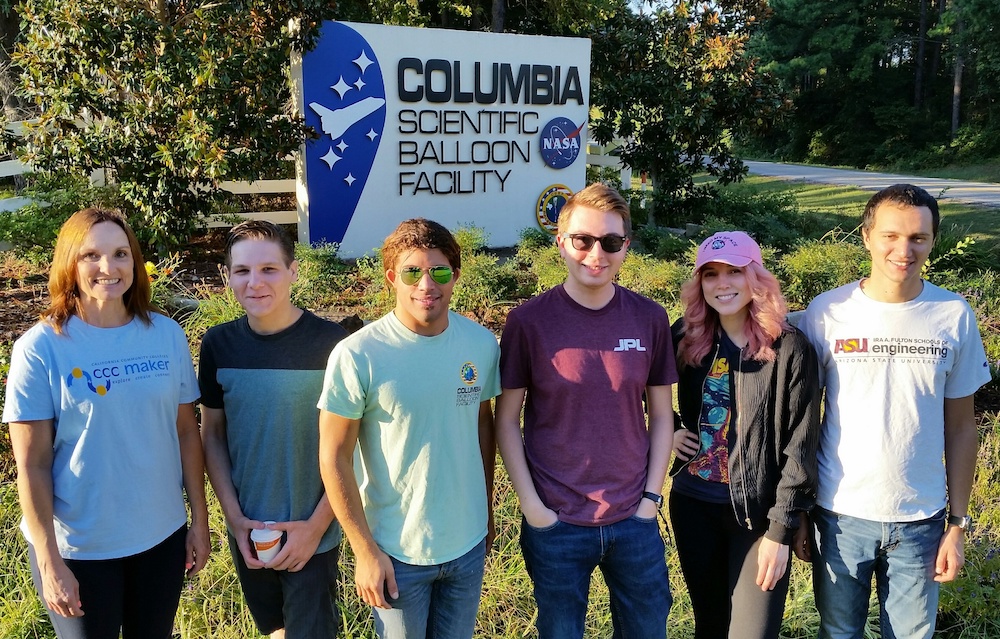 The Astronomy & Physics Club launched an experiment aboard a NASA high-altitude balloon.


The Astronomy & Physics Club spent the summer preparing and testing a prototype platform to collect cosmic dust particles in the upper stratosphere aboard a NASA high-altitude science balloon, which launched from New Mexico in August. College of the Canyons was the only community college participating in the High Altitude Student Platform (HASP) launch, and one of only four community colleges in the program's history.
For the third straight year, the college claimed the WSC Supremacy Award for its athletic programs' combined performance in the 2015-16 academic year. The Cougars won six conference championships, with women's volleyball, women's soccer, women's basketball, softball, men's cross country and men's golf all bringing home WSC championships.
The men's golf team won the California Community College Athletic Association Southern California Regional Title before finishing as runner-up at the state championships. Freshman golfer Ben Campbell won the individual state championship. Cross country team member Ethan Walker clinched the individual state championship. Swimmer Jennifer Yamauchi became the first individual conference swimming champion in college history and set a college record in the 100-yard backstroke at the 2017 WSC Finals. Jessie Kim was the top finisher for the men's team, claiming individual WSC titles in both the 100-yard and 200-yard backstroke. William Karren took the WSC individual title in the 100-yard butterfly. The track & field program capped its season with a trip to the State Championships, highlighted by sophomore Díani Ellis winning the state championship in the 3,000-meter steeplechase. Men's basketball coach Howard Fisher returned from Israel with a gold medal, after leading the USA Youth Men's Basketball team to a perfect 5-0 record at the 20th World Maccabiah Games. And, former football and track & field student-athlete Tim White signed a free-agent contract with the NFL's Baltimore Ravens. News of White's signing spread on social media following the 2017 NFL Draft, with the Ravens wasting little time before inking White to a contract. The speedy wide receiver was flooded with congratulatory messages from friends, family and coaches reminiscing about his days at Hart High School, College of the Canyons and Arizona State University.
National and regional recognition continued on a variety of fronts. The college was ranked among the top-25 U.S. colleges for adult learners by Washington Monthly magazine. PayScale's 2016-17 College Salary Report ranked College of the Canyons as one of the nation's top-15 community and career colleges by salary potential of graduating students. The Small Business Development Center (SBDC) hosted by College of the Canyons was named the Top Performing SBDC within the Los Angeles Regional Network in 2016, outperforming the region's seven other centers. Chancellor Van Hook was named Pacesetter of the Year by the National Council for Marketing and Public Relations. The award recognizes a president or CEO of a two-year community or technical college who demonstrates leadership and support in college communications and marketing. And, the Model United Nations team was named Outstanding Large Delegation during the Los Angeles Model U.N. Conference at UCLA.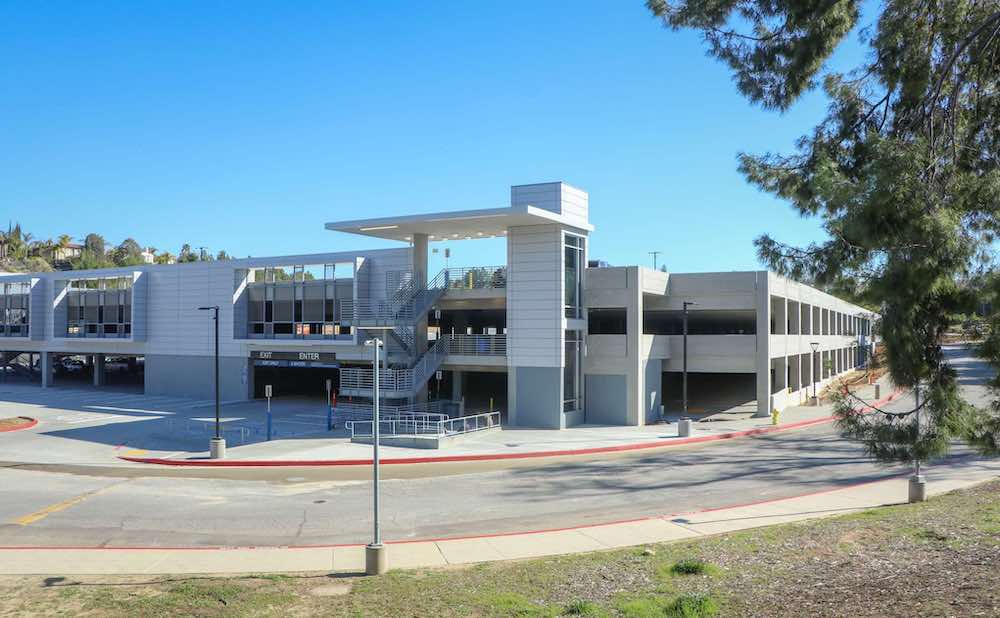 A parking structure that opened in 2019 went a long way toward addressing a longtime parking shortage at the Valencia campus.


Promises Kept
California's "grand concept" of providing a free college education to all may have ended in 1983, but it made a comeback of sorts in 2017. That was the year the college received a $667,000 grant from the California Community Colleges Chancellor's Office to launch First-Year Promise, a program that provided a tuition-free first year of college and other incentives for new high school graduates. The program caught on quickly, with 350 incoming students participating when it launched in the fall of 2017. With the additional support of corporate donors such as Andy Gump, Logix, NE Systems, Sand Canyon Country Club and Scorpion Internet Marketing, the program evolved into Canyons Promise, which covered a second full year for students who successfully completed their first year. By 2019, the number of students participating had grown to 738.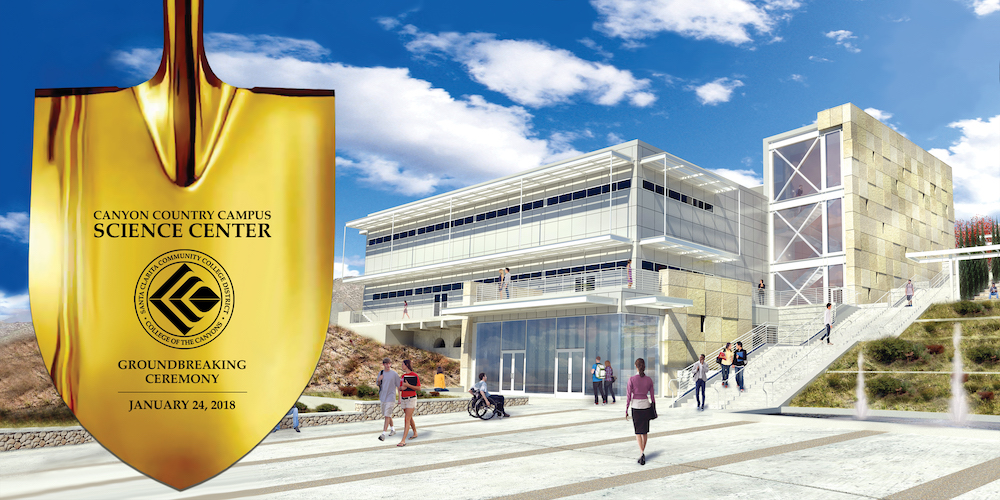 A groundbreaking ceremony was held for the Science Center at the Canyon Country campus.


With the Valencia campus essentially built out, save for a planned parking structure to alleviate parking shortages, attention turned to the Canyon Country campus. There, on Jan. 24, 2018, a groundbreaking was held for the Science Center, an ambitious, 55,000-square-foot facility that, when completed, will actually have more space than all of the buildings combined on that campus. The four-level hillside structure, expected to be completed in 2020, will include seven lecture rooms, eight labs, 10 science service rooms, computer labs, faculty offices, and group-study and open-study spaces. At least three more buildings will follow: a Business & Art Center, Technology & Health Center, and Student Center.
Five-thousand parking spaces is usually nothing to sneeze at, but it wasn't quite enough at the growing Valencia campus. In March 2018, construction began on a parking structure to alleviate the consistent parking shortage. The Measure E-funded project produced a three-level structure with 1,659 spaces in the former Parking Lot 7, at the corner of Valencia Boulevard and Rockwell Canyon Road. Construction proceeded at a whirlwind pace and was completed in less than a year, opening for the start of the spring 2019 semester.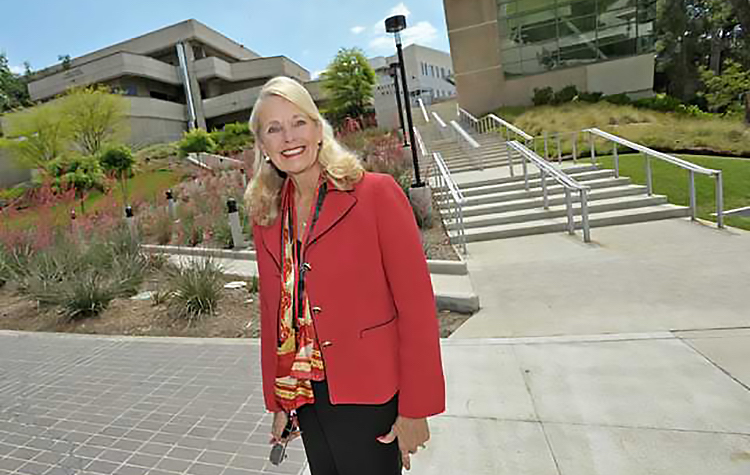 Dr. Dianne G. Van Hook celebrated 30 years at the helm of College of the Canyons in 2018.


Distinctive Leadership
Chancellor Van Hook hit a milestone in 2018. It not only marked her 30th year of leadership at College of the Canyons, it signified her distinction as California's longest-serving community college CEO. And, her commitments accelerated and accolades continued. She joined the Santa Clarita Valley Chamber of Commerce Board of Directors and become founding chair of The Chamber Institute, tasked with developing an executive-level think tank focused on business issues. Santa Clarita Valley International School honored her visionary leadership with the 2018 Vision in Education Award, given to community leaders who make significant contributions to public education and demonstrate dedication and vision toward increasing educational opportunities. And, the Bipartisan Policy Center invited her to join its Higher Education Task Force of more than a dozen former policymakers and high-profile individuals in higher education to make recommendations toward the reauthorization of the federal Higher Education Act.
The college continued to make strides in providing relevant academic and career training that paid off for students. The California Community Colleges Chancellor's Office named 18 College of the Canyons career education programs Strong Workforce Stars for successfully improving student employment and wage outcomes. Graduates showed significant gains in factors important for advancing social mobility – a substantial increase in earnings, attainment of a living wage and a job closely matched with the field of study. Students were offered additional pathways designed to help them transfer quickly and seamlessly to public and private four-year universities. The number of Associate Degrees for Transfer (ADTs), known as "a degree with a guarantee" that enables students to transition to California State University campuses, increased for the fall 2018 semester. In fact, the college was named a 2018 Champion of Higher Education for Excellence in Transfer by The Campaign for College Opportunity for significantly increasing the number of students earning ADT degrees. And, the college opened an off-campus continuing education center to better meet the needs of working adults. The center, located in a shopping center on Bouquet Canyon Road, provided English as a Second Language (ESL) and Microsoft Office classes. A second, similar center opened the following year on Soledad Canyon Road to serve the Canyon Country area.
The college retained its top-50 U.S. colleges ranking for adult learners in Washington Monthly magazine's recommendation of "Best Two-Year Colleges for Adult Learners." Of the 11 California community colleges that made the list, College of the Canyons ranked No. 1 in Southern California and No. 43 nationally. The magazine also recognized the college as one of America's Best Colleges for Student Voting for its commitment to inspiring students to vote and actively participate in community decisions. And, Hispanic Outlook on Education magazine's top-100 colleges and universities list for graduating Hispanic students ranked the college No. 29.
As a new year began, Chancellor Van Hook was tapped to provide her expertise to the funding formula for California's community colleges. She was nominated by Assemblywoman Christy Smith and appointed by Assembly Speaker Anthony Rendon in January 2019 to serve on the Community College Student Success Funding Formula Oversight Committee, which oversees the implementation of California's funding formula to ensure it meets the needs of the state's 2.1 million community college students. And, in recognition of her longstanding support of community colleges and communications efforts, she was later named the Community College Public Relations Organization's "PROmoter of the Year." "I am convinced that community colleges are a game changer, a vehicle for social justice and a place where endless opportunities are created and achieved if you dare to dream," she said.
The men's golf team won the 2019 California Community College Athletic Association State Championship by an impressive18 strokes. The state championship was the program's ninth overall (1993, 2000, 2002, 2006, 2008, 2013, 2015, 2017 and 2019), all coming under coach Gary Peterson.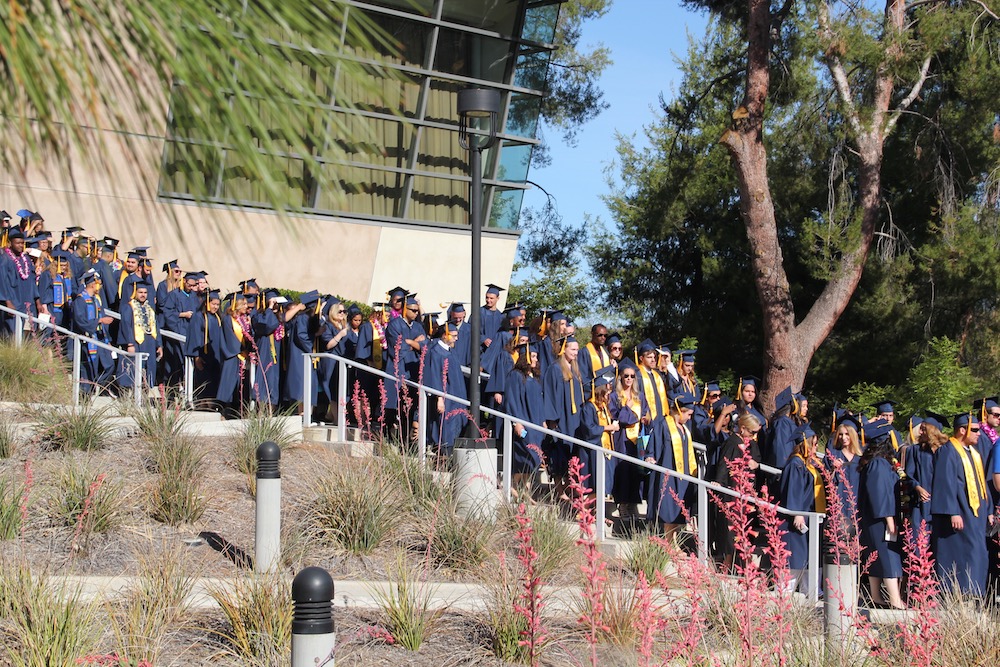 The 50th annual commencement ceremony was the biggest ever.


The 50th annual commencement ceremony on May 31, 2019 saw a record number of graduates: 2,467, a 10.5 percent increase over the 2,232 who graduated in 2018. "I have no doubt that our students will go on to do important things in life," Chancellor Van Hook said. "I stand in awe of the stories they will create. This is only the beginning of their journeys."
Once again, College of the Canyons was ranked among the best U.S. colleges for adult learners in Washington Monthly magazine's ranking of "Best Two-Year Colleges for Adult Learners." Out of the 10 California community colleges that made the list, the college ranked No. 1 in Los Angeles County, No. 2 in Southern California and No. 53 nationally.


Dramatic Results
From its modest beginnings when 735 students signed up for classes in 1969, College of the Canyons has grown to offer 201 degrees and certificates to more than 32,000 students every year. The depth and breadth of class offerings have increased considerably from that first year, growing from 150 class sections to 6,657, and 31 disciplines to 85. Over the span of 50 years, approximately 250,000 people have taken classes, and some 34,000 degrees and certificates have been awarded. The College of the Canyons Foundation has raised nearly $30 million since it was established in 1984. And, with more than 1,600 employees and a $126 million general fund budget, the college is one of the area's largest employers and a significant driver of economic prosperity throughout the region.
The college has established numerous partnerships in both the public and private sectors that have redefined the traditional role of a community college. Academy of the Canyons, established at the Valencia campus in partnership with the William S. Hart Union High School District, is an Exemplary High Performing School whose National Blue Ribbon Award puts it in the top 1 percent of high schools nationally. The College of the Canyons Economic Development Division, which includes the Small Business Development Center, Center for Applied Competitive Technologies and Employee Training Institute, to name a few, has trained thousands of employees at hundreds of companies, contributed to numerous business startups, and helped create thousands of local jobs.
The college maintains still more partnerships to ensure that vital services such as health care, law enforcement, fire protection and emergency medical response remain at the highest levels possible. Home to the Los Angeles County Sheriff's Department's North Academy, the college also helps train firefighters and emergency medical technicians (EMTs). The college has awarded 2,865 certificates in fire technology, administration of justice and EMT, and 1,353 fire technology and administration of justice degrees. A robust nursing program is augmented further by partnerships with regional hospitals that provide real-world training for nursing students. Since its founding in 1971, the nursing program has awarded more than 2,000 degrees, helping the college make significant strides in alleviating the statewide shortage of trained nurses.
And, the Performing Arts Center's K-12 Arts Education Outreach Program represents a key partnership with every K-12 school district in the Santa Clarita Valley. The program has served more than 75,000 local students by bringing them to the college campus to experience the performing arts or providing visiting artists at their schools.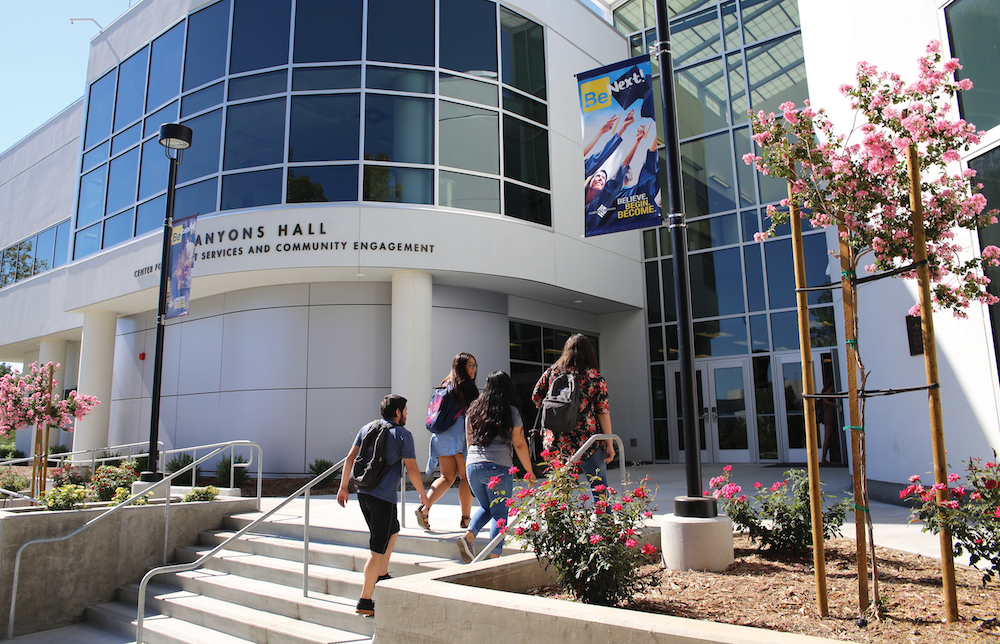 Canyons Hall, which opened in 2015, is typically one of the first stops along a student's journey.


Gateway to the Future
The college serves as a gateway to higher education, professional training and, by extension, opportunity. Many thousands of students have graduated, moved on to four-year universities and pursued successful careers. In a testament to students' experiences here, as well as the skills and knowledge gained, many have found their way back. More than half of the college's full-time employees – 57 percent – were once students here.
The college has become a vital part of the community it serves, educating, training and enlightening tens of thousands of its residents. And, it owes its success to an equally fast-growing, dynamic and historically supportive community, as well as the vision of college leadership to build the finest and most-innovative community college anywhere.
College of the Canyons is well on its way to meeting the future demands of a dynamic, diverse and fast-growing community. The expansion of facilities and programs has done more than meet current educational needs. It has laid the groundwork for the future. If history is any indication, College of the Canyons will meet that challenge and exceed expectations, offering hope, encouragement and promise to those students – and many more who will inevitably follow.