News Releases
October 21, 2021 – The Canyon Country Campus' marquee event will return on Friday, Oct. 29 for an educational and inspiring evening under the stars.
October 20, 2021 – College of the Canyons freshman cross country runner Danielle Salcedo has been named the California Community College Sports Information Association (CCCSIA) Female State Athlete of the Month for September.
October 13, 2021 – To help address the current labor shortage, College of the Canyons Career Center will host a Hiring Fest on Friday, Oct. 22 at the Dr. Dianne G. Van Hook University Center.
October 7, 2021 – In celebration of National Hispanic Heritage Month, College of the Canyons will host the 2021 Latinx & Hispanic Heritage Cultural Journey virtually from October 11 to 15.
September 23, 2021 – College of the Canyons is continuing its tradition of inviting community groups to experience Cougar football during the 2021 season, with all healthcare workers and first responders invited to attend Saturday's game vs. Palomar College free of charge.
September 14, 2021 – In partnership with the Community College Consortium for Open Educational Resources, College of the Canyons has received a second grant from the William and Flora Hewlett Foundation to expand and extend the Open for Anti-Racism program supporting faculty in California community colleges.
September 10, 2021 – College of the Canyons is one of four California community colleges recognized for being among "America's Best Colleges for Student Voting" by Washington Monthly magazine for its commitment to inspiring students to vote.
September 7, 2021 – College of the Canyons has received a $1.49 million grant award from the National Science Foundation to fund a new scholarship program to increase retention, transfer, and graduation rates among science, technology, engineering and math majors in key student populations.
September 2, 2021 – Although the fall semester at College of the Canyons began Aug. 23, more than 400 short-term classes are still open in popular subject areas.
August 25, 2021 – Free parking, COVID-19 grants, Zoom zones, hybrid classes, and campus jobs are just a few of the things College of the Canyons students can expect during the 2021-22 academic year.
August 17, 2021 – Five months after enrolling in the College of the Canyons Emergency Medical Technician program, Jonathan Nasrallah found himself in a worst-case scenario, which prompted him to use his newly acquired skills and knowledge to save the life of a family member.
August 13, 2021 – The Santa Clarita Community College District Board of Trustees approved a resolution that requires the use of face coverings and vaccinations or weekly testing to access College of the Canyons campuses and facilities.
August 11, 2021 – Disabled Students Programs & Services at College of the Canyons has announced that it will now operate as the Academic Accommodation Center.
July 30, 2021 – College of the Canyons has received a $74,707 Campus as a Living Lab grant from the National Science Foundation to provide opportunities for underrepresented community college students to engage in undergraduate research focusing on native bees.
July 14, 2021 – In preparation for the college's expansion of on-campus instruction and activities, the Santa Clarita Community College District has allocated more than $500,000 of its Higher Education Emergency Relief Fund package to fund student jobs on campus.
June 28, 2021 – College of the Canyons refinanced $36.8 million of outstanding general obligation bond debt. The district's taxpayers will have cash flow savings of $2.9 million.
February 25, 2021 – The college district received the best rating possible in an independent audit of its general obligation bond expenditures.
January 29, 2021 – College of the Canyons has won a 2021 Bellwether Award for its innovative approach to assessment and course sequence redesign in English and mathematics, which paved the way for groundbreaking legislation and benefited community college students statewide.

• Health and safety measures
• College operational plans
• Student and staff resources

Event, academic & student calendars

In the Spotlight
College of the Canyons is committed to the long-term, permanent review and assessment of all its practices to ensure, as an entity of academic integrity and learning, it is doing everything it can to ensure that all barriers, by intent or neglect, are removed.
Undocumented students and immigrants are a part of our community and have so much to contribute to our college. We all benefit when they can adjust their immigration status and access educational and employment opportunities.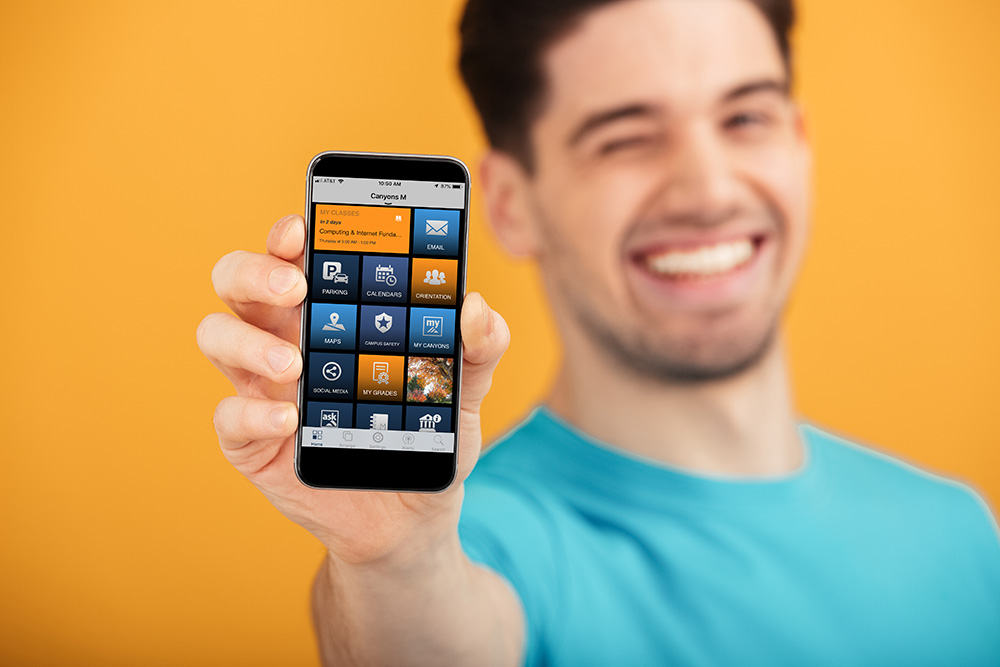 The Canyons M app allows you to get real-time information right on your smartphone.
Campus email
Canvas
Important notifications
Grades & class information
Payments & registration
Campus maps
The latest news and events