News Releases
January 25, 2023 – The Santa Clarita Community College District's Independent Citizens' Bond Oversight Committee voted to accept the results of an independent audit confirming the district properly accounted for all bond expenditures in the 2021-22 fiscal year.
January 18, 2023 – The Santa Clarita Community College District will receive more than $5 million in federal funding to purchase equipment required to provide high-quality training in robotic automation production, Non-Destructive Inspections (NDI) of aircraft, and firefighting.
January 17, 2023 – College of the Canyons will hold an online information session for individuals interested enrolling in the Low Observable (stealth) Coatings Application program from 6 to 8 p.m. Wednesday, January 25.
January 13, 2023 – College of the Canyons has received a $25,000 grant through Stanley Black & Decker's second Global Impact Challenge to provide support to students enrolled in the college's new construction technology pathway.
January 12, 2023 – Although the College of the Canyons Spring 2023 semester starts on Monday, February 6, it is not too late for students and community members to register.
December 22, 2022 – The Santa Clarita Community College District Board of Trustees, which oversees College of the Canyons, swore in recently elected board members, elected its new officers, received recognitions for service, and set its 2023 meeting schedule at the board's business and organizational meeting held on Wednesday, Dec. 14.
December 20, 2022 – College of the Canyons paralegal studies student Ryan McLaughlin won the American Association for Paralegal Education (AAfPE) Lambda Epsilon Chi (LEX) national honor society scholarship after taking first place in the annual essay competition.
December 19, 2022 – Eleven College of the Canyons fire technology students have received $1,000 scholarships from Edison International to cover tuition, books and school-related fees.
December 16, 2022 – This spring, the School of Personal and Professional Learning (PPL) at College of the Canyons will offer five new certification programs for individuals interested in pursuing careers in yoga teaching, real estate, commercial art, digital publishing, and paralegal fields.
December 14, 2022 – Students interested in upgrading their skills or transferring to a four-year university still have time to register for the College of the Canyons Spring 2023 semester, which begins Monday, Feb. 6.
December 1, 2022 – College of the Canyons received the 2022 Institutional Diversity, Equity, Inclusion and Accessibility (DEIA) Champion Award from the Association of Human Resource Officers/Equal Employment Officers.
November 17, 2022 – College of the Canyons was among 394 colleges and universities across the nation recognized by the ALL IN Campus Democracy Challenge for the Most Engaged Campuses for College Student Voting in 2022.
November 16, 2022 – The College of the Canyons Foundation has named Randy Moberg and Mitzi Like-Moberg the recipients of the Silver Spur Community Service Award in recognition of their longtime support of the college and their philanthropic contributions to the Santa Clarita Valley.
November 10, 2022 – Men's basketball coach Howard Fisher won his 300th career game, as the Cougars took the 14th Annual Clash at Canyons Tip-Off event with an 84-76 victory over Oxnard College on Nov. 5.
November 2, 2022 – College of the Canyons has been ranked 17th and 35th nationally by The Hispanic Outlook in Higher Education magazine for enrolling the largest number of Hispanic students and granting the most degrees, respectively.
October 26, 2022 – The third bond issuance of Measure E, the Santa Clarita Community College District general obligation bonds, were sold Oct. 20, yielding $70 million to assist College of the Canyons in building out the Canyon Country campus and upgrading the Valencia campus.
October 25, 2022 – College of the Canyons is partnering with Arizona State University to provide students a seamless transfer experience with the MyPath2ASU program.

Event, academic & student calendars



In the Spotlight
College of the Canyons is committed to the long-term, permanent review and assessment of all its practices to ensure, as an entity of academic integrity and learning, it is doing everything it can to ensure that all barriers, by intent or neglect, are removed.
Undocumented students and immigrants are a part of our community and have so much to contribute to our college. We all benefit when they can adjust their immigration status and access educational and employment opportunities.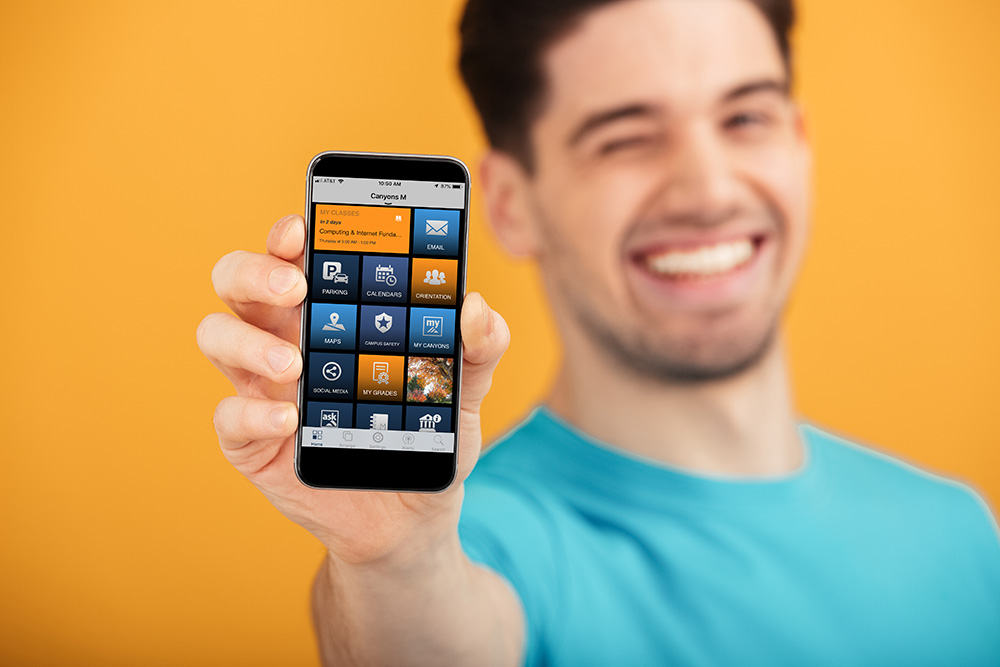 The Canyons M app allows you to access Canvas, campus email, payments, registration information and more right on your smartphone.