News Releases
May 18, 2022 – When Jammal Yarbrough accepted a summer internship with TE Connectivity in Pennsylvania, he was quick to ask if he would be able to attend his College of the Canyons on graduation on June 3 to receive his associate degree in electrical engineering. The 36-year-old said he wouldn't miss it for the world.
May 13, 2022 – Running from June 6 through August 13, College of the Canyons will be offering a robust summer schedule of four sessions to continue assisting students with reaching their goals.
April 25, 2022 – College of the Canyons has received a $646,354 grant from the National Science Foundation (NSF) Advanced Technological Education (ATE) to fund a Welding Education Smart Technology (WEST) program.
April 22, 2022 – College of the Canyons has been named a 2022 Champion for Excelling in Equitable Course Placement in Campuswide English Enrollment, Latinx English Enrollment, and Black English Enrollment by The Campaign for College Opportunity.
April 13, 2022 – College of the Canyons engineering major Jammal Yarbrough is one of 14 students, and the only community college student, from across the nation to be selected for the inaugural class of TE Connectivity's African Heritage Scholarship Program.
April 7, 2022 – Dr. Daylene Meuschke, Associate Vice President of Institutional Research, Planning, and Institutional Effectiveness (IRPE), and Student Experience Redesign at College of the Canyons, has been selected to receive the 2022 RP Group Award for IRPE Professional Leadership for her exceptional contributions to student and institutional success through community college research, planning, and institutional effectiveness efforts.
April 6, 2022 – College of the Canyons has received a $4,750 donation from The Rotary Club of Santa Clarita Valley in support of the college's automotive technology program.

April 5, 2022 – From April 1-2, the COC Biodiversity Initiative hosted 15 visiting faculty members from 10 community colleges to kickstart the college's Campus as a Living Lab (CALL) initiative with a native bee identification workshop funded by the National Science Foundation (NSF).
March 31, 2022 – College of the Canyons is inviting youth soccer players from across the Santa Clarita Valley to participate in two upcoming training opportunities, with the Spring Youth Development Program beginning April 13 and the 2022 Youth Summer Soccer Camp getting underway June 20.

March 24, 2022 – College of the Canyons has received nearly $1 million in federal funding that will help launch an Advanced Technology Center (ATC), a state-of-art advanced manufacturing and Computer Numerical Control (CNC) production lab that will help meet the high demand for skilled employees in fast-growing industry sectors.
March 23, 2022 – College of the Canyons virtually hosted a visiting team from the Accrediting Commission for Community and Junior Colleges (ACCJC), which marked the final step in a two-year long self-study and application process toward reaffirming the college's accreditation status.
March 3, 2022 – College of the Canyons has received a $250,000 grant from the California Apprenticeship Initiative (CAI) grant to fund construction pre-apprenticeships to train students with workforce-ready skills and serve the needs of the construction industry in the Santa Clarita Valley.
March 2, 2022 – The College of the Canyons Pathway to Law School program— which provides a pathway to a law school education for students at the community college level—was awarded the California Leadership-Access-Workforce (LAW) Diversity Champion award for 2022 during a virtual ceremony on February 18.
February 24, 2022 – College of the Canyons received the second highest team score in the nation for the American Association of Two-Year Colleges (AMATYC) Student Mathematics League Test, which is a two-round competition that tests the problem-solving skills of students against others across the nation.

February 14, 2022 – The College of the Canyons Employee Training Institute (ETI) has received a $1.5 million contract from the California Employment Training Panel (ETP) to provide worker training to client companies in the Santa Clarita Valley who wish to retain an up-skilled workforce.
January 18, 2022 – The Santa Clarita Community College District's Independent Citizens' Bond Oversight Committee voted to accept the results of an independent audit confirming the district properly accounted for all bond expenditures in the 2020-21 fiscal year.

• Health and safety measures
• College operational plans
• Student and staff resources

Event, academic & student calendars

In the Spotlight
College of the Canyons is committed to the long-term, permanent review and assessment of all its practices to ensure, as an entity of academic integrity and learning, it is doing everything it can to ensure that all barriers, by intent or neglect, are removed.
Undocumented students and immigrants are a part of our community and have so much to contribute to our college. We all benefit when they can adjust their immigration status and access educational and employment opportunities.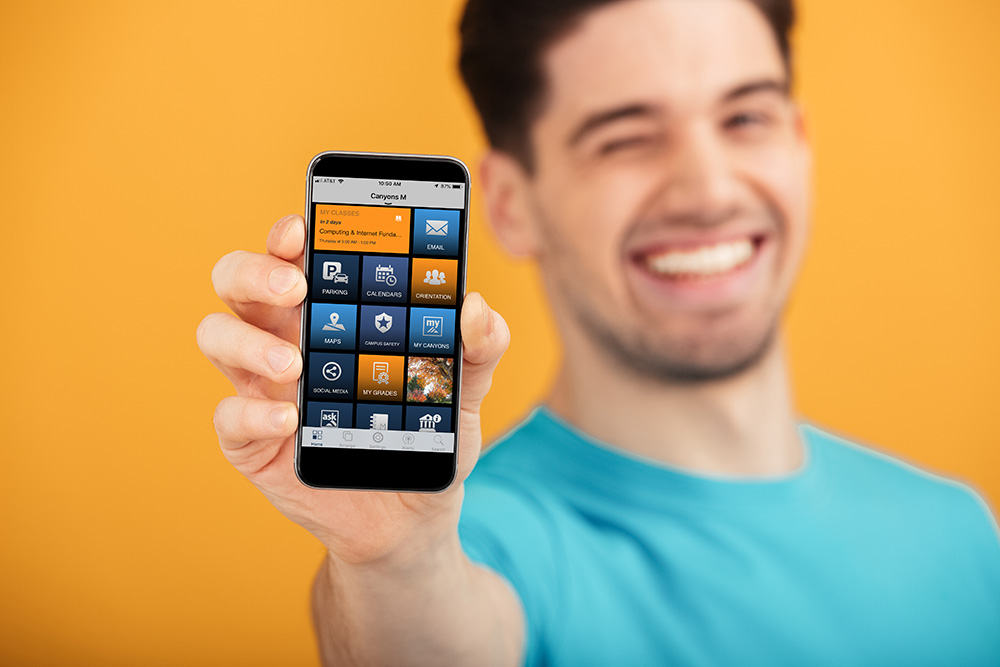 The Canyons M app allows you to get real-time information right on your smartphone.
Campus email
Canvas
Important notifications
Grades & class information
Payments & registration
Campus maps
The latest news and events