News Releases
June 1, 2023 – For 25 years, one of the biggest hurdles standing between Daniel Andrade and a college degree was his math anxiety. But with the help of the College of the Canyons Academic Accommodation Center (AAC) and the Veterans Affairs program, Andrade was able to complete the remaining two math classes he needed to earn an associate degree in real estate.
May 31, 2023 – On the first day of the College of the Canyons spring 2023 semester, Laura Llamas was virtually attending her civil litigation class via Zoom along with her classmates. Unbeknownst to all, Llamas was physically in an emergency room in Utah.
May 30, 2023 – Nine years ago, Cinthia Zelaya immigrated to the U.S. from Honduras with the goal to continue her education in her newly adopted country. Unable to speak English and unfamiliar with the American education system, Zelaya would have to start from square one.
May 26, 2023 – College of the Canyons will honor its 2023 graduating class during the college's 54th annual commencement celebration, which will include a morning and evening ceremony.

May 23, 2023 – Frederick Bobola, an instructional laboratory coordinator at College of the Canyons, has been named a 2023 Classified Employee of the Year by the California Community Colleges Chancellor's Office.
May 15, 2023 – College of the Canyons has received a $598,718 from the U.S. Department of Education to support a Center of Excellence for Veteran Student Success (CEVSS) at the college's Canyon Country campus.
May 3, 2023 – College of the Canyons student Jesse McClure is one of 175 students to be recognized nationally as part of the 2023 ALL IN Student Voting Honor Roll for his voter registration, education and turnout efforts ahead of last year's historic midterm elections.
May 1, 2023 – College of the Canyons will offer four summer sessions running from June 5 through August 19, giving students a variety of options in both class format and scheduling designed to help them achieve their educational goals, from launching a new career to transferring to a four-year university.
April 28, 2023 – On Tuesday, April 25, College of the Canyons held a ribbon cutting ceremony for the Student Services & Learning Resources Center, a new four-story building at the center of the Canyon Country campus.

April 26, 2023 – College of the Canyons has been named a 2023 Champion for Excelling in Equitable Course Placement in Campuswide English Enrollment, Latinx English Enrollment, and Black English Enrollment by The Campaign for College Opportunity.
April 20, 2023 – The U.S. Department of Education has awarded College of the Canyons a $3 million Title V Developing Hispanic-Serving Institutions (DHSI) grant to help the college support Hispanic students pursuing degrees in STEM and increase overall retention and completion rates of Hispanic students attending college for the first time.
March 28, 2023 – The Santa Clarita Community College District Board of Trustees appointed Jerry Danielsen to fill Board Seat No. 4, effective immediately, at its March 22 meeting.
March 24, 2023 – Recently retired College of the Canyons women's basketball coach Greg Herrick, who guided the program to 611 career wins, has been selected for induction into the California Community College Women's Basketball Coaches Association (CCCWBCA) Hall of Fame.

March 23, 2023 – Angeli Francois, a College of the Canyons English adjunct instructor, has received a 2023 Hayward Award for 'Excellence in Education' from the Academic Senate for California Community Colleges (ASCCC) for her dedication and commitment to serving and empowering students from diverse backgrounds and experiences.
March 14, 2023 – Former College of the Canyons student-athletes Lauren Hannah (women's tennis) and Doyle Kane (baseball) have been named to the 2021-22 California Community College Athletic Association (CCCAA) Scholar-Athlete Honor Roll.
March 10, 2023 – The College of the Canyons Biological and Environmental Sciences Department was awarded the State Chancellor's Office Innovative Use of Technology Award at the Chief Information Systems Officers Association (CISOA) Technology Summit on Wednesday, March 8 in San Francisco.
March 9, 2023 – The College of the Canyons Board of Trustees named three athletic facilities to honor legendary Cougar athletics head coaches and faculty members Lee Smelser and Mike Gillespie, along with longtime board member Michele Jenkins.
February 22, 2023 – College of the Canyons cinema instructor Mindy Johnson will receive the prestigious June Foray Honor at the 50th Annie Awards, which will be held on Saturday, February 25 at UCLA Royce Hall.

Event, academic & student calendars



In the Spotlight
College of the Canyons is committed to the long-term, permanent review and assessment of all its practices to ensure, as an entity of academic integrity and learning, it is doing everything it can to ensure that all barriers, by intent or neglect, are removed.
Undocumented students and immigrants are a part of our community and have so much to contribute to our college. We all benefit when they can adjust their immigration status and access educational and employment opportunities.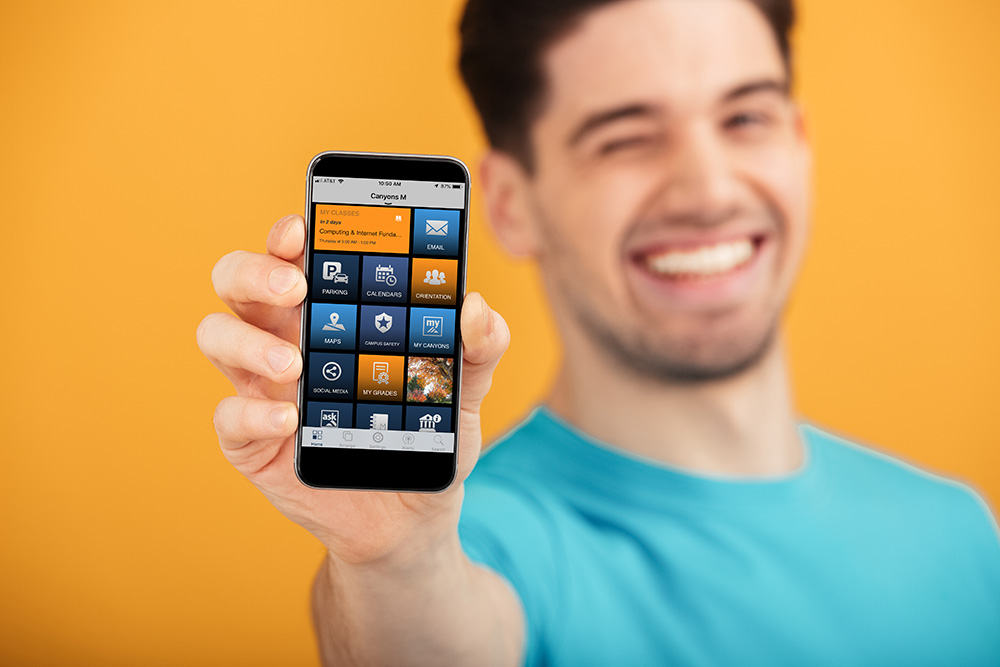 The Canyons M app allows you to access Canvas, campus email, payments, registration information and more right on your smartphone.