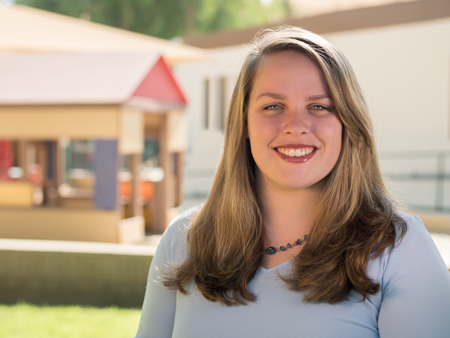 Emily Elam has been working with children for several years and has worked in many different settings with children, especially children ages 0-5. She has been a preschool teacher working in both the private preschools as well as Head Start.

Emily worked with hospitalized children during an internship with UCLA Mattel Childrens Hospital, in the Child Life program. Emily received her B.A. in Child Development, Summa Cum Laude from Mount Saint Marys University and continued to receive her M.S. Child Development degree from the University of LaVerne.

In addition, Emily was awarded the Child Development Excellence award at Mount Saint Marys University. She has worked as a child development specialist, working with children ages zero to three with developmental delays through play therapy.

Emilys other passions include teaching adults in a variety of settings, thus impacting the children they work with. Emily truly loves working with exceptional children and it is her passion to help families, teachers and students in their understanding of child development and how to help children with disabilities.

Emily actively participates and enjoys speaking at many conferences about child development and children with different abilities. She currently resides in Santa Clarita, CA with her husband and two children. Emily enjoys going places with her family and snacking on delicious food.