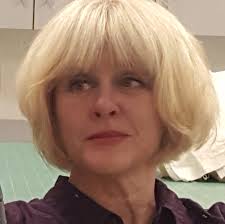 Kim DeShazo Wilkinson teaches Costuming for the Stage, and has also taught Dramatic Literature at El Camino. She designs all of the Dance productions and Theatre Department presentations at the College. Her B.A. is from University of Mary Washington, in Virginia – her home state. The M.F.A. Graduate degree was given by Northern Illinois University just outside of Chicago (DeKalb, IL).
She also teaches Costume Crafts and Designs at College of the Canyons in Santa Clarita. She has designed at Long Beach City College; Cal State Dominguez Hills and Mt. San Antonio College
Kim is the Resident Costume Designer for International City Theatre in Long Beach and has worked with them for fourteen years. She has worked with the Hollywood Bowl on their Staged Summer Musicals for the last thirteen years.
An Ovation Award Nominee, other local theatres that have showcased her work include the Falcon Theatre, Shakespeare Festival/LA, Theatricum Botanicum, L.A. Opera, The Odyssey, Andak, Opera a la Carte, Pasadena Dance Theatre, and Long Beach Opera. Industry work in the L.A. area includes projects for Nike, Adidas, Skechers, Cherokee and Diesel clothing as well as commercials for AFLAC, Best Buy, Target, Disney, Jack in the Box, Luxor Hotel, Hewlett Packard, Little Caesars, DIRECTV, McDonald's, and Mattel. Television and film credits range from The Real, The Price is Right, Ozzy Osbourne's Variety show and a pilot for Bobby Flay, to work for the Academy Awards Show, Nickelodeon and the Disney Channel.