Contact Us
Welcome to Admissions & Records at College of the Canyons. We have two convenient locations to assist students interested in attending our college. The Admissions & Records office is available to assist with the admissions process, registration and maintenance of all student records.
Valencia Campus
Canyons Hall - Student Services and Administration Building Address:
26455 Rockwell Canyon Road Valencia, CA 91355
Phone: (661) 362-3280
Fax: (661) 362-5566
Monday thru Thursday: 9am to 6pm
Friday: 9am to 1pm
Email: admissions@canyons.edu
When emailing, please be sure to include your FULL name, and student ID number or your date of birth.
Repeat Petition email: repeats@canyons.edu
Prerequisite Challenge email: prereq@canyons.edu
Overlap Petition email: overlap@canyons.edu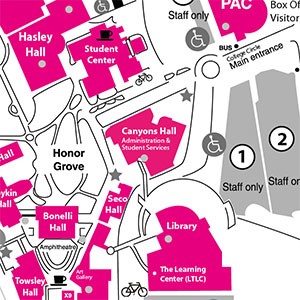 Canyon Country Campus
CCSS-202 - 2nd floor, Student Services & Learning Resources Center Address:
17200 Sierra Highway Canyon Country, CA 91351
Phone: (661) 362-3280
Fax: (661) 362-3823
Monday thru Thursday: 9am to 6pm
Friday: Closed
Email: admissions@canyons.edu