Contact Us
Welcome to Admissions & Records at College of the Canyons. We have two convenient locations to assist students interested in attending our college. The Admissions & Records office is available to assist with the admissions process, registration and maintenance of all student records.
Valencia Campus
Canyons Hall - Student Services and Administration Building Address:
26455 Rockwell Canyon Road Valencia, CA 91355
Phone: (661) 362-3280
Fax: (661) 362-5566
Email: admissions@canyons.edu
Office Hours for Admissions & Records (both campuses):
Mon., Wed., & Thurs.: 9am - 6pm; Tues.: 9am - 7pm; and Fri.: 9am - 1pm
CLOSED Tuesdays from 2pm to 3pm.
SPECIAL HOURS FOR THE WEEK OF JAN. 6 - 10, 2020:

Mon., Wed., & Thurs. 8am - 6pm; Tues.: 8am - 7pm, and Fri.: 8am - 1pm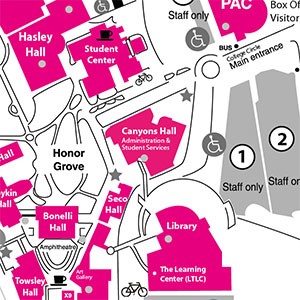 Canyon Country Campus
Quad 1 (Building C) Address:
17200 Sierra Highway Canyon Country, CA 91351
Phone: (661) 362-3900
Fax: (661) 362-3823
Email: admissions@canyons.edu