Contact Us
Welcome to Admissions & Records at College of the Canyons. We have two convenient locations to assist students interested in attending our college. The Admissions & Records office is available to assist with the admissions process, registration and maintenance of all student records.
Valencia Campus
Canyons Hall - Student Services and Administration Building Address:
26455 Rockwell Canyon Road Valencia, CA 91355
Phone: (661) 362-3280
Fax: (661) 362-5566
Special Phone Hours: Beginning August 5, 2020, we will be answering phones on a limited basis, from 9am to 5pm, Monday through Thursday.
When emailing, please be sure to include your FULL name, and student ID number or your date of birth.

Email: admissions@canyons.edu
Repeat Petition email: repeats@canyons.edu
Prerequisite Challenge email: prereq@canyons.edu
Overlap Petition email: overlap@canyons.edu
Office Hours for Admissions & Records (both campuses):
PLEASE NOTE: Due to the Coronavirus (COVID-19) pandemic, we will be CLOSED to the public but working remotely until further notice. Our online service availability will be as follows:

Mon. - Thurs.: 9am - 5pm; and Fri.: 9am - 1pm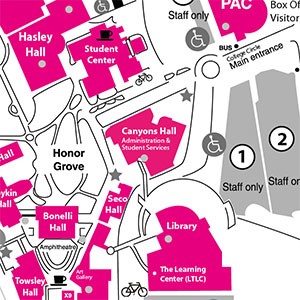 Canyon Country Campus
Quad 1 (Building C) Address:
17200 Sierra Highway Canyon Country, CA 91351
Email: admissions@canyons.edu