Meetings | Audits | Ballot Text | Contact
Independent Citizens Committee
The Independent Citizens Bond Oversight Committee ensures that bond revenues are expended only for the purposes authorized by law. Following Board of Trustees approval on Sept. 14, 2016 to consolidate oversight functions, the committee oversees bond activity of Measure E and Measure M.


Committee Members Sought
College of the Canyons seeks qualified individuals to serve on the Independent Citizens Bond Oversight Committee. Information about the committee's role and responsibilities can be found in the bylaws and application packet linked below. Completed applications must be received at the email address or location listed below no later than 5 p.m. Wednesday, Feb. 15, 2023. If you have any questions, please call (661) 362-3420.
College of the Canyons
Attn: Business Services
26455 Rockwell Canyon Road
Santa Clarita, CA 91355
---
Reports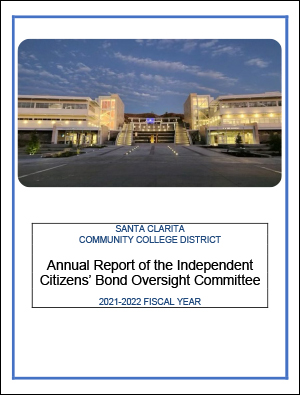 Annual Report
Fiscal Year 2021/22 Annual Report of the Independent Citizens Bond Oversight Committee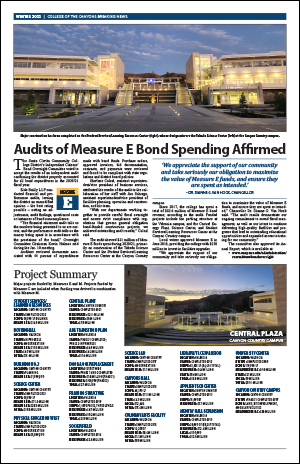 Community Report
Included in the winter 2022 Breaking News, mailed to all homes and businesses in the district
---
Documents



Presentation
Addressing Additional Inquiries
Measure E: General Obligation Bonds
October 12, 2022

Presentation
Proposed Issuance
Measure E: General Obligation Bonds
August 10, 2022

FAQ
Frequently Asked Questions
Measure E: General Obligation Bonds
September 14, 2022
Members
Fred Arnold
College of the Canyons Foundation
Barbara Cochran
Senior Citizens Organization
Calvin Hedman
Bona-fide Taxpayers Organization
Michael Hogan
Community at Large
Don Kimball
Business Organization Representing the Local Business Community
Spencer Leafdale
Community at Large
Michael Lebecki
Community at Large
Stephanie Smith
College of the Canyons Associated Student Government
---
Committee Bylaws