SCEEC News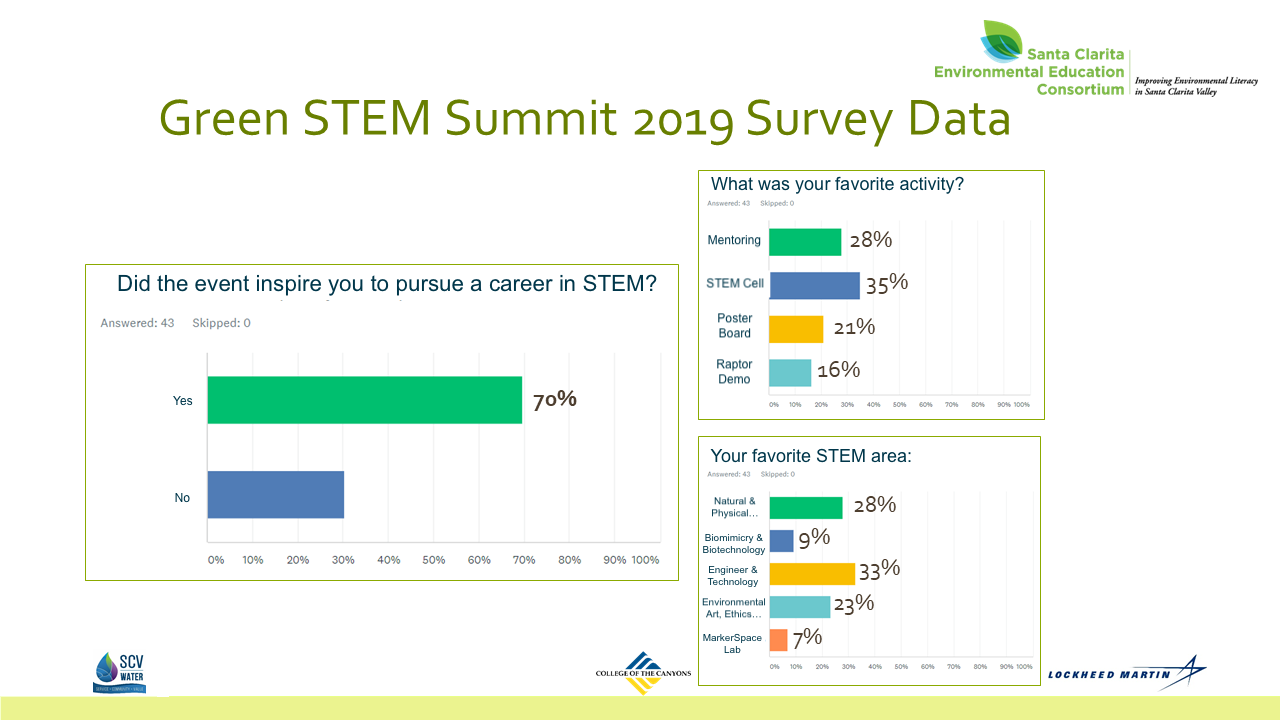 ---
EPA Administrator Andrew Wheeler announced that EPA's Office of Environmental Education is now accepting applications for the 2020 Presidential Environmental Youth Awards (PEYA) and Presidential Innovation Awards for Environmental Educators (PIAEE).
Winners will be invited to Washington, D.C. in mid-2020 to be honored by the agency and present their work in a poster session. Applications are due by January 15, 2020.
Please click https://www.epa.gov/newsreleases/epa-administrator-andrew-wheeler-calls-nominations-2020-presidential-environmental for more details.
---
Join Santa Clarita Environmental Education Consortium for the 2019 Green STEM Summiton Saturday, November 16th from 10:00am-12:30pm
in College of the Canyons Student Center.
To register for Green STEM Summitt and Poster Board competition,
teachers, and mentors, click HERE ,
and students HERE!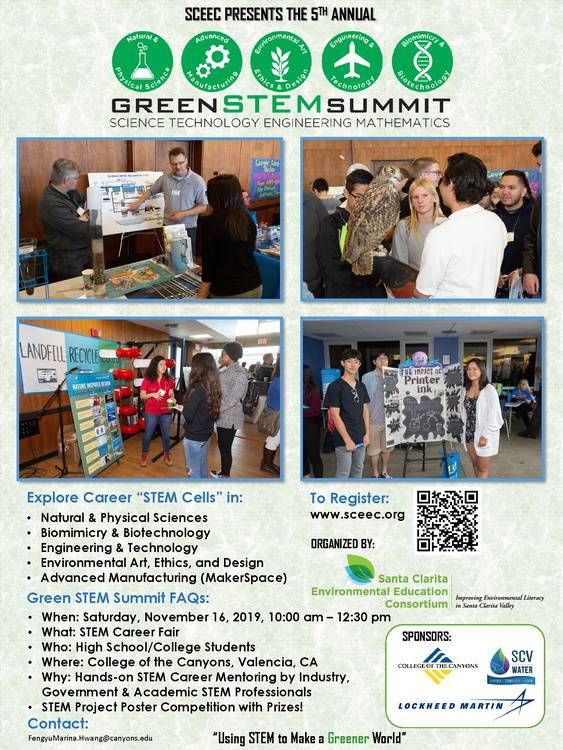 Coming Together for the Climate
A video challenge for California middle and high school students
Climate change is a global problem that has many local implications. It impacts all of us, and it will take all of us working together to face it. With this understanding in mind, the California Coastal Commission invites California middle and high school students to present a video response to the question:
HOW DO WE COME TOGETHER FOR THE CLIMATE?
Entry deadline: midnight March 31, 2020
Please visit https://www.coastal.ca.gov/climatechallenge/ for
Rules, Tips and how to Enter
What does it mean to come together?
What does it mean to address climate change?
More climate change resources and opportunities, for teachers and students
Why the California Coastal Commission?
---
To celebrate the 25th Annual River Rally, the Santa Clarita City is having a T-shirt art design contest for grade 7-12. Submit your artwork to demonstrate why it is important to protect the river and its inhabitants!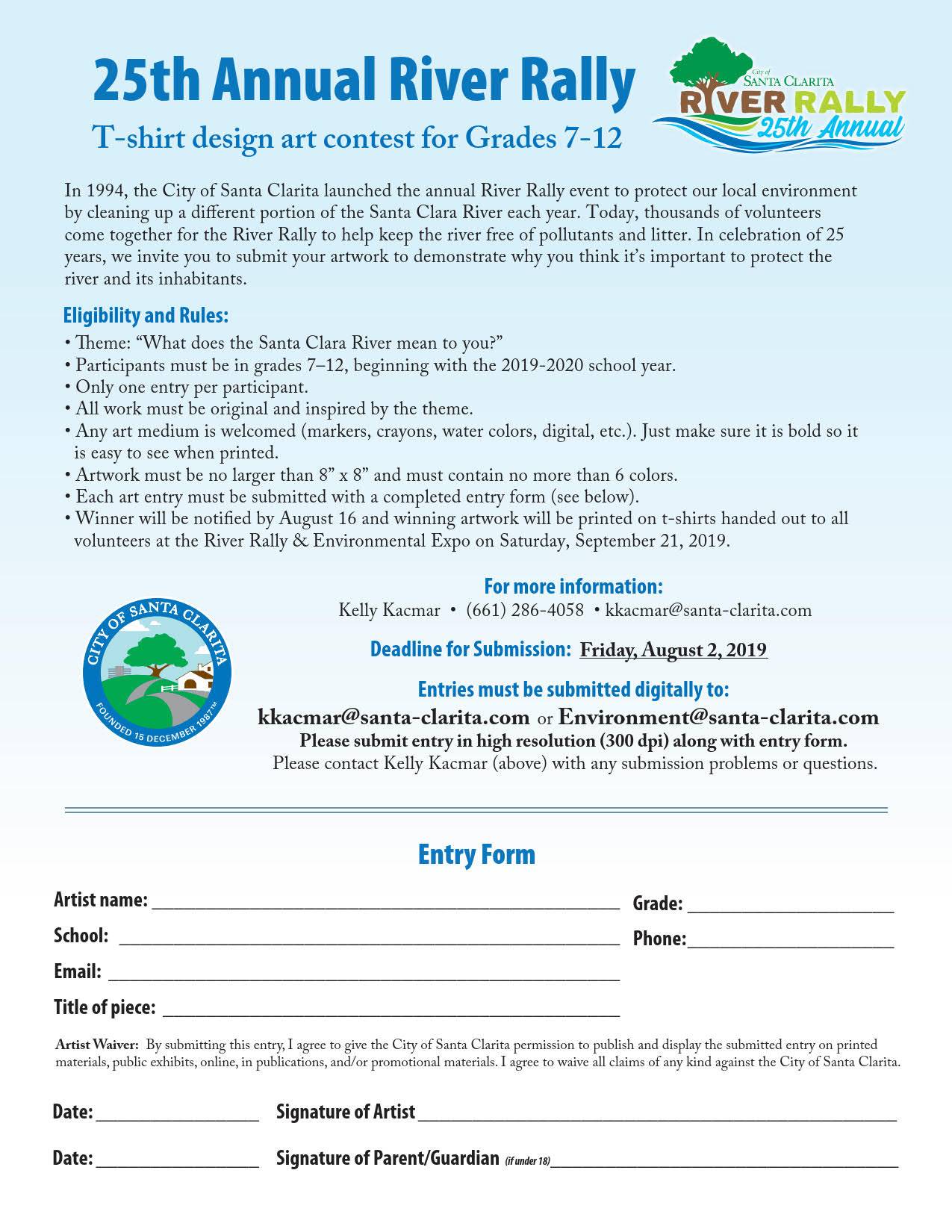 ---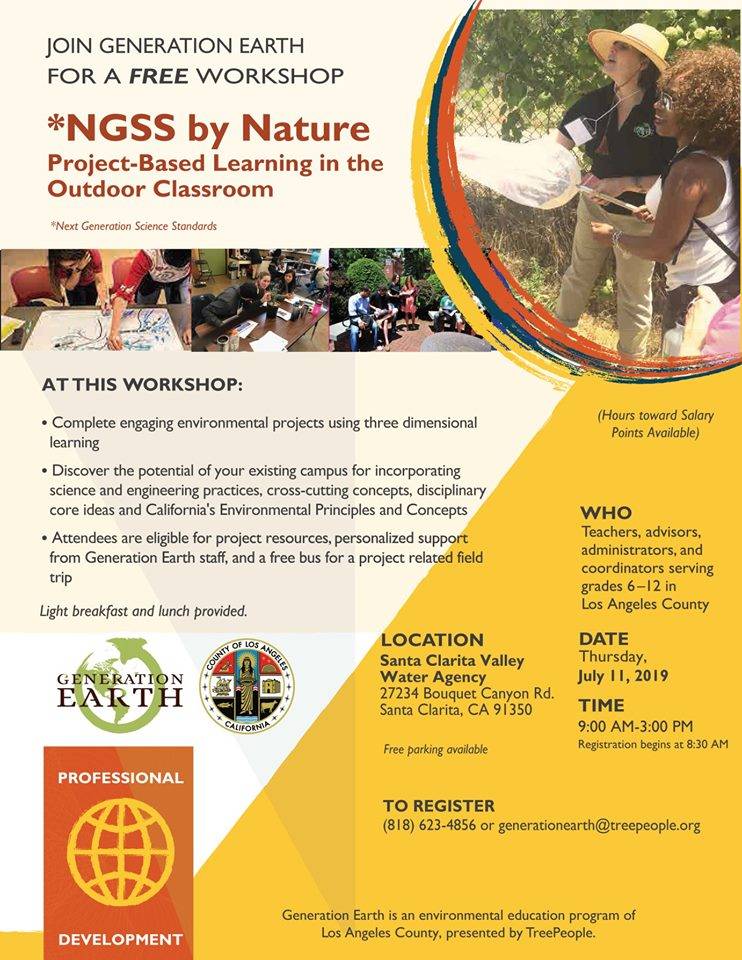 ---
2018 Green STEM Summit Register Here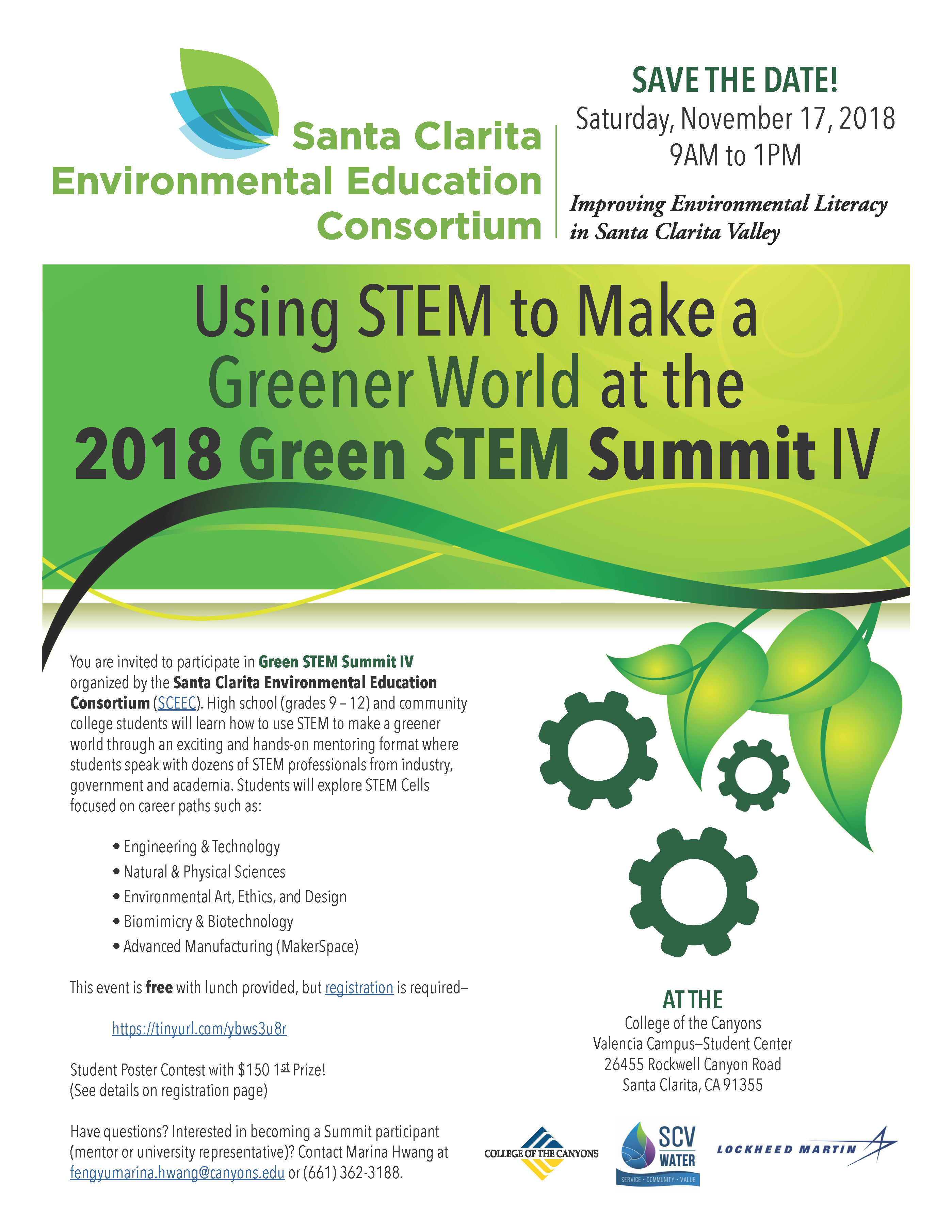 Share your insight through the Green STEM Poster Contest and win Amazon gift cards. Prizes will be awarded in each of the five STEM cell categories. Check out the judging score sheet for guidance. For more information, contact tim.honadel@canyons.edu.
~1st Prize - $150
~2nd Prize - $75
~3rd Prize - $50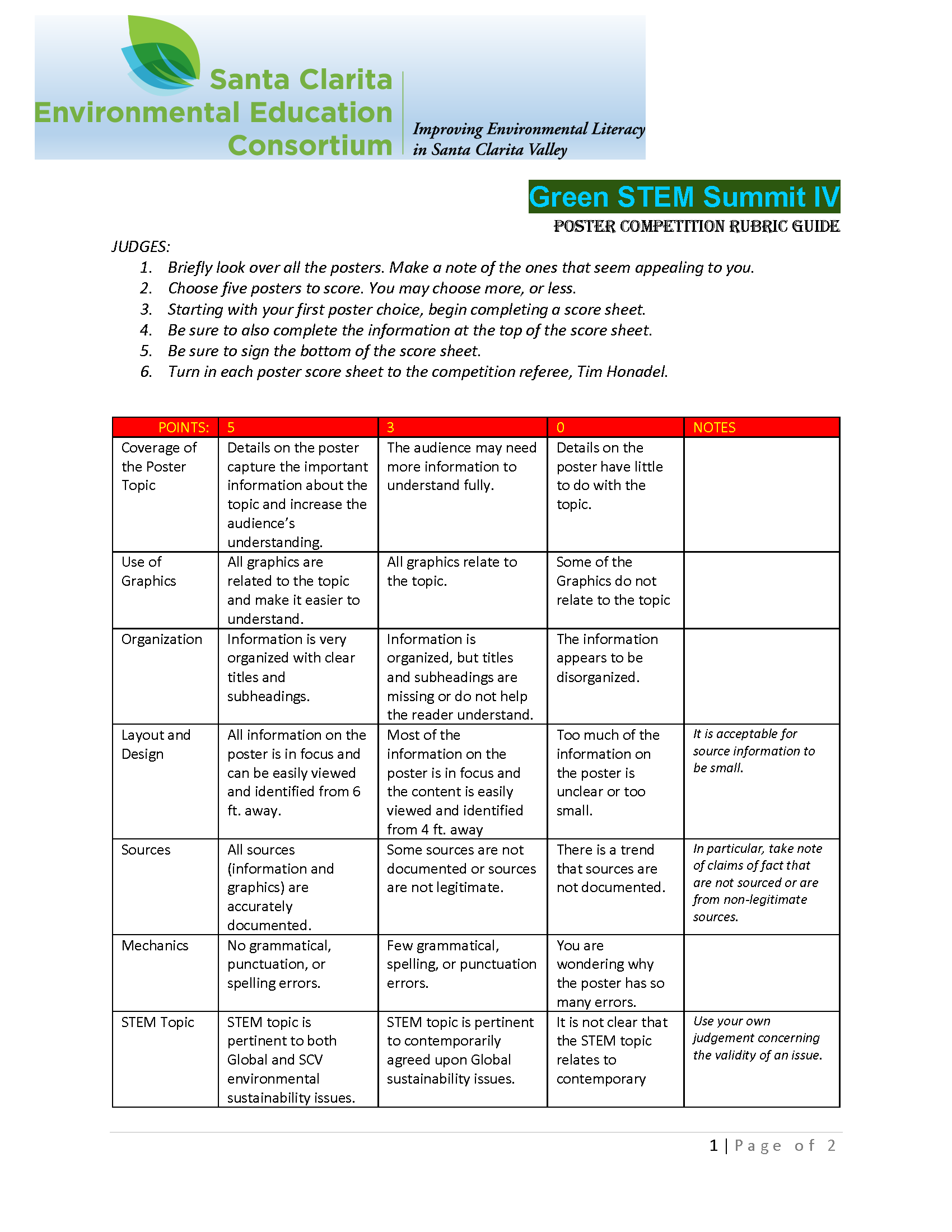 ---
2017 Green STEM Summit Register Here
2017 Green STEM Panel Member Biographies
Water Industry
Cathy Hollomon has over 20 years of professional experience in the environmental and water related sciences. She has worked as a State regulator, University researcher and private sector consultant. Cathy received a B.S. in Earth Sciences at Northeastern Illinois University and an M.S. at Louisiana State University. She is currently working at Castaic Lake Water Agency as a Water Resources Planner but has also held positions of Water Quality Specialist and Conservation Coordinator.
Peter Zeppeiro, senior instrumentation technician at Castaic Lake Water Agency (CLWA) has worked at CLWA since 1995. He has D3 and T2 licenses. He graduated from the Future Technical Institute in programming and electronic controls and worked for ten years at the Teleproducts Corporation in field service for water and waste water.
Ryan Bye is a Senior Production Operator at Santa Clarita Water Division. He has an A.S. in Water Systems Technology, a B.A. in Organizational Management, and is working to complete a Masters Degree in Business Administration. Ryan has been in the water industry for 14 years and holds a D5 and T2 license.
Green Careers
Jason Oliver is a California licensed Architect with over 20 years of professional experience and a LEED Accredited Professional in Building Design + Construction. As a full-time Architecture professor at COC, Jason current focus is on infusing sustainable design principles into every phase of the learning process. "I really enjoy helping students find their own personal spark ...the inspiration that fosters their growth as a sustainable designer and enhances their enjoyment of helping shape the world around them."
Maurita Denley is an Environmental Engineer at Lockheed Martin. Her work is focused on sustainability, pollution prevention, air quality, and environmental-based community engagement. She has a B.S. in Ecosystem Science & Sustainability from Colorado State University and a Masters in Environmental Management from Duke University.
Nicole Fuentes is an Environmental Health Technician/Intern for Verdant Environmental at Lockheed Martin. She provides general support to current projects in water quality, environmental health, and safety, as well as organizing and maintaining compliance records. She has a B.S. in Microbiology from California State University Northridge and is continuing her studies there for her Master in Environmental and Occupational Health.
Marco Llaguno was hired as a philosophy instructor at College of the Canyons in the Fall of 2017. He will be teaching Environmental Ethics among other philosophy courses and promoting sustainability on campus as part of the Sustainable Development Committee. For the last 7 years he taught philosophy at Santa Monica College where he sat on the Environmental Affairs Committee. Marco's previous career was working as a Community Services Supervisor for the City of Glendale, Community Services and Parks Department. He has a Master's degree in philosophy from Cal State University, Los Angeles.
Chris Rav is a professionally licensed civil engineer and works with the Los Angeles County Department of Public Works as an Associate Civil Engineer in the Design Division. He develops concepts and designs for various projects in civil infrastructure including transportation and water resources. Credentialed by the Institute of Sustainable Infrastructure as an Environmental Sustainable Professional (ENV-SP) and holding a Masters degree in civil engineering from the University of Southern California, Chris is dedicated to providing innovative and sustainable design solutions for the people of Los Angeles County. Chris is a former student at College of the Canyons and these days he is happily married to his wife Karina with whom he has a dog and a cat.
2017 Green STEM Poster Board Contest
If you are attending the 2017 Green STEM Summit, bring a poster board created for a past assignment or project for great prizes! All environmental topics are welcome! To sign up, mention that you will bring a poster during the online registration process.
-Rules and Suggestions for a Competitive Project.
-Project must be in poster board format.
-Student must be currently unrolled in high school or college.
-Student should be able to explain the environmental significance of the project in 60 seconds or less.
-Judges will look at:
a. The quality of the verbal introduction.
b. The ability of the author to answer judges follow up questions.
c. The clarity of the representation of the environmental issue.
d. The clarity of representation of the solution.e. The feasibility of the solution.
g. The innovative nature of the solution.
h. The artistic brilliance of the presentation.
All judgments are subjective and at the full discretion of the judge. Judges will award points to each presentation. The presentations will be ranked by points for awards. The points awarded will not be released to the participants.
2017 Green STEM Summit Register Here