Spring 2022 Star Party a big success!!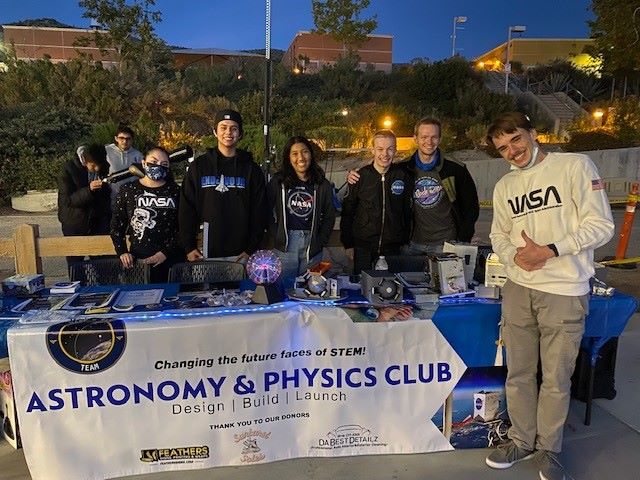 On Friday, April 22, students, faculty, staff and community members were treated to our 24th Star Party event!! The in-person event was held outside in our Upper Plaza, adjacent to the Don Takeda Science Center, and attracted more than 250 people. Our guest speaker, John L. Callas of NASA's Jet Propulsion Laboratory opened the event with a presentation titled "The Robotic Exploration of the Surface of Mars". Attendees explored the night sky througth high-powered telescopes with the assistance of Dave Flynn and other members of the Local Group Astronomy Club of Santa Clarita Valley, as well as volunteers from the Antelope Valley Astronomy Club. The evening included interactive demonstration tables presented by a number of groups including the Astronomy Physics Club, American Cancer Society Club, Chemistry Club, Civic Engagement Club, Helping Us Become (HUB) Club, All Can Code, Active Minds, the COC Library, Stem Equity Alliance, Hands on Earth, the Biological & Environmental Sciences Department, and Earth & Space Sciences Departments!! The Associated Student Government (ASG) was also on hand with free snacks and lots of energy! It was an educational and enjoyable evening for all!!
Our sincere THANKS to all who made this Star Party possible!!

Special thanks to our guest speaker, John L. Callas of NASA's Jet Propulsion Laboratory
Dave Flynn and members of the Local Group Astonomy Club of Santa Clarita Valley
Antelope Valley Astronomy Club
The Astronomy & Physics Club led by Teresa Ciardi, COC Professor
Star Party Planning Committee - Teresa Ciardi, Anthony Michaelides, Jamie Page, Maria Sanchez, Nicholas Schutz, and Dr. Ryan Theule
College of the Canyons Facilties, Campus Safety, Custodial/Grounds, Audio Visual, Graphics/Reprographics and Information Technology
and Special Thanks to:
Chancellor Dr. Dianne G. Van Hook
The Santa Clarita Community College District Board of Trustees:
Dr. Edel Alonso, Michael D. Berger, Sebastian Cazares, Michele R. Jenkins, and Joan W. MacGregor


Plan to attend our next Star Party in Fall 2022!! Date and time to be announced soon!!
______________________________________________________________________________________________________________________________