Canyons Promise
Interested in the 2020-2021 Canyons Promise program?
SIGN UP! Students who want to be part of Canyons Promise for 2020-2021 must sign up by June 15, 2020.
The Canyons Promise program provides incoming first-time college students for the fall 2020 semester the opportunity to attend College of the Canyons tuition free for their first two years (fall and spring semesters only). The program is exclusively for first-time college students who enroll full-time. The program provides students with financial support, high-touch academic/counseling support, and peer support to increase student success.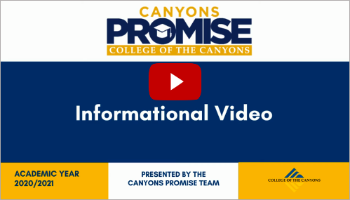 PROGRAM BENEFITS/SUPPORT
Enrollment and student fees paid for fall and spring semesters for two years
Great access to program-specific counselors for counseling appointments
Priority registration for courses on their education plan for fall and spring semesters
Parking permit or bus pass for fall and spring semesters
Career and academic major guidance
Student support resources to promote success tailored to each student​
*Students must maintain program requirements to receive benefits/support from year one to year two.
ELIGIBILITY CRITERIA
First-time college student (you do not have to be a recent high school graduate)
Must be a California resident or AB540-eligible student
PROGRAM REQUIREMENTS
​Maintain a full-time enrollment schedule (minimum of 12 units) for fall and spring semesters
Attend Promise Boot Camp courses offered throughout June 8 - July 11, 2020 (100% online)

Udpate: boot camps have been converted to online offerings only

Attend one Promise Orientation offered June 30, July 6 - July 10, 2020
Attend COC Welcome Day in August 14, 2020
Enroll in the following courses during the 2020-2021 academic year: Counseling 110 or Counseling 150 (can be completed while in high school), Math and English
Complete a Student Education Plan during year one
Attend specific workshops related to academic, financial, and personal/professional success
SECOND YEAR ELIGIBILITY

​Students must complete their first academic year (ending spring) as part of Canyons Promise
Maintain a 2.5 GPA
Successfully complete 27 units by the end of their first academic year
Remain in good standing with the college
Submit FAFSA or CA Dream Act for every academic year
Questions?
Current Year Promise Students
If you are a current year 1 or year 2 Canyons Promise student, please contact us via email, promise@canyons.edu, with your questions.