Online Training Simulations for Faculty & Staff
Our college community is becoming increasingly aware of the unique challenges facing our returning student veteran population, and the negative impact it has on their health and academic performance. To address this concern, we have adopted an online training simulation that will assist faculty and staff to better support our student veterans.
In this 30 minute course, you will learn how to manage a class discussion around a veteran-sensitive topic, what resources are available on-campus for student veterans, and how to help a student veteran whos struggling in class.
Learn through practice conversations with student avatars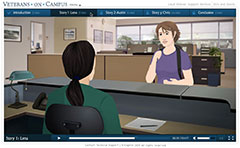 STAFF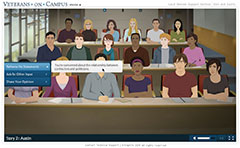 FACULTY

To take the course go to http://ccc.kognito.com,
and follow the on-screen instructions

1. Create an account
2. Select "Veterans On Campus"

If you experience any technical difficulties, please email support@kognito.com
Support our student veterans!