International Forum on Youth 2022
November 14 - 17, 2022
---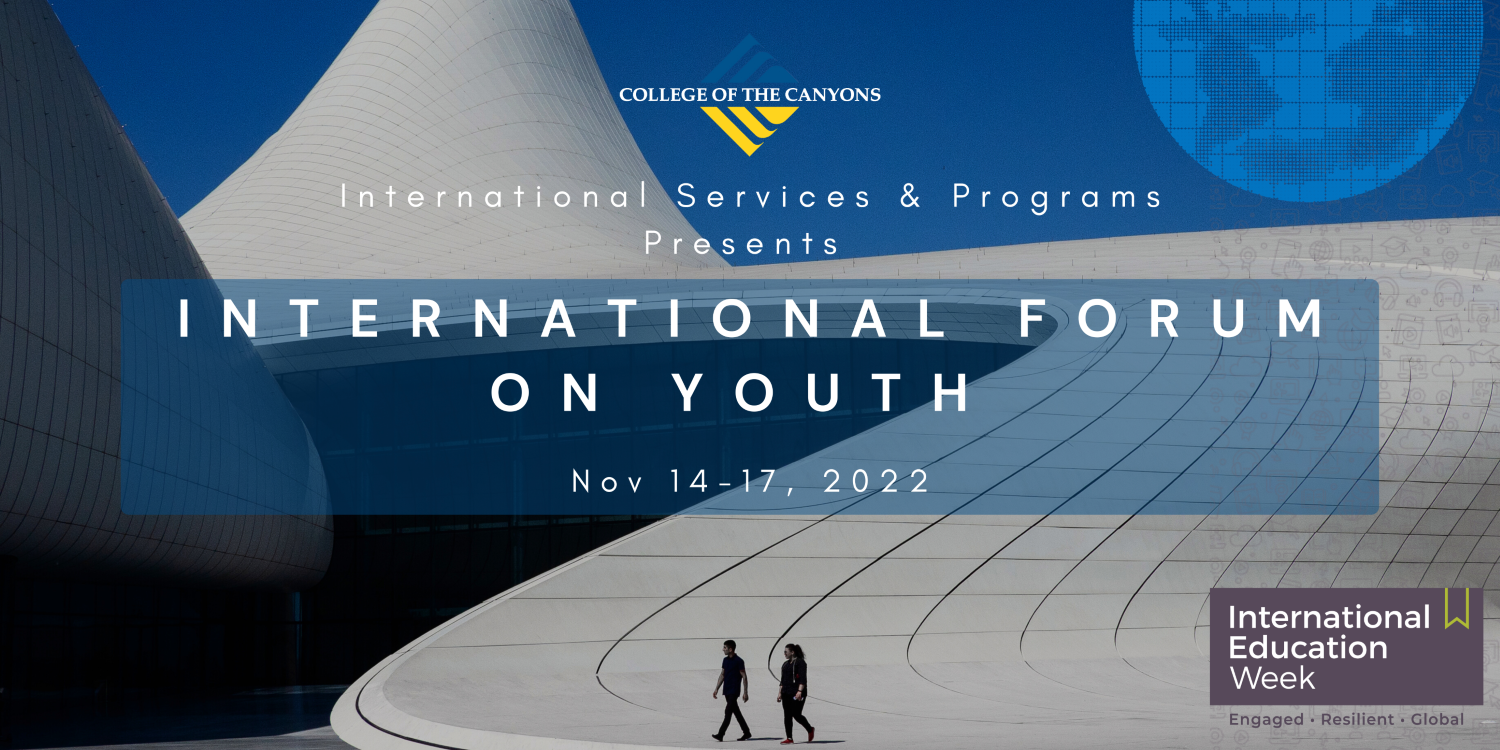 Events Schedule
Monday Nov 14, 2022
Tuesday Nov 15, 2022
Wednesday Nov 16, 2022
Thursday Nov 17, 2022

Watch recording of this event!

11:00AM - 12:30PM
Aliso Hall ALLH-104


The Future of Democracy: A Panel Discussion

Panelists:

Dr. Eunice Goes
Dr. Phil Gussin
Marco Llaguno

Moderators:

Dr. Jia-Yi Cheng-Levine
Dr. Tim Honadel
Dr. Saburo Matsumoto
Dr. Brent Riffel

Watch recording of this event!

12:30 -2:00 PM
Aliso Hall ALLH-101

Life and College Planning: A Holistic Approach

Speaker:

Moderators:

Dr. Jia-Yi Cheng-Levine
Dr. Tim Honadel
Dr. Saburo Matsumoto
Dr. Brent Riffel

Watch recording of this event!

3:00PM - 4:00PM
MENH-343

H2(N)0: The History and Future of Water in California

Speaker:

Moderators:

Dr. Jia-Yi Cheng-Levine
Dr. Tim Honadel
Dr. Saburo Matsumoto
Dr. Brent Riffel

Watch recording of this event!

12:30PM - 2:00PM
Aliso Hall ALLH-101

Student Panel



Panelists:

Chiao (Joanna) Chi (Taiwan, ISP student and ASG Officer of Cultural Student Involvement)
Zhanna-Oleksandra Honcharova (Ukraine, ISP film student)
Jessie Lin (Taiwan/Canada, ISP Alumni and former student golfer)
James Price (UK, ISP Student on the golf team)

Moderators:

Dr. Jia-Yi Cheng-Levine
Dr. Tim Honadel
Dr. Saburo Matsumoto
Dr. Brent Riffel
Speakers, Panelists, & Moderators
Erik Altenbernd is Associate Professor and Director of the Institute on Ethics, Law, and Public Policy at College of the Canyons. He joined the COC faculty in 2017 not long after completing his doctorate in history at the University of California, Irvine. His COC courses on United States and California history build on his research into the environmental and cultural history of Western North America. Outside of the classroom, Professor Altenbernd also engages in different forms of public and academic service. In 2021, he served the US Forest Service as a member of the selection jury for the St. Francis Dam National Memorial. He has also organized multiple panels at academic conferences and co-convened a major conference on the history of the frontier at the Huntington Library. Here at COC, he has organized events on January 6th, pandemics in world history, conspiracy theories, the Apollo moon landing, and wildfire in California.

Dr. Kathy Bakhit is the Dean of Health Professions and Public Safety Division at College of the Canyons. Prior to that, she served in multiple administrative roles at community colleges over the past 10 years. Dr. Bakhit's BS and MS are in Economics and her Doctorate is in Educational Leadership. Kathy's journey started in English As a Second Language classes at Mt. Sac, a California community college in the Los Angeles area. Having started as an immigrant, mother, and part-time student, she transferred and subsequently became adjunct staff and later full-time, tenured faculty, before becoming a college leader, all while raising three children who have gone on to earn their own professional degrees. She sees that her journey is much like many of our students' and knows what it takes to move students along their paths to success. She firmly believes that education transforms lives, breaks poverty and abuse cycles, and expands the range of opportunities for students.

Dr. Jia-Yi Cheng-Levine is the Dean of International Affairs & Global Engagement at College of the Canyons, in Santa Clarita, California. Prior to that role, she was director of the international students program at COC and has been at COC for over 15 years. She came to COC from the University of Houston-Downtown as a Professor of English and has been a faculty member in the field for nearly 25 years. A native of Taiwan and an international student herself, Dr. Cheng-Levine earned her Doctor of Philosophy in English Language and Literature, with a special emphasis on Critical Theory, from the Indiana University of Pennsylvania, after having earned her M.A. in English from the University of Georgia.

Joanna is a current international student at COC and a member of the Associated Student Government.

Dr. Eunice Goes joined the School of Communications, Arts and Social Sciences at Richmond University in 2008. She holds a DPhil in Politics from the London School of Economics and Political Science (2002), a M.A. in Politics from the University of Warwick (1997) and a B.A. in International Relations from Lusíada University (Lisbon, Portugal, 1994). Her areas of expertise are British party politics, British political thought, and Britain's relationship with Europe and European politics. She is also very interested in exploring the role of ideas in politics. Her core research interests lie in British politics and the role of ideas in policy-making.

Phil Gussin started teaching at College of the Canyons as an adjunct in fall 2007, the same year he earned his doctorate in Political Science from UCLA. In January 2012, Phil became a full-time faculty member of the Political Science department. Phil was the Faculty Advisor for the College of the Canyons Model United Nations team until Spring 2020. After serving as co-chair of the Professional Development committee, Phil became co-chair of COC Global, a Task Force dedicated to helping students become better global citizens. In that capacity, Phil played a central role in helping develop the Global Studies program at College of the Canyons. Phil currently serves as the Assistant Director for the Institute of Ethics, Law and Public Policy.

Dr. Tim Honadel is a life-long educator currently working at the College of the Canyons as Director of the International Services and Programs office. He has worked in dozens of countries spanning decades in his career. Dr. Tim has worked on environmental sustainability and compliance issues for private industry, state and local governments, and not-for-profit organizations. In his role at ISP, Dr. Tim's primary focuses are logistics and coordination, as well as student and faculty mobility. He holds a doctorate in education from Aspen University.

Zhanna is a current international student at COC and has been a member of the COC Film Club.

Jessie is a former student golfer who earned a scholarship from Washington State University, currently doing Optional Practical Training with the ISP office.

Marco Llaguno was hired as a philosophy instructor at College of the Canyons in the Fall of 2017. On top of teaching the full range of philosophy courses, Marco has served on the Academic Senate, the Sustainable Development committee and as co-chair on the Celebrating the Humanities committee, through which he also regularly leads presentations for the campus community. Prior to his arrival at COC, Marco taught philosophy at El Camino College, LA Southwest College, and Santa Monica College, where he sat on the Environmental Affairs Committee. Prior to teaching, Marco worked for 15 years as a Community Services Supervisor for the City of Glendale, Community Services and Parks Department. He has a Master's degree in philosophy from Cal State University, Los Angeles.

Born in Kobe, Japan (famous for its beef), Saburo ("Sab") Matsumoto came to America at age 15 as a high school student. After earning his doctorate in pure mathematics at Michigan, Sab was involved in research related to geometric topology in Australia and Japan before coming back to the U.S. to be a full-time professor. During his time at COC, Sab has served as a Curriculum Committee member, an Academic Senator, Department Chair, an SLO coordinator, a data coach, and the AB 705 Math Coordinator. He also served on the team that helped COC win the prestigious National Bellwether Award in 2021. During his recent sabbatical, Sab compiled a free OER textbook on Liberal Arts Mathematics. He has also been working closely with ISP in representing COC at international college fairs, helping organize campus events, and building international partnerships.

James is from the United Kingdom and is a current member of COC's golf team.

Dr. Brent Riffel has taught History at College of the Canyons since 2008. He holds a doctorate in modern American History, specializing in labor and race relations in the contemporary US. He is currently faculty coordinator of COC's Comprehensive Internationalization program and was co-coordinator of the Center for Excellence in Teaching and learning from 2015-2019. He has published articles in, among other publications, Southern Historian, the African American National Biography, the Arkansas Historical Quarterly, the Ozark Historical Quarterly, and in the recent collection, Arsnick: The Student Nonviolent Coordinating Committee in Arkansas, 1962-1967.