Argentina
Interdisciplinary Program
Spanish, Biology and Tourism
Duration: 4 weeks
Credits: 9 units
Courses: Span 150, BioSci 130, and HRMGT 101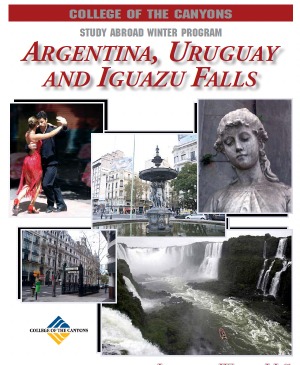 Immerse yourself in experiential learning – Spend the Summer or Winter Intersession in Argentina!
Study Spanish, Biology and Tourism in Argentina, Uruguay and Iguazu Falls. The program is based in Buenos Aires with visits to two UNESCO World Heritage Site (Colonia de Sacramento, Uruguay) and Iguazu Falls (Argentina and Brazil). Lodging options include apartment or homestay. Optional excursions available on the weekends during the program include one-day excursions available to students.
Conversation Spanish (150)
Contemporary Issues in Environmental Biology (130)
Introduction to the travel Industry (101)
Essentials of Spanish for conversational and practical usage while learning cultural perspectives, practices and products of the Hispanic world. Explore the ecological and environmentl global problems facing society. Study the expansion of tourism throughout the world and the opportunities that it provides for careers in hospitality.
Students are required to register for at least two of the courses offered.
Open to students who are at least 18 years of age at the time of application. Program space is limited.
Press release