Technical Support
---
Contact Us
If you need Technical Support, please Contact Us for Support.
Submit a Work Order
Submit a work order to Computer Support Services or Audio Visual Services by:
Email: helpdesk@canyons.edu
Call: (661) 362-3953
Online: helpdesk.canyons.edu
Review the Status of Your Work Order
You can review the status of your work order through TrackIT!, our Online Work Order System.
Access is currently restricted to on campus computers only.
---
Remote Help
In the event that a Help Desk technician needs to connect to your computer in order to resolve your problem, please download the College of the Canyons TeamViewer application from the following web page:
http://get.TeamViewer.com/CanyonsIT
Once you run the downloaded application, a window similar to the following should appear: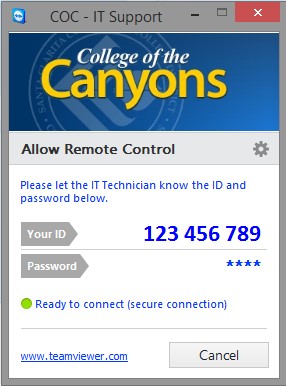 *Note: During your support call you may need to provide the technician withyour 9 digit ID number so that they can connect to your system.