Anthro 101 - Physical Anthropology - Stephanie Meredith
Course:
Physical Anthropology
Professor:
Stephanie Meredith
Email:
stephanie.meredith@canyons.edu
Format:

Online
OnlineLive
Hybrid
InPerson

Course Length:

Applies to All Course Lengths
Introduction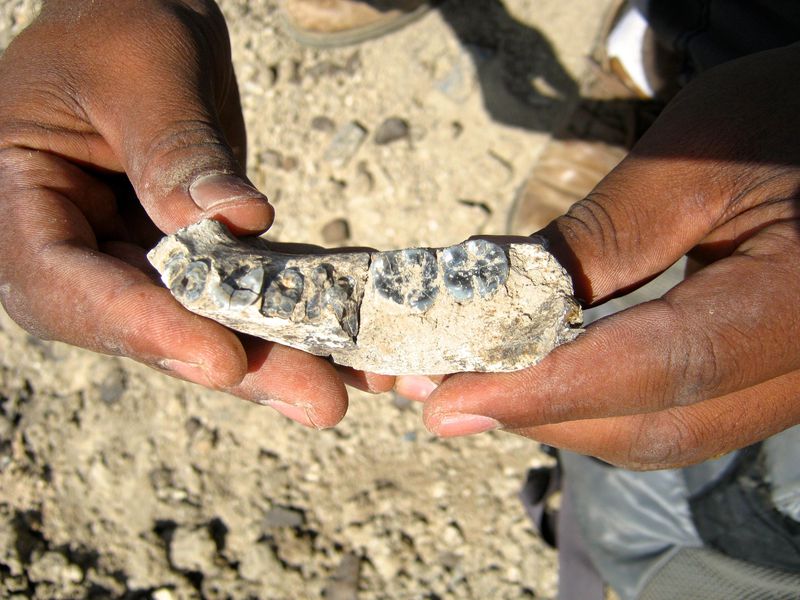 Hi I'm Dr. M! I've taught all over the place--from Harvard University to Cal Poly Pomona to West LA College to 7th and 8th grade science class. COC is my favorite! I care DEEPLY about helping students learn how to learn better (and to pick up anthropology-specific knowledge along the way)! I am a first generation scholar who knows what it's like to not know what you're doing in college and who knows what it's like to have a family that doesn't (or can't) support you in your education. I'm a primatologist who studies capuchin monkeys in Argentina in the summers (it's fun!), and one of my goals is to regularly take dedicated students to the field for out-of-classroom learning they won't get anywhere else!
Course Description
This is a survey course that covers 3 of the subdisciplines of biological anthropology in some depth--paleoanthropology, primatology, and human biology. The reason it counts as a science class is that we learn how evolution works on both short and long time scales.
What to Expect in this Course
This is a transfer-level class. It's supposed to be the same class you'd get if you took it at CSUN, USC, or Berkeley. If it's not, I'm letting you down and selling you short!
As with any 3-credit college transfer-level class, students should expect to read most of a course textbook. Learning through reading is a super important college skill that will help you in all of your educational pursuits as well as in life. I use a peer-reviewed, free textbook (Explorations: An Open Invitation to Biological Anthropology) that is endorsed by the American Anthropological Association. It was mostly written by a bunch of Community College professors across the U.S.
Regardless of class format, coursework is submitted in Canvas (I never have to worry about losing papers!), so students should have regular access to a computer, either at home or on campus.
Canvas is only fully compatible with the Chrome web browser, so you should use that for all of your Canvas access.
The Course Outline of Record for this course says that students should expect to spend 162 total hours on coursework--you can divide this time across in class and out of class time and across however many weeks the course is allotted. This is true of ANY 3-credit, transfer-level class. I'd LOVE it if you'd spend 162 hours/X course days each day on coursework, because a totally even pace of learning is the best for learning. But I also understand that life happens, so my deadlines for coursework are flexible to allow you to put in the hours when you are able to. You'll still need to "put in the hours," but how many hours you, personally, need to spend on coursework to earn the grade you desire will really depend on you--your previous experience, your typical speed with learning, and your efficiency with getting your learning work done.
It's kind of like having the goal of running a half marathon in under 2.5 hours. This is a thing that most people are capable of. But some of us, like me, will need a lot more time on training to achieve that goal than others of us. The people who already run several times a week for exercise are going to be able to accomplish that goal a lot faster than I am. If you're a person who likes and is already familiar with science, this class will be easy for you because you already know a lot of the concepts. If you don't know any science at all, most course concepts, ideas, and vocabulary will be largely or completely new to you and will require more time on task for you to learn than it will for the science nerds. And if you don't know any science at all, science classes will always feel harder to you than humanities classes do primarily because humanities classes (like my Anthro 103 class) are about some experience of being human, and since you've been a human all your life, you know a lot of things about that already! Classes that are hard for you are hard because you're learning new stuff. Classes that are easy are easy for you because you already know the stuff and you aren't actually learning much of anything new . . . All of that is totally normal, because that's how learning works!
Coming to in-person class and office hours gets you a lot of "bang for your buck" in terms of learning time, so don't pass up those learning opportunities! Please come talk science with me! Helping students understand science is one of my very favorite things!
Types of Assessments
This course uses writing assignments and objective exams to assess your mastery of course content. For students who struggle with demonstrating their mastery of course content on objective exams, there are optional creative projects that can be pursued in consultation with me to demonstrate A and B level mastery of course content.
Textbook Information / Link to ZTC Textbook
I use a peer-reviewed, free textbook (Explorations: An Open Invitation to Biological Anthropology) that is endorsed by the American Anthropological Association. It was mostly written by a bunch of Community College professors across the U.S. You can order a printed copy if you like!
---
Additional Resources
Canvas
This course can be accessed on the first day of class via Canvas at https://coc.instructure.com. Log into Canvas using your CanyonsID single sign-on:
CanyonsID Username is your COC student email address (Ex: username@my.canyons.edu)
CanyonsID Password is your COC student email password
Please visit the Get to Know Your Online Classroom page for help logging into Canvas and for tips on using Canvas and Zoom. Canvas Chat Support is also available 24/7 for any Canvas related issues.
Online Education
Check out the Online Education website for more information on a variety of topics that can help you be a successful online student such as: exam proctoring, learning styles, computer skills, and tips for student success. If this is your first online course, feel free to take our online learning readiness assessment to assess your skills.
The Learning Center (TLC)
The TLC provides FREE online tutoring resources to COC students!
Academic Accommodation Center (AAC)
College of the Canyons AAC provides educational services and access for eligible students with documented disabilities who intend to pursue coursework at COC. A variety of programs and services are available which afford eligible students with disabilities the opportunity to participate fully in all aspects of the college programs and activities through appropriate and reasonable accommodations. For more information on their services visit the Academic Accomodation Center website.
Online Counseling
The Counseling Department offers appointments online. You can schedule an appointment by visiting the Online Counseling website. Counselors can help you map out a plan to reach your educational goals as well as advise you on course selection and registration.
Management of Stress and Mental Health
College of the Canyons cares about your emotional and physical health. Learn more about the broad range of confidential student services, including free counseling and mental health services available during this time by visiting the Student Health & Wellness Center website or by calling them at: 661-362-3259.
The National Suicide Lifeline number is 1-800-273- 8255 (TALK). Please call it if you or someone you know is having thoughts of suicide or is in severe distress - it could save someone's life.
You can also use the Crisis Text Line: Just text "Courage" to 741741. It's free, available 24/7, and confidential.
Veterans Resource Center
The College of the Canyons Veterans Resource Center is a department within the Student Services Division at the college, created to help veterans and veteran dependents with applying to College of the Canyons, enrolling in classes, and requesting VA Education or Vocational Benefits. For more information please visit the Veterans Resource Center website, email veterans@canyons.edu or phone (661) 362-3469.
Library
The Library provides live online and in-person research help, access to a full range of e-resources and physical materials that support the curriculum, individual and group study areas, and much more!
Last updated: 12/20/2022 Sub#: 1521