ANTHRO 101 (section # 60746) - Introduction to Physical Anthropology - Jessica Proctor
| | |
| --- | --- |
| Course: | Introduction to Physical Anthropology |
| Professor: | Jessica Proctor |
| Email: | jessica.proctor@canyons.edu |
| Format: | |
| Course Length: | |
Introduction
This course will be in a HYBRID format (partially online/partially in-person. That means that we will meet in person SIX times during the semester and we will be "meeting" asynchronously online during the other 10 weeks of the semester. During our online weeks, you will be watching lectures online, engaging in discussions with your classmates and completing check-in quizzes and exams.
Please note: It is recommended that you also enroll in the hybrid ANTHRO 101 lab section # 60813 that goes along with this course. The lab will be meeting on the same six Fridays from 11:30 am - 2:35 pm in room CCC 510.
Here are the dates of our in-person meetings:
Week 4: Friday, March 4th 9:30 - 10:50 am (Topic: Population Genetics & The Forces of Evolution)
Week 6: Friday, March 18th 9:30 - 10:50 am (Topic: Human Adaptation & Variation)
Week 8: Friday, April 1st 9:30 - 10:50 am (Topic: Primate Behavior, Social Organization & Reproduction)
SPRING BREAK: April 4th - 10th (no work online or in-person)
Week 10: Friday, April 22nd 9:30 - 10:50 am (Topic: The Origin of Bipedalism in Humans)
Week 12: Friday, May 6th 9:30 - 10:50 am (Topic: The Australopithecines & Early Genus Homo)
Week 14: Friday, May 20th 9:30 - 10:50 am (Topic: Later Members of Genus Homo)
Course Description
This course focuses on the evolution of the human species and non-human primates primarily from the biological perspective. Topics include human heredity and population genetics, primate behavior and conservation, the human fossil record, and modern human variation.
What to Expect in this Course
Participation = Attendance!
During our fully online weeks, attendance is not marked by your physical presence in a classroom, but rather by your participation and engagement with the course activities, discussions and assignments. During our in-person week (see dates above) we will be engaging in lecture, discussion and in-person activities.
Guidelines
This course is designed to take about 6 - 8 hours per week (on average). Please plan to:
Set aside time each week to view all module materials and submit required work

Log in regularly each week to check for announcements, grades, messages, and comments

Participate in online discussions and respond thoughtfully to your peers.

You must email me

PRIOR

to the deadline with the required documentation if you are requesting and extension beyond 24 hours of the original due date.
Drop Policy
During the first week

: Submit the About Me Discussion in order to mark your attendance and secure your spot!

Throughout the term

: Submit work regularly to show your active attendance. If you do not submit work for 2 modules in a row, you may be dropped for non-participation!
If You Fall Behind...
Your participation is important for the success of this course, but I also recognize that you are human, and life happens. If you've reached a point where you have fallen behind, or can't meet the due dates, please contact me. We'll work together to make a path to success.
Canvas
We will be using Canvas for this course, so you will need access to a computer and Internet. Canvas is also mobile-friendly and can be used on your phone or tablet through the Canvas Mobile App (Links to an external site.) or a mobile browser!
Software
Word Processor

: You will need to be able to create documents. If you do not have access to Microsoft Word, you can use a

free

word processing program, such as

Google Docs

(Links to an external site.)

or

LibreOffice.

(Links to an external site.)

If you are using Google Docs, please remember to save your final work as a PDF. The only file types I will be able to view on Canvas - Microsoft Word, PDF or JPEG files.

PDF Reader

: You will need to be able to view PDFs for this class. You can download a

free

PDF reader here, if you don't have one already on your computer:

Adobe Reader

(Links to an external site.)
Other Materials
It is recommended that you have a folder (either physical folder or electronic folder) to keep all of your materials for this course organized.

Optional: Access to a printer if you prefer to print out your worksheets and hand write your answers.

Genius Scan

(Links to an external site.)

is a helpful application that you can download for free on your smartphone to scan documents.

We will be using Remind.

This is a free app that will allow us to text message each other in real time without the need to exchange private phone numbers. This is the best way to reach me in the evening or over a weekend.
Types of Assessments
Check-In Assignments and In-Person Activities
There will be six check-in assignments worth 30 points each.

These assignments are designed help both the student and the professor 'check-in' to make sure that you fully understanding the concepts of each unit.

I am aware that some of my assignments are on Course Hero. If you submit an assignment that is identical to one on Course Hero, then you will receive 0 points.

No credit will be given to any examples of plagiarism and/or identical assignments.

Check-in Assignments may be submitted up to 48 hours past the deadline with no point penalty. If you need a longer extension, then you must email me PRIOR to the original deadline to request an extension.
Discussion Posts
There will be nine discussions throughout the semester, each worth a total of 20 points.

Each post should be at least 300 words and should cite at least three academic sources from the module.

We will be using a "hook format" to engage in our discussion.

You will be placed into a discussion group with five students.

The first student to respond in the discussion question will answer the original prompts in the discussion directions and add in a "hook question" at the end for the next student to reply to in the forum.

The next student will respond to the "hook question" proposed by the previous student in the forum.

If you cannot respond with 300 words and cite at least three sources from the module based on the "hook question", then you may also answer one or several of the original prompts in the discussion directions.

No credit will be given to any examples of plagiarism and/or identical assignments.

Discussion posts may be submitted up to 48 hours past the deadline without a point penalty. If you need a longer extension, then you should email me PRIOR to the original deadline to request an extension.
Unit Exams
There will be three unit exams each worth 100 points.

Each exam will consist of 50 multiple choice, true/false and short answer questions.
You will be permitted TWO attempts with a 90-minute time limit on each attempt.
The exams will be unlocked for 72 hours to allow you to take the exam at a time the works in your schedule. After the exam deadline has passed, I will post the answers to the exam for 24 hours.

No late exams will be permitted – unless there is an extreme emergency.
Textbook Information / Link to ZTC Textbook
OER (free) Textbook:
I understand that textbooks are expensive. For this course, we will be using a FREE PDF textbook.
Explorations: An Open Invitation to Biological Anthropology
All you need to do is download the textbook at this link: http://explorations.americananthro.org/index.php/chapters/
***If you prefer a hard copy, there are some available for purchase on Amazon or the campus bookstore for a minimal fee.*****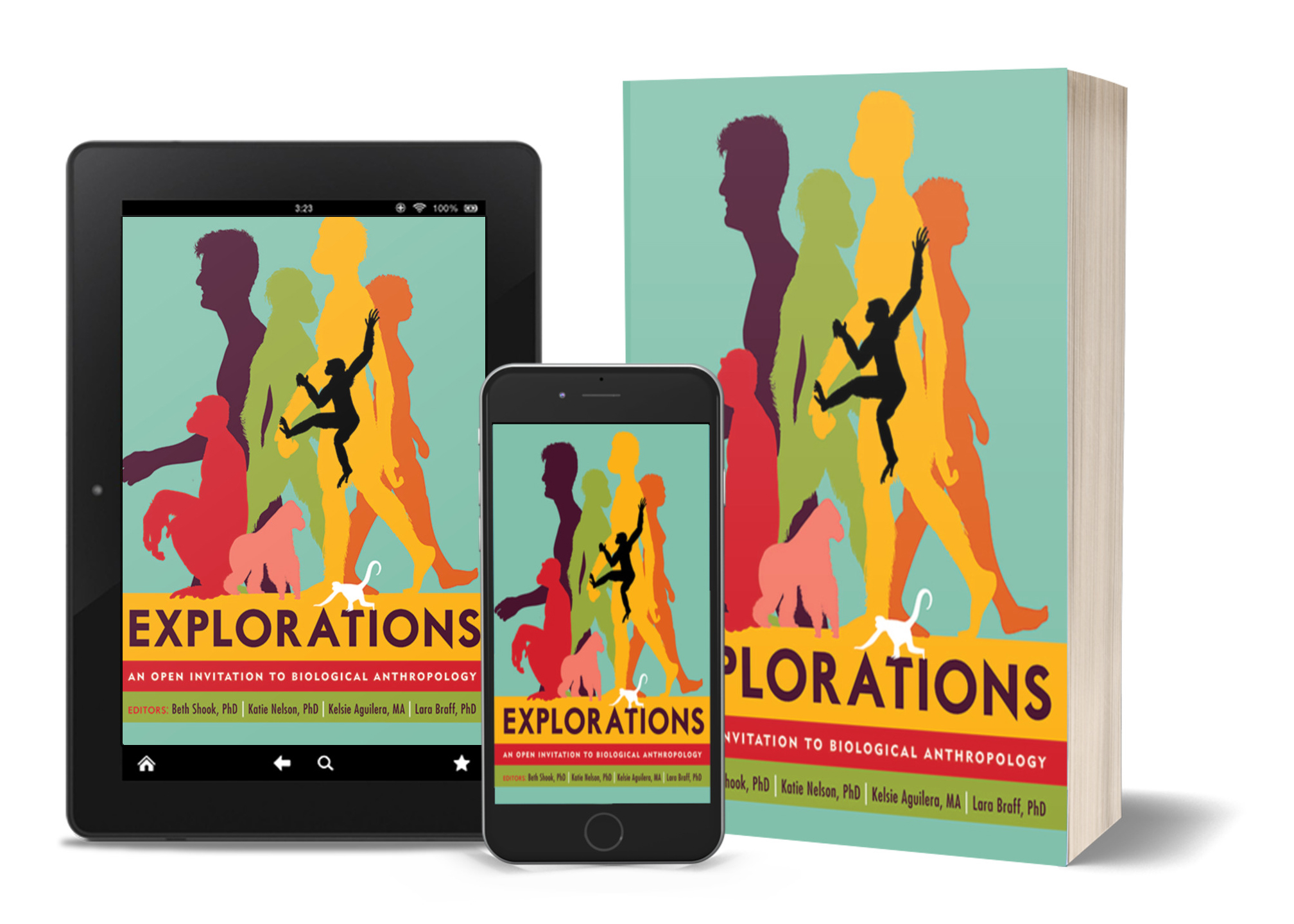 ---
Additional Resources
Canvas
This course can be accessed on the first day of class via Canvas at https://coc.instructure.com. Log into Canvas using your CanyonsID single sign-on:
CanyonsID Username is your COC student email address (Ex: username@my.canyons.edu)
CanyonsID Password is your COC student email password
Please visit the Get to Know Your Online Classroom page for help logging into Canvas and for tips on using Canvas and Zoom. Canvas Chat Support is also available 24/7 for any Canvas related issues.
Online Education
Check out the Online Education website for more information on a variety of topics that can help you be a successful online student such as: exam proctoring, learning styles, computer skills, and tips for student success. If this is your first online course, feel free to take our online learning readiness assessment to assess your skills.
The Learning Center (TLC)
The TLC provides FREE online tutoring resources to COC students!
Academic Accommodation Center (AAC)
College of the Canyons AAC provides educational services and access for eligible students with documented disabilities who intend to pursue coursework at COC. A variety of programs and services are available which afford eligible students with disabilities the opportunity to participate fully in all aspects of the college programs and activities through appropriate and reasonable accommodations. For more information on their services visit the Academic Accomodation Center website.
Online Counseling
The Counseling Department offers appointments online. You can schedule an appointment by visiting the Online Counseling website. Counselors can help you map out a plan to reach your educational goals as well as advise you on course selection and registration.
Management of Stress and Mental Health
College of the Canyons cares about your emotional and physical health. Learn more about the broad range of confidential student services, including free counseling and mental health services available during this time by visiting the Student Health & Wellness Center website or by calling them at: 661-362-3259.
The National Suicide Lifeline number is 1-800-273- 8255 (TALK). Please call it if you or someone you know is having thoughts of suicide or is in severe distress - it could save someone's life.
You can also use the Crisis Text Line: Just text "Courage" to 741741. It's free, available 24/7, and confidential.
Veterans Resource Center
The College of the Canyons Veterans Resource Center is a department within the Student Services Division at the college, created to help veterans and veteran dependents with applying to College of the Canyons, enrolling in classes, and requesting VA Education or Vocational Benefits. For more information please visit the Veterans Resource Center website, email veterans@canyons.edu or phone (661) 362-3469.
Library
The Library provides live online and in-person research help, access to a full range of e-resources and physical materials that support the curriculum, individual and group study areas, and much more!
Last updated: 11/04/2021 Sub#: 1131