Anth 220 - Magic Witchcraft and Religion - Dr. Laurie Solis
Course:
Magic Witchcraft and Religion
Professor:
Dr. Laurie Solis
Email:
laurie.solis@canyons.edu
Format:

Online
OnlineLive
HyFlex
Hybrid
InPerson

Course Length:

Applies to All Course Lengths
Introduction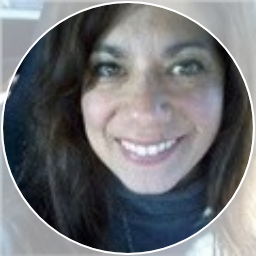 Dr. Laurie Solis is an adjunct instructor in the Dept of Anthropology at College of the Canyons and Antelope Valley College. She has been a college instructor for 18 years and a professional archaeologist for 25 years. She holds a MA in Anthropology with an emphasis on Archaeology and a Doctorate in Religious Studies.
She is the author of Tataviam: People Who Face the Sun, Introduction to the Indians of California, co-author on Beliefs: An Open Invitation to the Anthropology of Magic, Religion, & Witchcraft, and editor for Representations: An Open Invitation to Anti Racist Anthropology.

Academically, her primary interests are prehistoric archaeology, Native American belief systems, and religious ritual.
Course Description
The Anthropology of Religion, Magic, and Witchcraft is a cultural study of different religious ideas, motivations, and movements. This class will focus on world religions and spiritual beliefs and takes a cross-cultural analysis of religion. Anthropology 220 will begin with simple concepts of religion, then movie to more in depth concepts such as myths, souls, and the afterlife. This course will also discuss current religious trends and how they influence people today.
Student Learning Outcomes Student Learning Outcomes (SLOs) are faculty-defined expectations of knowledge and skills students can demonstrate as a result of learning acquired in a course. The SLOs for this course are that you will be able to discuss other cultures in a non-ethnocentric manner and evaluate religious behaviors using basic anthropological concepts and theories.
What to Expect in this Course
Students should be expected to complete the following work-
Weekly homework assignments based textbook and lecture/activity covered that week
In-Class assignments/activities.

These assignments are based on the lectures/material covered during the week. These are usually group assignments where you may work collaboratively but must turn in your own work
Technology
Ability to access Canvas on a weekly basis to complete assignments and view grades

Microsoft Office compatible software so that students can access content posted in Canvas

Video player, speaker - in order to access film content
Types of Assessments
Proctored online exams/quizzes
Online Discussion Boards
Written Assignments
In-Class Activities
Textbook Information / Link to ZTC Textbook
There are two suggested textbooks for this course. You will need to choose one to use for this course.
1.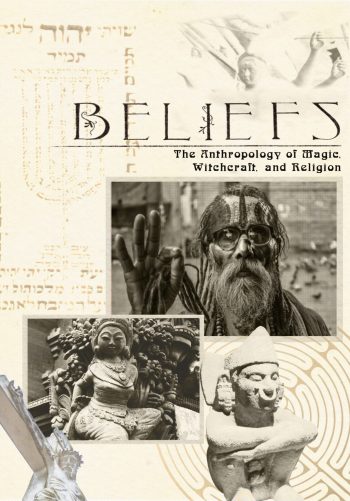 ZERO COST TEXTBOOK (ZCT)
Authors, Zunner-Keating, Brian Pierson; Jennifer Campbell; Laurie Solis; Melody Yeager-Struthers; Oscar Hernández; Sarah Etheridge; Robin Huffman; Marvin Harris; George Gmelch; Griffin Ced; Jennifer Sime; Jill Weiss; Julie Jenkins; Angela Glaros; Tad McIlwraith; Jennifer Faux-Campbell; Jessica Proctor; Martin Tsang; Jennifer Miller-Thayer; and Julie Vazquez
Beliefs: An Open Invitation to the Anthropology of Witchcraft, Magic, and Religion. Available at: https://oer.pressbooks.pub/beliefs/
OR
2.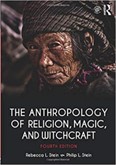 Approximate Cost: $29-$80
Authors Stein & Stein – The Anthropology of Religion, Witchcraft, and Magic (4th edition)
https://www.amazon.com/Anthropology-Religion-Magic-Witchcraft/dp/1138692522/ref=sr_1_1?keywords=Authors+Stein+%26+Stein+%E2%80%93+The+Anthropology+of+Religion%2C+Witchcraft%2C+and+Magic+%284th+edition%29&qid=1673986557&sr=8-1
Other Relevant Course Information
Class attendance is vital to your success in the class. Since this is a survey course, class participation is vital.
Class Homework and Assignments need to be completed in order to pass the course.
Extra Credit: For extra credit in Religion, Magic, & Witchcraft you may visit a religious/spiritual ritual or ceremonial place that is tied to a particular culture. Some examples will be provided on the extra credit form.
ADA and DSPS: If you require assistance or accommodation under the ADA or are a DSPS student, please notify me or the DSPS office.
---
Additional Resources
Canvas
This course can be accessed on the first day of class via Canvas at https://coc.instructure.com. Log into Canvas using your CanyonsID single sign-on:
CanyonsID Username is your COC student email address (Ex: username@my.canyons.edu)
CanyonsID Password is your COC student email password
Please visit the Get to Know Your Online Classroom page for help logging into Canvas and for tips on using Canvas and Zoom. Canvas Chat Support is also available 24/7 for any Canvas related issues.
Online Education
Check out the Online Education website for more information on a variety of topics that can help you be a successful online student such as: exam proctoring, learning styles, computer skills, and tips for student success. If this is your first online course, feel free to take our online learning readiness assessment to assess your skills.
The Learning Center (TLC)
The TLC provides FREE online tutoring resources to COC students!
Academic Accommodation Center (AAC)
College of the Canyons AAC provides educational services and access for eligible students with documented disabilities who intend to pursue coursework at COC. A variety of programs and services are available which afford eligible students with disabilities the opportunity to participate fully in all aspects of the college programs and activities through appropriate and reasonable accommodations. For more information on their services visit the Academic Accomodation Center website.
Online Counseling
The Counseling Department offers appointments online. You can schedule an appointment by visiting the Online Counseling website. Counselors can help you map out a plan to reach your educational goals as well as advise you on course selection and registration.
Management of Stress and Mental Health
College of the Canyons cares about your emotional and physical health. Learn more about the broad range of confidential student services, including free counseling and mental health services available during this time by visiting the Student Health & Wellness Center website or by calling them at: 661-362-3259.
The National Suicide Lifeline number is 1-800-273- 8255 (TALK). Please call it if you or someone you know is having thoughts of suicide or is in severe distress - it could save someone's life.
You can also use the Crisis Text Line: Just text "Courage" to 741741. It's free, available 24/7, and confidential.
Veterans Resource Center
The College of the Canyons Veterans Resource Center is a department within the Student Services Division at the college, created to help veterans and veteran dependents with applying to College of the Canyons, enrolling in classes, and requesting VA Education or Vocational Benefits. For more information please visit the Veterans Resource Center website, email veterans@canyons.edu or phone (661) 362-3469.
Library
The Library provides live online and in-person research help, access to a full range of e-resources and physical materials that support the curriculum, individual and group study areas, and much more!
Last updated: 01/17/2023 Sub#: 1534