CHEM 202 - General Chemistry 2 - Rebecca Eikey
Introduction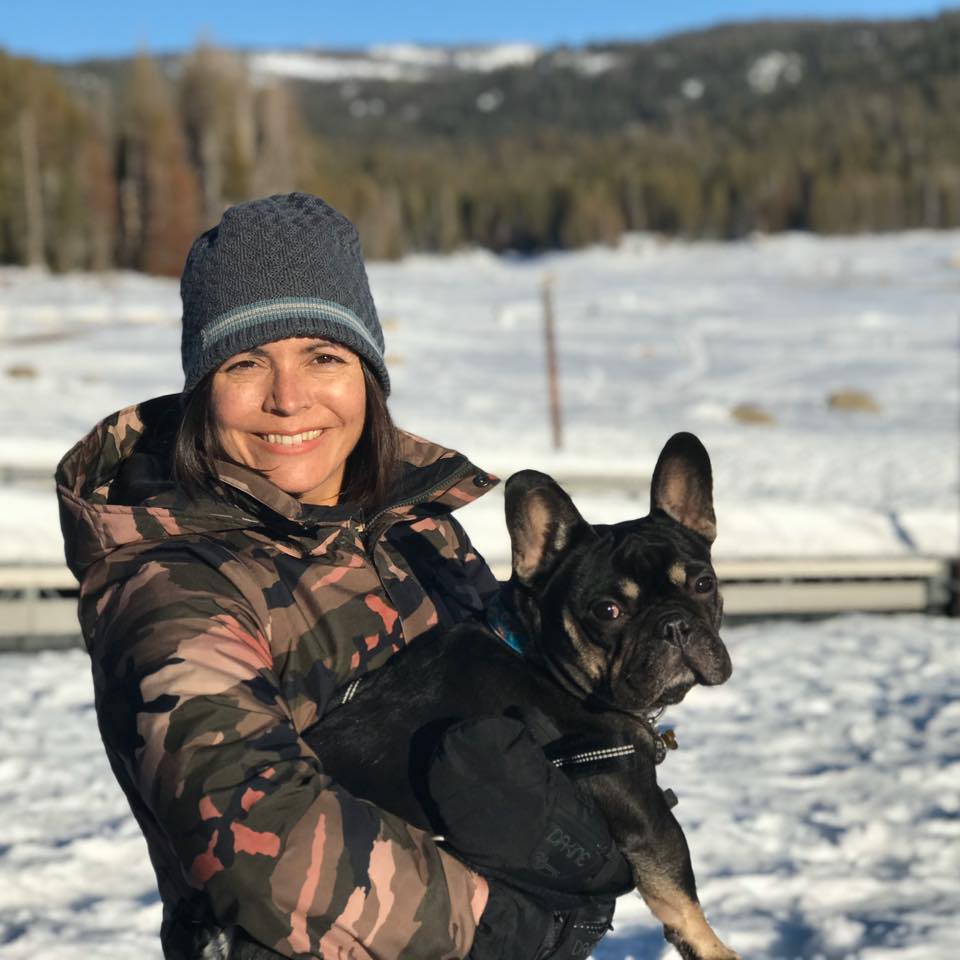 Welcome to Chem 202, General Chemistry 2! This course is a continuation of Chem 201, General Chemistry 1. The course covers some of my favorite topics in chemistry and I am excited for the upcoming semester. I care about my students and their learning and I will do my best to create a great learning environment to help you develop a deeper understanding of chemistry and its role in the natural world.
I would like to introduce myself to you. I am Rebecca Eikey (pronounced eye-key), and your instructor for this OnlineLIVE course. I have been teaching my favorite subject, chemistry, at College of the Canyons for over 15 years. I knew I wanted to pursue a degree in chemistry when I was 15 years old. It is subject that continues to fascinate me. I hope you will find it fascinating too!
In this letter, I have included important details about the course format, learning outcomes, necessary course materials, and expectations. If you have any questions, please feel free to email me. I look forward to meeting you soon!
Course Description
This course is a continuation of general chemistry with special focus on transition metals, their coordination chemistry, chemical kinetics, equilibria, thermodynamics, specifically entropy and free energy, electrochemistry, nuclear chemistry, and introduction to organic chemistry. (5.0-unit CSU, UC transferable course: 12 hrs per week: 3 hrs lecture; 6 hrs lab/assignments). Prerequisite: CHEM 201 with a final grade of a C or higher.
Student Learning Outcomes:
At the end of the course the student will be able to:
Analyze and evaluate various aspects of chemical reactions including kinetics and equilibrium.
Examine the laws of thermodynamics to predict the spontaneity of chemical processes.
Evaluate the theories of bonding to explain chemical properties of substances and reactions.
Formulate conclusions according to scientific inquiry by collecting and interpreting chemical data.
Compose laboratory reports that illustrate meaningful conclusions based on and supported by data and observations.
What to Expect in this Course
This course is considered a synchronous distance education course or OnlineLIVE, but it will also have an online asynchronous component. Our first class meeting is August 24, 2021 at 9:30 am via Zoom. Attendance at this first meeting is mandatory. While you will not be expected to have your cameras on during Zoom meetings, it will be important for you to be able to communicate to me and the other students during the OnlineLIVE meetings.
Are we going to have scheduled lecture and labs?
As you know from registering for this course, we are scheduled to meet for OnlineLIVE lecture on Tuesdays and Thursdays from 9:30 am to 10:50 am and for OnlineLIVE lab on Tuesdays and Thursdays from 11:00 am to 2:05 pm.
Since we are handling the entire course online now, the schedule will be as follows:
We are going to have live lecture on Tuesdays and Thursdays during the originally scheduled time using Zoom where I will lecture through the material as if we were together in person (i.e. OnlineLIVE). We will also work on in-class problems during this time.
Our labs are all going to be done virtually using special software or online resources. To support you so that you are successful with the lab experiments and activities, I will be available the entire scheduled OnlineLIVE time both Tuesdays and Thursdays. We will take breaks so you will not be required to be on Zoom this entire time. We will be working together during these sessions. However, to help with avoiding Zoom fatigue, you can expect to divide that time where part of the time is asynchronous and the other part is synchronous or OnlineLIVE.
Exams will also be taken during your regularly scheduled lab time on Thursdays (so up until 2:05 pm) and must be completed when scheduled. These exams are online, open note and open book. You will need a periodic table and calculator. We will always do an exam review before the Exam starts.
How will we meet for OnlineLIVE?
We will use Zoom which is completely integrated within Canvas and so you will access our class meetings through our Canvas course using the same link each time. There will be a much more detailed explanation of this for you in our Introduction Module in Canvas, which you have access to once you register.
How are we going to do the lab experiments?
Since our labs are done virtually, they will consist of two general formats. I will either just provide you with the data that you normally would have collected yourself and you will perform all subsequent analysis and calculations, or you will complete virtual simulations of experiments on various free websites/software where you will collect the data yourself, just in more of a game-type format. In either case, safety goggles are not required. ? But we will be using graphical analysis for several the lab activities and experiments, so use of Microsoft Excel or similar graphing program will be necessary.
How will the course be organized?
The course in Canvas is organized in Modules for each week, and the material in them will align with what we are covering that week (per the syllabus/schedule). Each Module will contain a lecture unit (lecture notes in pdf and PowerPoint formats, readings), all assignments due for that week, and extra resources to help you learn the material. Generally, you can expect for each module to:
Read sections of the free online textbook
Review PowerPoint lectures online & attend OnlineLIVE lecture
Complete online Homework
Participate in a discussion, work on group or in-class activities
Complete a lab experiment/activity (including data analysis, such as graphing)
Types of Assessments
Your course grade will be based on online homework assignments, four online exams (covering 2 or so chapters), laboratory experiments/activities, discussion boards and other in-class activities. The lab experiments/activities comprise a significant portion of the overall possible points in the course. Therefore, it is really important that you are present during the OnlineLIVE lab session times and that you complete the lab work and data analysis. This is one of the best parts about learning science!
We will not have a traditional final exam. Instead, you will complete a semester long project, where you will create an Infographic on chemical concept related to the course material, such as the chemistry of batteries. Presentations of the Infographic will happen during finals week. Infographics will be a creative way for you to learn more about a specific topic and to present that topic in a cool visual way. Additional details on this project will be in Canvas.

Textbook Information / Link to ZTC Textbook
Do I need any special materials because we are online?
You will need regular access to a reliable computer with stable, high-speed internet connection
Access and familiarity with Canvas (for technical support using Canvas, visit the Canvas Tech Support page for students)
Access to (and frequent checking of!) your canyons student email address
You will need the following software on your computer:
Internet browser (Chrome works best with Canvas)
Microsoft Word and Excel (you can download the Microsoft Office Suite for FREE as part of your my.canyons email account)
Beyond Labz, a free virtual laboratory program. Access codes for Beyond Labz will be given in Canvas.
Adobe Acrobat Reader. You need to be able to open, print, and save PDF files. To view PDF files, you need a current version of the free Adobe Acrobat Reader. There also are extensions for Chrome that you can use to fill in the PDF files.
What materials do I need for the class?
More detailed information will be available on this in the Intro Module in Canvas as well as in our course syllabus, but briefly you will need:
Homework: CHEM101 homework access code available for purchase online or in the Bookstore (detailed directions for registering provided in syllabus/Canvas)
Textbook: OpenStax OER Chemistry Textbook 2nd Edition. Available free of charge online as e-book, downloadable pdf or hard-covered printed text copy for purchase in the COC Bookstore (ISBN-10: 1-947172-62-X; ISBN-13: 978-1-947172-62-3)
Scientific Calculator -this is crucial! You need to make sure you can do scientific notation (so an EXP, EE or x10c button) with log/ln functions.
Other Relevant Course Information
That covers the very brief, highlight version of our plan for fall. Once registered, you should head into Canvas and start going through the Introduction Module (available early July) as it has far more detailed explanations on the things briefly mentioned here, as well as our course syllabus.
At any point please email me with any questions you have at Rebecca.eikey@canyons.edu.
I know that this method of learning poses its unique challenges for all of you, but there are some benefits we can take advantage of and throughout it all, I am here to support you!! I look forward to meeting you all very soon!
---
Additional Resources
Canvas
This course can be accessed on the first day of class via Canvas at https://coc.instructure.com. Log into Canvas using your CanyonsID single sign-on:
CanyonsID Username is your COC student email address (Ex: username@my.canyons.edu)
CanyonsID Password is your COC student email password
Please visit the Get to Know Your Online Classroom page for help logging into Canvas and for tips on using Canvas and Zoom. Canvas Chat Support is also available 24/7 for any Canvas related issues.
Online Education
Check out the Online Education website for more information on a variety of topics that can help you be a successful online student such as: exam proctoring, learning styles, computer skills, and tips for student success. If this is your first online course, feel free to take our online learning readiness assessment to assess your skills.
The Learning Center (TLC)
The TLC provides FREE online tutoring resources to COC students!
Academic Accommodation Center (AAC)
College of the Canyons AAC provides educational services and access for eligible students with documented disabilities who intend to pursue coursework at COC. A variety of programs and services are available which afford eligible students with disabilities the opportunity to participate fully in all aspects of the college programs and activities through appropriate and reasonable accommodations. For more information on their services visit the Academic Accomodation Center website.
Online Counseling
The Counseling Department offers appointments online. You can schedule an appointment by visiting the Online Counseling website. Counselors can help you map out a plan to reach your educational goals as well as advise you on course selection and registration.
Management of Stress and Mental Health
College of the Canyons cares about your emotional and physical health. Learn more about the broad range of confidential student services, including free counseling and mental health services available during this time by visiting the Student Health & Wellness Center website or by calling them at: 661-362-3259.
The National Suicide Lifeline number is 1-800-273- 8255 (TALK). Please call it if you or someone you know is having thoughts of suicide or is in severe distress - it could save someone's life.
You can also use the Crisis Text Line: Just text "Courage" to 741741. It's free, available 24/7, and confidential.
Veterans Resource Center
The College of the Canyons Veterans Resource Center is a department within the Student Services Division at the college, created to help veterans and veteran dependents with applying to College of the Canyons, enrolling in classes, and requesting VA Education or Vocational Benefits. For more information please visit the Veterans Resource Center website, email veterans@canyons.edu or phone (661) 362-3469.
Library
The Library provides live online and in-person research help, access to a full range of e-resources and physical materials that support the curriculum, individual and group study areas, and much more!
Last updated: 10/06/2022 Sub#: 259