Photo 157 - Digital Imaging - Becky Brister
Introduction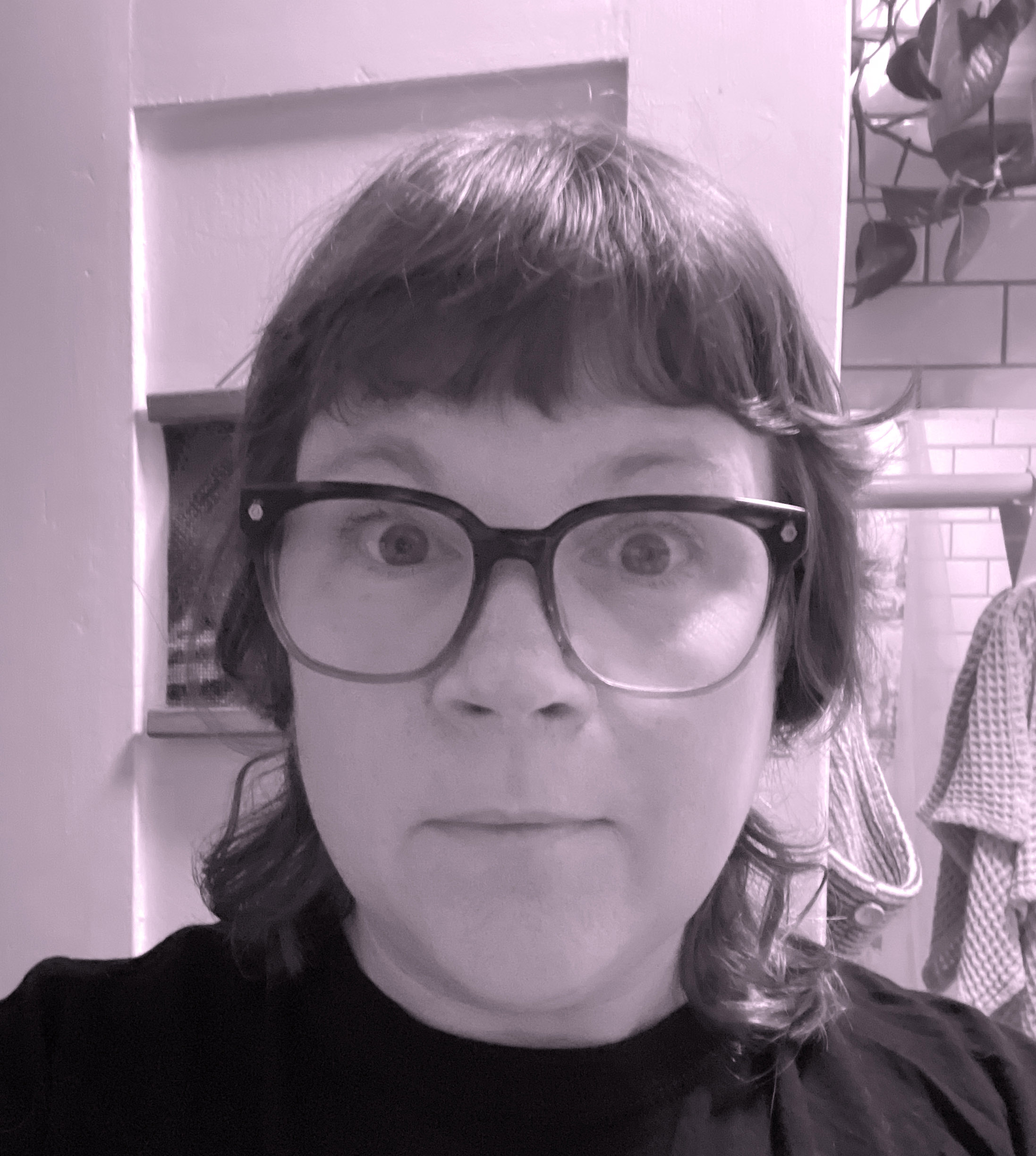 Hi! My name is Becky (she/they)! My educational path began at community college, followed by a transfer to the University of California, Riverside, where I studied under Uta Barth and John Divola and earned my B.A. in art with a photography emphasis. Finally, I received my M.F.A. in photography from the University of California, Los Angeles, mentored by world-class contemporary artists Catherine Opie and James Welling, in one of the country's most sought-after graduate programs.

I currently work as an adjunct professor of photography at Moorpark College (Moorpark, CA) and College of the Canyons (Valencia, CA). Both roles include a combination of lecture, lab instruction, and office hours, both in-person and online. I teach a range of levels and techniques – from beginning to advanced, traditional black and white, and color darkroom practice (including working from 35mm, medium format, and 4x5, on R.C. and fiber paper, and utilizing alternative processing and toning techniques). I also teach digital photography, focusing on image processing and manipulation (including R.A.W. image processing, Adobe Bridge, Camera Raw, Photoshop) and large-format color printing.
Course Description
Introduces the fundamental concepts, terminology, techniques, and applications of digital imaging using industry-standard software such as Adobe Photoshop. Through the application of theory, students will explore both the technical aspects of image manipulation, as well as the artistic aspects of creating images.
What to Expect in this Course
The course consists of a combination of assignments, readings, discussions, videos, and class critiques. Participation is expected in all aspects of the class. Please see me if for any reason you are having trouble keeping up with the required work.
Many students register for distance-learning courses believing that it will require less time. Although the length of the course is only five weeks, the same amount of material is covered as in the standard 16-week semester.
This is a very fast-paced, intensive, 8-week course. Each week of course material is equal to two weeks of content covered during a 16-week semester.
While you will spend fewer weeks in the classroom, the art of discovering information, and the responsibility of scheduling learning into your busy lives, will be on your shoulders. In reality, many distance-learning courses are more of a time commitment than a traditional lecture course, and I praise you for being up to the challenge. Even though the assignments are due on Sunday, you may turn them in as soon as they open on Monday.
Student Responsibilities
Completion of coursework, including participation in weekly readings, lectures, group discussions through postings, online exams, technical and creative assignments.
You will be spending about 10-12 hours a week on this class since it is an accelerated 8-week class.
Online work is to be completed by midnight on the date it is due. LATE WORK CANNOT BE SUBMITTED. Please do not wait until the last minute to complete your work. A computer or Internet connection problem is not a valid excuse for failing to complete online assignments. It is recommended that you have another computer at your disposal as back up. If you need access to a computer, you can visit the COC library, the TLC lab.
Whether online or in class, students shall conduct themselves in a manner appropriate to the community college learning environment. For detailed information regarding student conduct, please see the College of the Canyons Catalog, DISTRICT POLICIES GOVERNING STUDENT RIGHTS AND RESPONSIBILITIES, Section 5529 STUDENT CONDUCT, adopted in compliance with statement California Education Code section 66300.
Types of Assessments
I will be assessing the class with project and tool based assignments as well as discussions. You will not be quizzed on the material but students will have to show me through completing assignments each week that they understand the material.
Textbook Information / Link to ZTC Textbook
Text and Supplies
There is no required text for this class; all information will be on CANVAS, including readings, exams, and all other content.
You will need a strong internet connection
You will need to have a computer with Photoshop and Adobe bridge on it for this course.
https://www.adobe.com/creativecloud/photography.html#
Other Relevant Course Information
Course Accessibility and Usability
This course is designed to be welcoming to, accessible to, and usable by everyone, including participants who are multi-lingual, have a variety of learning styles, have different abilities, or are new to online learning.
I am committed to ensuring access for all. Be sure to let me know immediately if you encounter a required element or resource in the course that is not accessible to you. Also, let me know of changes I can make to the course so that it is more welcoming to, accessible to, or usable by participants who take this course in the future.
Your insight and experience matter to me!
ANTI-RACISM STATEMENT
Racism consists of two principal components: difference and power. Racism in America is the systematic mistreatment and disenfranchisement of people of color and continues to be a part of American society. Racism negatively affects all students and their education. In this class, we affirm our commitment to recognizing, confronting, and eradicating racism and oppression. We will create a safe and brave space for open, critical dialogue. And, when we make mistakes, we will help one another learn from those mistakes.
Other things you should know:
We all have room to grow, and we are all in different places on our journey. College is an institution that invites students to learn from productive discomfort. Take the opportunity to learn from each other.
You have options. While our essay topics give you the opportunity to discuss racism and oppression, you can choose to write about other topics.
Don't forget to take care of yourself. While it is important to confront racism, it is also important to tend to our mental health. If you need to, you can take a step back away from distressing topics. If the topic is required for an assignment, please contact me for an alternative assignment.
You are always welcome to talk to me! Join me for Student Hours or contact me via email.
DIVERSITY, EQUITY, AND INCLUSION
I support all students and realize that some students face unique challenges. College of the Canyons values diversity and is committed to providing equitable opportunities to grow as individuals and as a community. We welcome all students regardless of their immigration status, sexual orientation, gender identity, religion, and background.
ALLY STATEMENT:
I am an ally, and I am familiar with some of the challenges facing various communities. I can provide resources both on-campus and off-campus to students who may be: LGBTQAI+, veterans, undocumented or mixed-status, and more. Feel free to talk with me about these resources.
---
Additional Resources
Canvas
This course can be accessed on the first day of class via Canvas at https://coc.instructure.com. Log into Canvas using your CanyonsID single sign-on:
CanyonsID Username is your COC student email address (Ex: username@my.canyons.edu)
CanyonsID Password is your COC student email password
Please visit the Get to Know Your Online Classroom page for help logging into Canvas and for tips on using Canvas and Zoom. Canvas Chat Support is also available 24/7 for any Canvas related issues.
Online Education
Check out the Online Education website for more information on a variety of topics that can help you be a successful online student such as: exam proctoring, learning styles, computer skills, and tips for student success. If this is your first online course, feel free to take our online learning readiness assessment to assess your skills.
The Learning Center (TLC)
The TLC provides FREE online tutoring resources to COC students!
Academic Accommodation Center (AAC)
College of the Canyons AAC provides educational services and access for eligible students with documented disabilities who intend to pursue coursework at COC. A variety of programs and services are available which afford eligible students with disabilities the opportunity to participate fully in all aspects of the college programs and activities through appropriate and reasonable accommodations. For more information on their services visit the Academic Accomodation Center website.
Online Counseling
The Counseling Department offers appointments online. You can schedule an appointment by visiting the Online Counseling website. Counselors can help you map out a plan to reach your educational goals as well as advise you on course selection and registration.
Management of Stress and Mental Health
College of the Canyons cares about your emotional and physical health. Learn more about the broad range of confidential student services, including free counseling and mental health services available during this time by visiting the Student Health & Wellness Center website or by calling them at: 661-362-3259.
The National Suicide Lifeline number is 1-800-273- 8255 (TALK). Please call it if you or someone you know is having thoughts of suicide or is in severe distress - it could save someone's life.
You can also use the Crisis Text Line: Just text "Courage" to 741741. It's free, available 24/7, and confidential.
Veterans Resource Center
The College of the Canyons Veterans Resource Center is a department within the Student Services Division at the college, created to help veterans and veteran dependents with applying to College of the Canyons, enrolling in classes, and requesting VA Education or Vocational Benefits. For more information please visit the Veterans Resource Center website, email veterans@canyons.edu or phone (661) 362-3469.
Library
The Library provides live online and in-person research help, access to a full range of e-resources and physical materials that support the curriculum, individual and group study areas, and much more!
Last updated: 10/05/2022 Sub#: 1496