News & Media
---
Mapping Out a Future at College of the Canyons


Kyle Gatlin was looking for a new career after he lost his job as an assistant sound editor in the wake of the 2007 film and television screenwriters' strike. He found an even more successful line of work when he turned to the Land Surveying Program at College of the Canyons.
Read More
---
COC hosts College2Career Day at Valencia Campus
January 26, 2019
---
With dozens of booths to check out or different activities to join in, College of the Canyons hosted hundreds of career seeking students at their College2Career Day on Saturday.
"Each year we put on the college career day event and invite the public as a whole, specifically targeting high school students, with the intent of establishing that pathway to careers," said Omar Torres, COC's interim associate vice president of academic affairs.
Held in the Dianne G. Van Hook University Center, the career day event featured a number of college faculty members and vocational instructors who answered any and all questions for prospective recruits for their specific field.
"A very special THANK YOU to Hahn and Associates and Kyle Gatlin for bringing the Surveying truck!" – Regina Blasberg
Right: Gia Vezzali, 13, gets the opportunity to look through a total station surveyor's tool during the College to Career Day held at College of the Canyons in Valencia on Saturday. Dan Watson/The Sign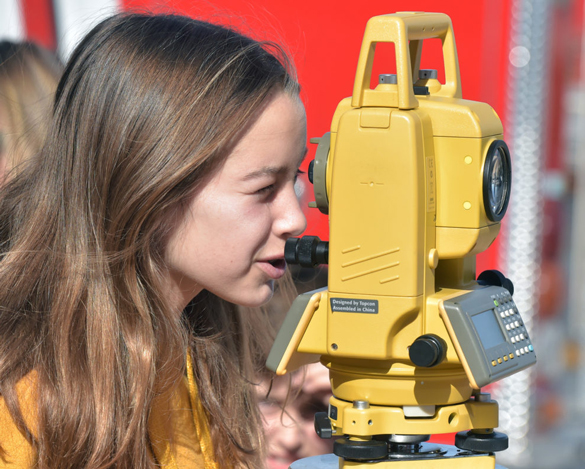 Gia Vezzali, 13, gets the opportunity to look through a total station surveyor's tool during the College to Career Day held at College of the Canyons in Valencia, CA.
---
News Release | March 11, 2016
Boy Scouts Award
---
College of the Canyons Named BSA Community Organization of the Year
College of the Canyons has been named the Community Organization of the Year by the Boy Scouts of America Western Los Angeles County Council (WLACC).
The award was presented during the annual WLACC 'Bill Hart District' Recognition Dinner held March 3, in Saugus. The event operated under the theme "STEM Trek … The Next Generation in Scouting."
At the event COC faculty members Tim Baber, chair of the college's welding technology department, and Regina Blasberg, chair of the college's engineering technologies department, were both presented with awards. Dr. Ron McFarland, Dean of the college's School of Applied Technologies, was also in attendance. Read more... (need PDF) /Departments/SURV/Documents/News-Media-03-11-16_BoyScoutAward.pdf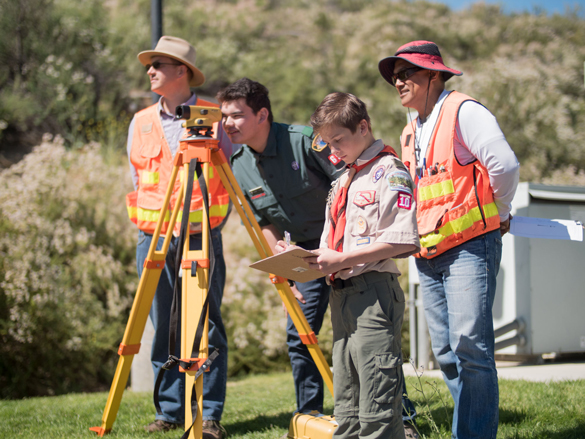 Two Boy Scouts look through surveying tool, with two COC Surveying instructors assisting.
---
News Release | July 16, 2015
Land Surveying Project
---
CRC Enterprises & COC Team-up For Benefit of Community Gardens of Santa Clarita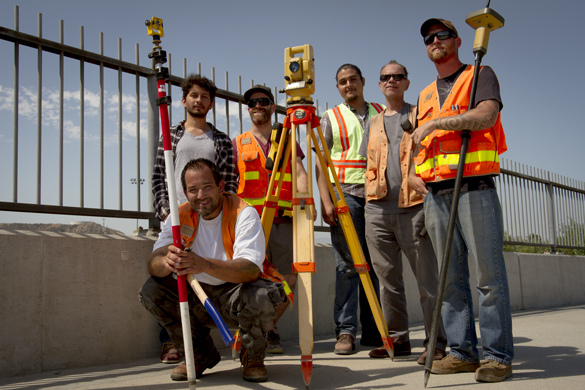 Bottom, left to right: Savino Pilarksi, Luis Romero, Dave Bowers, Leo Jimenez, Chris Staley, Romas Andrijawskas | Members of CRC's team work on the Community Gardens' land surveying project.


---
In an effort to continue their mission in support of the local community by seeking to add new garden plots and facilities, the non-profit Community Gardens of Santa Clarita found themselves in need of a topographical map, with little or no budget to speak of. Their mission is "to create a community facility where individuals can come together to promote the benefits of locally grown, organic food that is environmentally friendly, sustainable, and cost effective and which delivers economic, health and educational benefits to a wide array of valley residents!"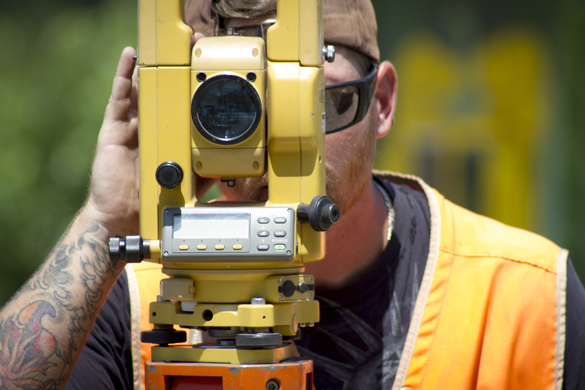 Romas Andrijawskas
---
Emphasizing his desire for a local workforce to handle the job, James Weiland, President of the Garden Council Executive Board, explained why his first call was to the College of the Canyons (COC) Land Surveying program. "Because of their working knowledge of the immediate and surrounding areas," Weiland felt that communications would be simpler. "I also felt they would be more committed to doing professional work, since they would also live in the community and depend upon word of mouth for other business." Having contacted Regina Blasberg, Chair, Engineering Technologies/Land Surveying Program at COC, he explained the situation.



Regina Blasberg, MS | Professor and Chair of the Engineering Technologies Department, College of the Canyons
---
However, the Spring semester was coming to a close and Blasberg knew she wouldn't have the the necessary students on-hand to perform the work. Wanting to be of assistance, she contacted CRC Enterprises, a civil engineering and land surveying company based here in the Santa Clarita Valley, to see if they could help. In addition to serving on COC's Land Surveying Advisory Board, CRC owner and president, Ron Koester, P.LS., P.E., was one in a group of local professionals responsible for starting the college land surveying program back in 2006; he also serves as an adjunct professor.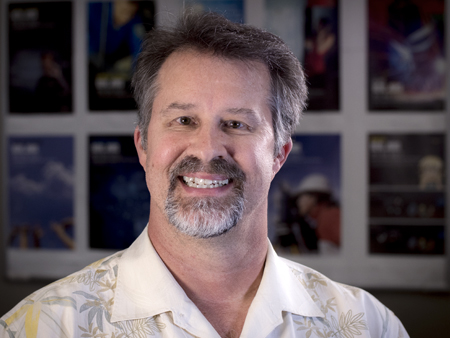 Ron Koester | CRC owner and president
---
In fact, all of CRC's employees are either past or current students of the program. Thanks to Koester's generosity, CRC completed the work pro bono on behalf of COC as their way of giving back to both the college and the local community.
Aside from CRC's team of surveyors, they had the assistance of Luis Romero, a current student enrolled in the Land Surveying program at COC, who is approximately half way through the certificate program.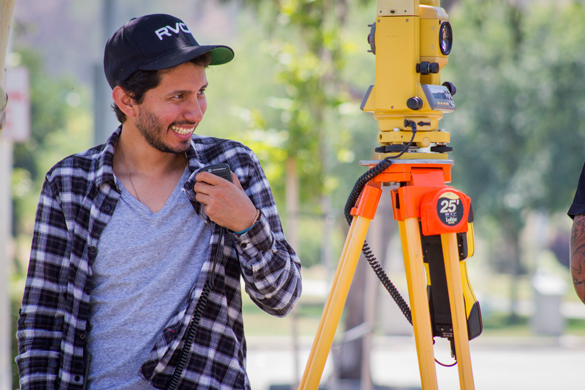 Luis Romero communicates information to a CRC team member.
---
This represented Romero's first time in the field while attending COC. Prior to attending COC, Romero was working for another land surveying company in his hometown of Downey when he began searching on-line for a program to further his education. Although he had another option closer to home, he chose the program at COC because of the smaller student-to-teacher ratio, which offers more personalization as a result. He also liked the fact that the variety between lab days and lectures simulates on-the-job training. "There's always something different going on," explained Romero, "but you can count on having a home base to return to." While liking the fact that the students in the program have become a close knit group, he looks at the field as more than just a job: "it's an awesome way to make money!"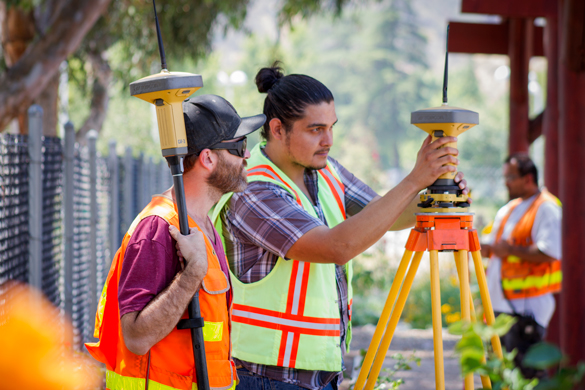 Dave Bowers, Leo Jimenez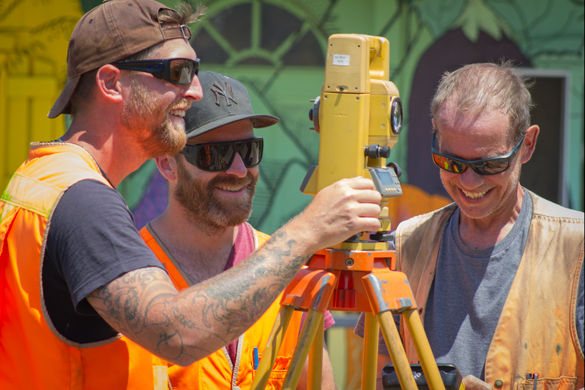 Left to Right:
Romas Andrijawskas, Dave Bowers, Chris Staley
---
Blasberg suggested that anyone who has an interest in the outdoors should consider working in land surveying. She stressed that it's "also helpful to be confident in your basic math skills, be active and physically fit because of the terrain, and be comfortable socially because you'll need to work as part of a team.
Thankful, Koester said, "The Land Surveying program at COC has helped my business from the standpoint that the men are better educated and equipped to take on a variety of roles. I hope that all employees would further their education for a better chance at advancement." He refers to those in the field as "men" because it's mostly men in the field. When questioned, Koester said he'd like to see more women in the field, because they are [generally] excellent at problem solving and good communications is a highly sought after skill. "I'd like to encourage both men and women to consider land surveying as a career opportunity; it's financially rewarding and you get to work outdoors," explained Koester.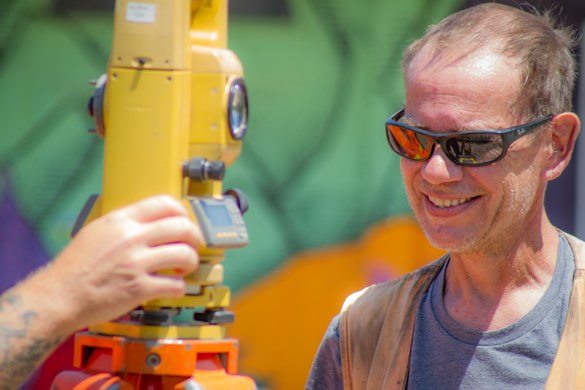 Chris Staley | Survery Manager, CRC Enterprises
---
Land surveying is a great choice for both recent high school graduates and adults looking to change careers. Chris Staley, Survey Manager with CRC Enterprises, is a perfect example. "The program at COC has helped my career 100 percent," said Staley. "I was a sound engineer in the music industry and had not done any survey work when I originally saw the program advertised and decided to enroll and check it out. I really enjoyed it and was offered a job at CRC during my last semester in the program. CRC uses the same work methods taught at COC, which is extremely helpful. We're all on the same page in terms of how things should be done.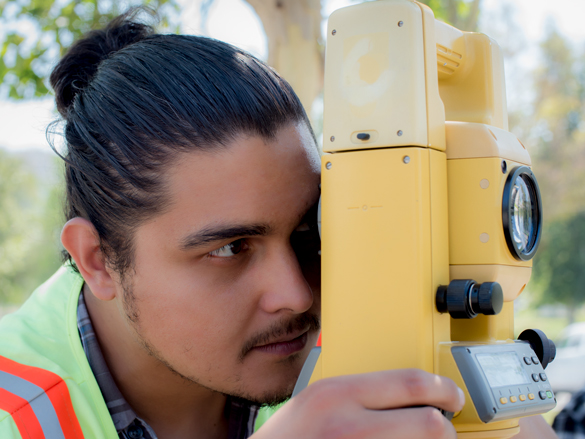 Leo Jimenez
---
"COC's Land Surveying program provides students with the tools and skills needed to be successful in an entry-level surveying position. Students can obtain either an Associate of Science Degree in Land Surveying, a Certificate of Achievement in Land Surveying, or both. These skills can lead to a rewarding career with either a public or private agency in a wide range of fields including geographic information systems, mapping, construction surveying, aerial surveying and general surveying."


Savino Pilarksi


---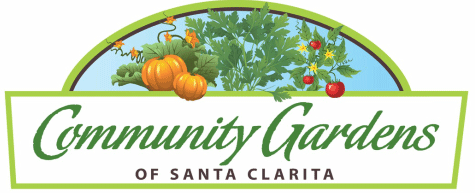 More about the COC Land Surveying Program

For more information about the COC Land Surveying Department Program please contact:
Regina Blasberg
Professor and Chair of the Engineering Technologies Department Chair,
Land Surveying Department College of the Canyons,
Valencia Campus
26455 Rockwell Canyon Road Santa Clarita, CA 91355
(661) 362-5096
---

The Community Gardens of Santa Clarita is a non-profit organization. Our mission is to create a community facility where individuals can come together to promote the benefits of locally grown, organic food that is environmentally friendly, sustainable, and cost effective and which delivers economic, health and educational benefits to a wide array of valley residents! Located in Central Park at 27150 Bouquet Canyon Road, Santa Clarita, CA 91350

Visit: Community Gardens of Santa Clarita


---

Media Contact: Patti Fleetwood
PattiFleet@iCloud.com (661) 713-9464
Photos & Website: RobinSpurs.com
---