ENGL-101 - English Composition - Dr. Chase Dimock
Introduction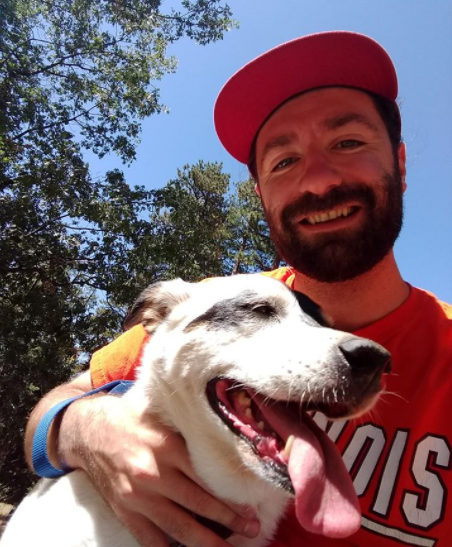 Welcome to ENGL 101! I am Dr. Chase Dimock and I will be the professor. My dog Kiana will be the Teaching Assistant. This is my 5th year as a full time professor at College of the Canyons. Before coming here, I taught at colleges and universities across the country in Florida, Missouri, and Illinois where I received my PhD in Comparative Literature (hence the University of Illinois shirt!). I was born and raised in the valley and I value the opportunity to give back to the community that gave me so much. Let me get you acquainted with the objectives and expectations of my course.
The purpose of this course is to develop the writing and critical thinking skills necessary for composing effective college level essays. Writing is a skill best developed through constant practice and multiple revisions; therefore, you will write short responses on a weekly basis that will help you draft and construct longer, formal essays. The goal of these writing exercises is for students to understand how to clearly organize ideas and use language persuasively to articulate their arguments. In short, this class is all about building up your ability to read, write, and think critically and clearly in order to set you up for success in all your future college courses.
I want this class to stress the joy of reading and writing. We all read and write for pleasure, even if it's just as simple as writing a funny one liner on someone's Facebook wall. I want to build everyone's skills and confidence as writers to the point where each student has learned to take pride and satisfaction in their writing. Writing is more than just conveying information; it is a product of presenting and crafting a self. Writing allows us to express who we are and present ourselves as reflective, thoughtful human beings.
Course Description
Here are the Course Description and Learning Outcomes from the official Course Outline:
Course Description:
Builds critical reading and expository writing skills through the analysis and evaluation of college-level texts and the composition of well-organized, full-length essays containing properly documented evidence.
Learning Outcomes:
Analyze and critically evaluate college-level texts for rhetorical and genre strategies.
Compose persuasive, well-organized, grammatically correct essays, synthesizing properly documented and relevant evidence to develop and support a unified thesis.
Course Objectives:
Analyze and critically evaluate written and visual texts for rhetorical strategies such as ethos, logos, and pathos, among others.
Demonstrate responsibility for the reading process by applying active and critical reading strategies to analyze the meaning of texts.
Analyze and critically evaluate a variety of college-level texts, including a book-length argument or a complete literary work.
Demonstrate responsibility for the writing process and rhetorical context.
Conduct research and critically evaluate appropriate source material(s).
Create a thesis statement to structure the essay as a whole.
Organize and structure essays in an effective manner.
Support arguments by selecting, analyzing and synthesizing evidence such as relevant detail, anecdotes, and well-integrated summaries, paraphrases, and quotations.
Implement the conventions of standard written English while using a variety of sentence structures.
Apply MLA style and citation format.
Compose effective short essays in timed-writing situations.
Reflect on reading and writing practices in order to improve work habits and skills.
What to Expect in this Course
This course is divided into themed segments. In our first unit, we will study rhetorical analysis by writing a critical analysis of a commercial. Advertising is all around us and it always employs text and visuals aimed at manipulating us into purchasing their product, voting for their candidate, or thinking what they want us to think. We will learn to decode the strategy behind an advertisement by analyzing how they use logos (reason) pathos (emotion) and ethos (credibility) to persuade the audience.
Our next unit will explore differing perspectives from leading writers and experts on controversial topics. In reading a diversity of opinions on an issue, we will study the rhetorical moves that the writers use to make persuasive arguments and support their arguments with facts and reasoning. By the end, we will compose our own thesis-based essays to weigh in on the conversation and employ the rhetorical moves we learned.
Our final unit focuses on Art Spiegelman's memoir Maus. Through his comic book adaptation of his father's real life story of surviving the Holocaust, we will explore topics like war, racism, fascism, immigration, trauma, and intergenerational conflicts. In the process, I want you to consider how studying this history can lend insights into what is happening in our modern day society.
Types of Assessments
Essays, Essay Development Activities, Assessment Exams, Online Discussion Posts, Short Response Assignments
Textbook Information / Link to ZTC Textbook
They Say, I Say: with Readings (4th Edition) ISBN: 9780393631685
The Complete Maus By Art Spiegelman ISBN: 9780679406419
Other Relevant Course Information
My Commitment to Student Success
As your professor, my top priority is your success as a student. I understand that all of you enter the classroom from diverse backgrounds with your own sets of challenges and goals. My mission is to help you meet the challenges that the course presents and show you how to integrate the skills and content from class into aiding your broader goals as a student. I know that every student has unique talents and perspectives and it is my hope to provide a forum for you to showcase and develop them in a way that enriches the learning experience of your fellow students.
I also realize that reading and writing can be difficult for many students and that people learn in different ways and at different paces. While I have to keep the course moving along at a predetermined schedule in order to meet our learning outcomes, I will do what I can to individualize my instruction to meet your needs. If you reach out to me with reasonable requests, I will do my best to meet you where you are. If you are having trouble with the material, or if other circumstances are affecting your studies, please let me help.
My success as a professor is dependent on your success as a student. I need engaged, motivated, and thoughtful students for my class to become a great learning environment. When you give it your best effort, you in turn enable me to use my most effective teaching techniques. Together we can achieve our full potential in creating an exciting and enlightening learning experience.
---
Additional Resources
Canvas
This course can be accessed on the first day of class via Canvas at https://coc.instructure.com. Log into Canvas using your CanyonsID single sign-on:
CanyonsID Username is your COC student email address (Ex: username@my.canyons.edu)
CanyonsID Password is your COC student email password
Please visit the Get to Know Your Online Classroom page for help logging into Canvas and for tips on using Canvas and Zoom. Canvas Chat Support is also available 24/7 for any Canvas related issues.
Online Education
Check out the Online Education website for more information on a variety of topics that can help you be a successful online student such as: exam proctoring, learning styles, computer skills, and tips for student success. If this is your first online course, feel free to take our online learning readiness assessment to assess your skills.
The Learning Center (TLC)
The TLC provides FREE online tutoring resources to COC students!
Academic Accommodation Center (AAC)
College of the Canyons AAC provides educational services and access for eligible students with documented disabilities who intend to pursue coursework at COC. A variety of programs and services are available which afford eligible students with disabilities the opportunity to participate fully in all aspects of the college programs and activities through appropriate and reasonable accommodations. For more information on their services visit the Academic Accomodation Center website.
Online Counseling
The Counseling Department offers appointments online. You can schedule an appointment by visiting the Online Counseling website. Counselors can help you map out a plan to reach your educational goals as well as advise you on course selection and registration.
Management of Stress and Mental Health
College of the Canyons cares about your emotional and physical health. Learn more about the broad range of confidential student services, including free counseling and mental health services available during this time by visiting the Student Health & Wellness Center website or by calling them at: 661-362-3259.
The National Suicide Lifeline number is 1-800-273- 8255 (TALK). Please call it if you or someone you know is having thoughts of suicide or is in severe distress - it could save someone's life.
You can also use the Crisis Text Line: Just text "Courage" to 741741. It's free, available 24/7, and confidential.
Veterans Resource Center
The College of the Canyons Veterans Resource Center is a department within the Student Services Division at the college, created to help veterans and veteran dependents with applying to College of the Canyons, enrolling in classes, and requesting VA Education or Vocational Benefits. For more information please visit the Veterans Resource Center website, email veterans@canyons.edu or phone (661) 362-3469.
Library
The Library provides live online and in-person research help, access to a full range of e-resources and physical materials that support the curriculum, individual and group study areas, and much more!
Last updated: 10/08/2021 Sub#: 818