FIRE TECH 101 - Priciples of Emergency Services - Battalion Chief Tray White
| | |
| --- | --- |
| Course: | Priciples of Emergency Services |
| Professor: | Battalion Chief Tray White |
| Email: | travont.white@canyons.edu |
| Format: | |
| Course Length: | |
Introduction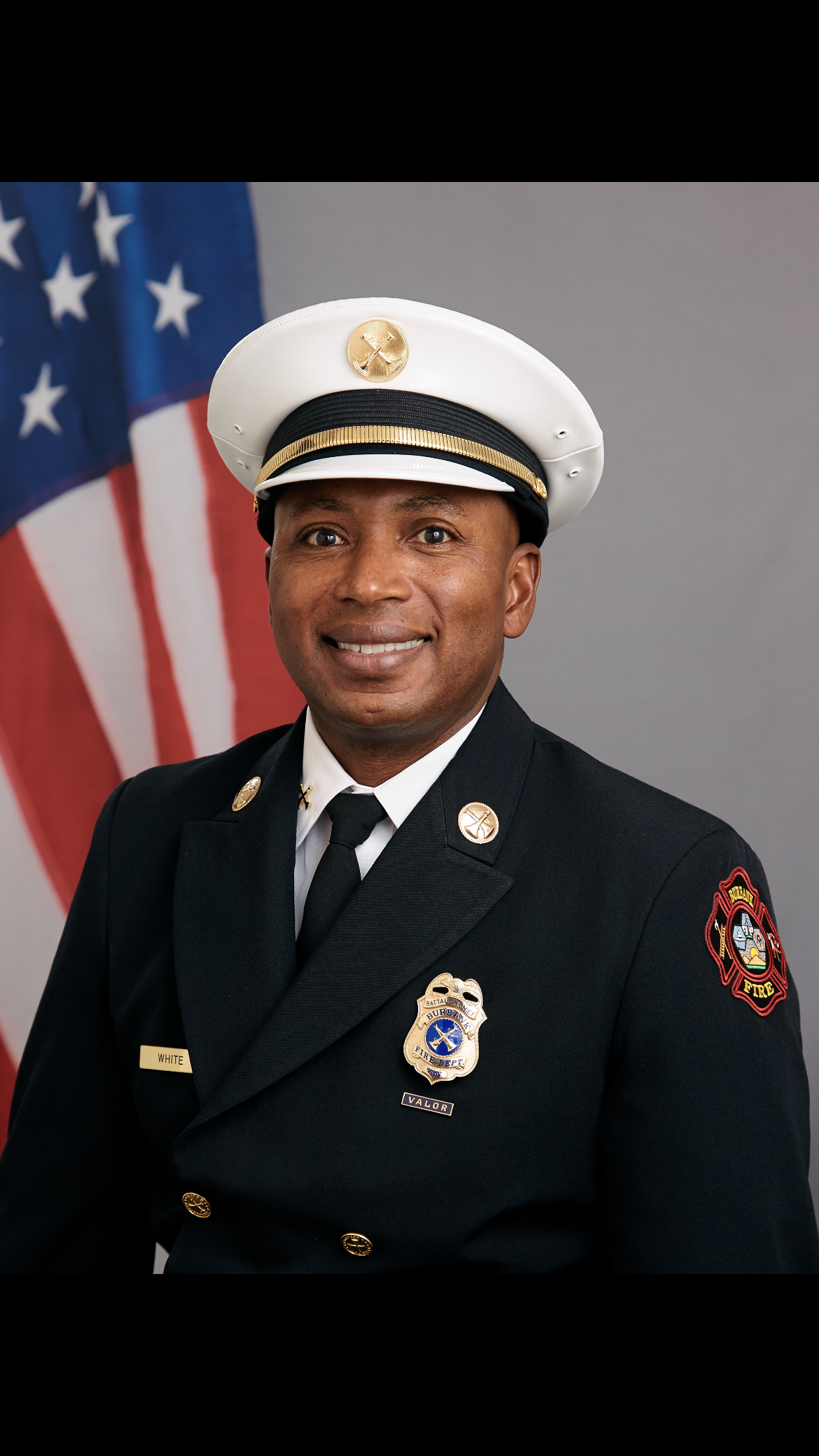 Welcome to Fire Technology 101: "Principles of Emergency Services." My name is Tray White, and I am the Instructor for this 16-week Distance Learning course. I have been in the Fire Service since 1995 and currently serve as a Battalion Chief in charge of Training and Safety for the Burbank Fire Department. My goal is to ensure that the material covered is relevant and understood for your nurturing. I will also provide mentorship for you that will make you more "hirable" for the fire service. I will often have guess speakers that will provide you with additional information for this class and your fire service career.
Please review this "Orientation Letter" to determine whether or not this class will be a "good fit" for you and your learning style, and feel free to contact me via email at travont.white@canyons.edu with any questions.
Due to the Covid-19 pandemic, this class format is classified as Distance Learning, meaning that the class has been converted from the normal on-campus format to Distance Learning. (This class would have traditionally been taught face-to-face in a classroom, but is now being taught at a distance with no physical on-campus meetings).
This class DOES have synchronous, online meetings/lectures on certain Tuesdays that you are required to attend via ZOOM. Attendance will be taken during these live ZOOM broadcasts, and failure to attend these required online ZOOM meetings will result in you being dropped from the course. BEFORE REGISTERING FOR THE CLASS, MAKE SURE THAT YOU CAN SHOW UP (online) TO OUR LIVE BROADCAST ZOOM MEETINGS (6:00pm to 9:05pm Tuesdays.)
To successfully complete this course, you MUST have…
Access to a computer
RELIABLE Internet access and a web browser (e.g. Google Chrome, Firefox, Safari, etc.)
A valid College of the Canyons (COC) email address.
Applicable Software: Video clips, electronic documents, and various Internet websites will be utilized as part of this course. Please make sure you have all necessary software (Adobe Acrobat Reader, and a word processing program like Microsoft Word) loaded on your computer.
The course is accessible electronically through "Canvas." Canvas is the College's electronic learning platform that we use (in this class) for all Announcements, Lessons, Handouts, Discussions, Assignment submittals, Communication, and taking Quizzes/Exams. By logging into Canvas, you are essentially walking into our "electronic classroom."
The link to access "Canvas" can be found on the College of the Canyons homepage: www.canyons.edu
Course Description
Fire Technology 101 "Principles of Emergency Services" provides an overview of fire protection and emergency services; career opportunities in fire protection and related fields; culture and history of emergency services; fire loss analysis; organization and function of public and private fire protection services; fire departments as part of local government; laws and regulations affecting the fire service; fire service nomenclature; specific fire protection functions; basic fire chemistry and physics; introduction to fire protection systems; introduction to fire strategy and tactics; and life safety initiatives. Please refer to the Course Syllabus (available for download from "Canvas" on Day 1 of the class) for all Student Learning Outcomes and Course Objectives.
What to Expect in this Course
To be successful in this course, you are expected to keep up with a workload that includes approximately one chapter of coursework each week. Each Chapter may include (but is not limited to) reading the textbook chapter, working your way through our "Chapter Outlines," watching video clips, reviewing websites and handouts, completing assignments and discussion boards, and taking the associated Quiz.
Although this is a Distance Learning course, you are still required to regularly attend class and participate through our LIVE ZOOM Broadcasts (Tuesdays 6:00m to 9:05pm), and Canvas. Failure to do so will result in you being dropped from the class. Each Chapter from the textbook will have an associated ZOOM lecture (via live broadcast).
Our live Zoom Broadcasts will take place on specific Tuesday evenings at 6:00pm (our usual meeting time). In order to be successful in this class, you will need to dedicate the 6:00pm to 9:05pm Tuesday time slot on your calendar. I will let you know ahead of time which specific Tuesdays I will be broadcasting the online lectures on Zoom. If you have an emergency or an extenuating circumstance and as a result are unable to watch the Live Broadcast, or you are testing and can provide proof, the lecture will be recorded meaning you can watch it at a later time.
Just as in a face-to-face class, all students are required to demonstrate that they can work co-operatively, behave ethically, assess and evaluate information, and provide helpful feedback to one another.
Types of Assessments
Online QUIZZES and EXAMS, Discussion Boards, Assignments, and a "Course Project."
All Assessments are conducted on the Internet through "Canvas" (the College's electronic learning platform.)
Textbook Information / Link to ZTC Textbook
"Introduction to Fire Protection and Emergency Services" by Robert Klinoff, 6th Edition, ISBN #9781284180152.
This textbook IS required, and must be in your possession by your FIRST DAY of the semester.
Each textbook chapter will be covered this semester. Our course is divided into separate "Modules." (A "Module" is a grouping of "Chapter(s)" from your textbook.) As part of each Module, students are required to read the associated textbook chapters to provide a foundation for all activities, supplemental materials, discussions, assignments, quizzes/exams, and projects.
Other Relevant Course Information
ENROLLED STUDENTS THAT FAIL TO LOG INTO CANVAS AND COMPLETE THE FIRST "ASSIGNMENT": DAY 1 DISCUSSION BOARD" BY 11:59pm PACIFIC TIME ON "DAY 1" of the semester WILL BE DROPPED FROM THE COURSE.
"LATE ADD" Students: Students that wish to add the class after the semester has begun must contact the Professor via email for an "Add Code": travont.white@canyons.edu
---
Additional Resources
Canvas
This course can be accessed on the first day of class via Canvas at https://coc.instructure.com. Log into Canvas using your CanyonsID single sign-on:
CanyonsID Username is your COC student email address (Ex: username@my.canyons.edu)
CanyonsID Password is your COC student email password
Please visit the Get to Know Your Online Classroom page for help logging into Canvas and for tips on using Canvas and Zoom. Canvas Chat Support is also available 24/7 for any Canvas related issues.
Online Education
Check out the Online Education website for more information on a variety of topics that can help you be a successful online student such as: exam proctoring, learning styles, computer skills, and tips for student success. If this is your first online course, feel free to take our online learning readiness assessment to assess your skills.
The Learning Center (TLC)
The TLC provides FREE online tutoring resources to COC students!
Academic Accommodation Center (AAC)
College of the Canyons AAC provides educational services and access for eligible students with documented disabilities who intend to pursue coursework at COC. A variety of programs and services are available which afford eligible students with disabilities the opportunity to participate fully in all aspects of the college programs and activities through appropriate and reasonable accommodations. For more information on their services visit the Academic Accomodation Center website.
Online Counseling
The Counseling Department offers appointments online. You can schedule an appointment by visiting the Online Counseling website. Counselors can help you map out a plan to reach your educational goals as well as advise you on course selection and registration.
Management of Stress and Mental Health
College of the Canyons cares about your emotional and physical health. Learn more about the broad range of confidential student services, including free counseling and mental health services available during this time by visiting the Student Health & Wellness Center website or by calling them at: 661-362-3259.
The National Suicide Lifeline number is 1-800-273- 8255 (TALK). Please call it if you or someone you know is having thoughts of suicide or is in severe distress - it could save someone's life.
You can also use the Crisis Text Line: Just text "Courage" to 741741. It's free, available 24/7, and confidential.
Veterans Resource Center
The College of the Canyons Veterans Resource Center is a department within the Student Services Division at the college, created to help veterans and veteran dependents with applying to College of the Canyons, enrolling in classes, and requesting VA Education or Vocational Benefits. For more information please visit the Veterans Resource Center website, email veterans@canyons.edu or phone (661) 362-3469.
Library
The Library provides live online and in-person research help, access to a full range of e-resources and physical materials that support the curriculum, individual and group study areas, and much more!
Last updated: 11/27/2021 Sub#: 1159