GMD - 242 - Graphic Design II - Shannon Doronio (She/Her)
Introduction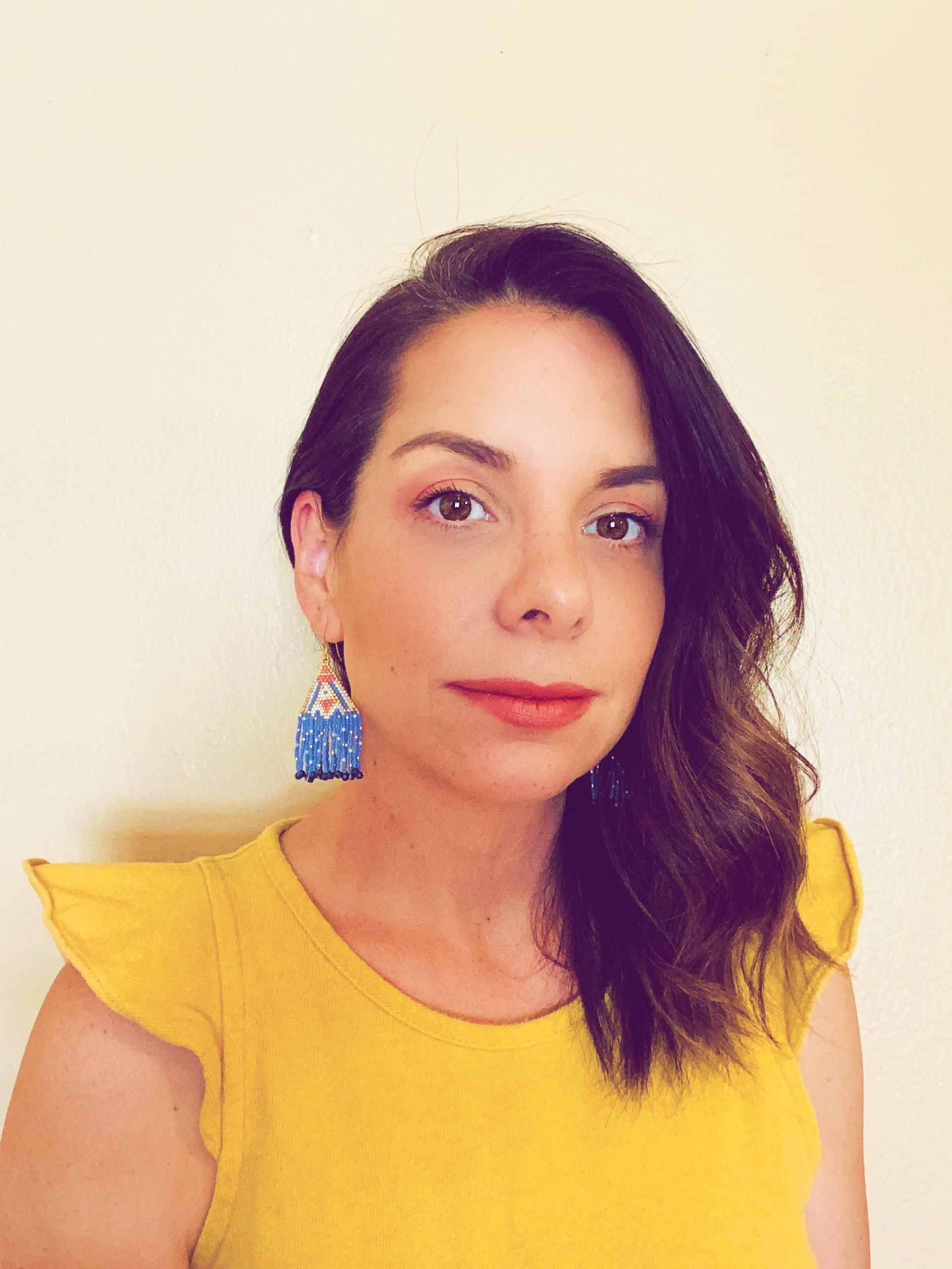 Hello Potential Student!
My Name is Shannon Doronio (She/Her) and I am your professor for Graphic Design II. I am also co-founder of <a href="https://www.parallel-play.com">Paralle-Play.com</a> and Department Chair for the Graphic Multimedia Design Program here at COC. You can creep on me here: <a href="https://www.instagram.com/gmd_coc/?hl=en">Instagram</a>! I am a first-gen college graduate and have used my platform as a designer and educator to advocate for equity and representation in design education as a means of influencing equity and representation within the design industry. I am excited to help you reach your full potential as a design student, and professional!
Should you choose to enroll in this course, and you would like to receive a copy of the GMD145 Zine Publication containing the syllabus for this course you can email (shannon.doronio@canyons.edu) me your mailing address and I will mail you one! Snail mail guys! Printed Design! How Fun?!
Course Description
This is a capstone course in which you will produce a professional portfolio and resume. This class should be taken after Graphic Design I and preferably after Type & Typography.
Graphic Design II Introduces advanced visual communication skills in print graphics, using graphic software applications to explore logo, advertising and publication design.
Lecture (2 hours weekly) Develop advanced visual problem-solving skills and apply them to the creative process
Lab (3 hours weekly) Create advanced digital media using a variety of software
What to Expect in this Course
ZOOM Instruction Note
As faculty and students, we are in a season of Pandemic Education Norm-setting, which means we've learned a lot from our successes and failures—and we are adjusting.
In this spirit, the following guidelines are being implemented in this course to hold all of us accountable for professional behavior, and academic success. Instruction is provided through video conference software and it is expected that enrolling students have access to a computer or mobile device with a microphone, webcam, and an Internet connection. If you do not have the aforementioned technology you can contact the college and make a technology request.
It is important for us to develop some best practices for working and learning in a conference software environment—as this type of interaction will most certainly benefit you later in your career.
You will be required to turn on your webcam and share your computer desktop in order to prove work progress. This means your computer desktop background and your immediate environment must be SAFE FOR WORK. Treat this class as if it were happening IRL and come to class fully clothed, having slept well, having eaten, and sitting upright. Sleeping, playing video games, hanging with pals, snuggling your boo, and chillin in the casino while attending this class via ZOOM are all massively poor demonstrations of professional decorum. Not good practice for that future job interview and remote career that may be happening via ZOOM in your very near future.
Course Specific Instruction
This is an advanced design course that focuses on developing your own design process, exploring your voice as a designer. You will have the opportunity to create multiple web, social media, motion, and print formats for message delivery. This course also covers professional practice, with the development of a personal brand, portfolio, and resume. Lectures present design case studies, as well as cover practical professional guidance through job searching, portfolio and resume curation, and how to get started as a freelance designer.
Types of Assessments
This class is graded on 4 main design projects, each worth 250 points. Each project has 25 points awarded for in-person critique participation.
Textbook Information / Link to ZTC Textbook
Tool(s) Used to Meet
Zoom, Notion, Adobe Creative Cloud, Google Drive
A computer that meets <a href="https://helpx.adobe.com/creative-cloud/system-requirements.html">minimum software/hardware requirements to run Adobe Creative Cloud</a>
Adobe Creative Cloud <a href="https://www.adobe.com/creativecloud/buy/students.html?sdid=1XGJD51G&mv=search&ef_id=EAIaIQobChMI9_OLvpLr6QIVURx9Ch1r0AGaEAAYASAAEgL5vfD_BwE:G:s&s_kwcid=AL!3085!3!377775847606!e!!g!!adobe%20creative%20cloud%20student">Student Subscription</a> $19.99 per month
Textbook TitleThis course does not require a textbook, but does have technology requirements. (read above)
Other Relevant Course Information
This is a Distance Learning course that will not meet on-campus.
In order to participate, you will need:
Internet Access
Access to ZOOM & Google Drive
A computer that meets <a href="https://helpx.adobe.com/creative-cloud/system-requirements.html">minimum software/hardware requirements to run Adobe Creative Cloud</a>
Adobe Creative Cloud <a href="https://www.adobe.com/creativecloud/buy/students.html?sdid=1XGJD51G&mv=search&ef_id=EAIaIQobChMI9_OLvpLr6QIVURx9Ch1r0AGaEAAYASAAEgL5vfD_BwE:G:s&s_kwcid=AL!3085!3!377775847606!e!!g!!adobe%20creative%20cloud%20student">Student Subscription</a> $19.99 per month
This is a Lecture/Lab Graphic Multimedia Design course. As you learn design principles and view software demonstrations, you will be expected to prove your understanding of the course material by submitting design projects created with Adobe Creative Cloud software. Mac computers are the industry standard and my preferred design product, and therefore strongly recommended. Students have completed this course using Windows/PC machines but may struggle with differences between the platforms while following along with software demonstrations. For instance, menus, keyboard shortcuts, and terminology are not mirrored across PC and MAC Operating system environments. Check the Adobe Creative Cloud site for minimum software/hardware requirements.
There are no face-to-face meetings for this course – it is completely online. Therefore, reliable and consistent access to the Internet is mandatory. Not having access to the Internet is not an excuse to miss any deadline. If you're in any doubt about your consistent and reliable access to the Internet, please consider attempting the course when your circumstance has improved or try a face-to-face alternative.
INSTRUCTOR DROPS & WITHDRAWALS
Because of the 100% online nature of this course, the only evidence I have of course participation is your daily completion of online coursework. Failure to make consistent progress demonstrated through completion of coursework may result in a course drop or withdrawal.
Drop Scenario 1: A student who does not login* to Canvas within 24 hours of the start date to complete the Course Basics Module will be dropped. No exceptions.*Although the class is not accessible until the first day of class, I highly recommend logging into Canvas at least one week ahead of time so reduce any delays in the Canvas login processes.
Drop Scenario 2: A student who does not complete the first exam will be withdrawn.
Drop Scenario 3: A student who does not complete more than a week's coursework without communicating with the instructor will be withdrawn.
---
Additional Resources
Canvas
This course can be accessed on the first day of class via Canvas at https://coc.instructure.com. Log into Canvas using your CanyonsID single sign-on:
CanyonsID Username is your COC student email address (Ex: username@my.canyons.edu)
CanyonsID Password is your COC student email password
Please visit the Get to Know Your Online Classroom page for help logging into Canvas and for tips on using Canvas and Zoom. Canvas Chat Support is also available 24/7 for any Canvas related issues.
Online Education
Check out the Online Education website for more information on a variety of topics that can help you be a successful online student such as: exam proctoring, learning styles, computer skills, and tips for student success. If this is your first online course, feel free to take our online learning readiness assessment to assess your skills.
The Learning Center (TLC)
The TLC provides FREE online tutoring resources to COC students!
Academic Accommodation Center (AAC)
College of the Canyons AAC provides educational services and access for eligible students with documented disabilities who intend to pursue coursework at COC. A variety of programs and services are available which afford eligible students with disabilities the opportunity to participate fully in all aspects of the college programs and activities through appropriate and reasonable accommodations. For more information on their services visit the Academic Accomodation Center website.
Online Counseling
The Counseling Department offers appointments online. You can schedule an appointment by visiting the Online Counseling website. Counselors can help you map out a plan to reach your educational goals as well as advise you on course selection and registration.
Management of Stress and Mental Health
College of the Canyons cares about your emotional and physical health. Learn more about the broad range of confidential student services, including free counseling and mental health services available during this time by visiting the Student Health & Wellness Center website or by calling them at: 661-362-3259.
The National Suicide Lifeline number is 1-800-273- 8255 (TALK). Please call it if you or someone you know is having thoughts of suicide or is in severe distress - it could save someone's life.
You can also use the Crisis Text Line: Just text "Courage" to 741741. It's free, available 24/7, and confidential.
Veterans Resource Center
The College of the Canyons Veterans Resource Center is a department within the Student Services Division at the college, created to help veterans and veteran dependents with applying to College of the Canyons, enrolling in classes, and requesting VA Education or Vocational Benefits. For more information please visit the Veterans Resource Center website, email veterans@canyons.edu or phone (661) 362-3469.
Library
The Library provides live online and in-person research help, access to a full range of e-resources and physical materials that support the curriculum, individual and group study areas, and much more!
Last updated: 02/07/2022 Sub#: 1299