HLHSCI-249 - Medical Terminology - Jeanae Ruddell
Introduction
Welcome to Medical Terminology! This course will encompass a comprehensive study of medical terminology with an emphasis on determining meanings by dividing words into their component parts. You will have a basic understanding of anatomy and physiology which is discussed throughout each chapter. Correct spelling, pronunciation and meaning of common medical terms related to individual body systems, clinical procedures, laboratory tests and pathological conditions are covered.
This course is designed to introduce the learner into the world of the medical field and perhaps inspire one to pursue a career within the health care setting.
Units: 3.00
CSU 54.00 hours
Course Description
Student Learning Outcomes
Being able to give the medical meaning of prefixes, suffixes, and combining forms for each body system.
Demonstrate the ability to use word parts to build medical words through various learning activities incorporated in class.
Analyze the meaning of medical words for each body system with an introduction to basic anatomy and physiology of each body system.
Emphasis on relevant body systems, their parts and organs, disease processes, heredity and genetic outcomes.
Basic anatomy and physiology are discussed along with identifying anatomical structures of the human body through skeletons, textbooks, diagrams, photographs, lectures, and tutorials.
Study the function and behavior of organisms in relation to their disease entities.
Demonstrate the ability to interpret medical words in the context of medical reports.
Pronounce and spell medical words correctly for each body system.
Translate common abbreviations, acronyms, and slang terms for each body system.
Having the option to do volunteer work for extra credit- Develop community relations by incorporating what you have learned in class.
Initial instructions for beginning of class
This is an online only class and you will not be able to open the course in canvas until the first day of class. However, I have been known to open up the course in canvas one week prior. You must do your initial post the first day of class by 11pm.
It is Very Important that you please see instructions below to know what to do the first day of class…
How to Negotiate the First Day of Class
I strongly recommend that you practice logging onto canvas the week prior to the start of class, to make sure all problems are addressed before the first day. This is especially important if you have never taken an online class before. For help, you can use the link listed below or contact the canvas Help Desk in the Tutoring, Learning & Computing Center (TLC) at 661-362-3351, extension 3344 for assistance.
There are three different scenarios for the first day of class. Follow the one that applies to you:
If you are officially enrolled in this class
Login to canvas between 7 am and 11:00pm on the first day and complete all initial procedures. From the introduction page, click on the "Discussion" button. Follow all instructions on that page to follow posting procedures. Failing to meet these initial Day 1 requirements will result in your designation as a "No Show" and you will be dropped from the class roster. I will be unable to reinstate your name to the roster after that point. There is always a waitlist for this class filled with students who would love to take your spot on the roster.
If you are waitlisted for this class
Email the instructor on the first day of class between 7 am and 11pm to request to request to be in the class. After the 11pm deadline, the instructor will evaluate how many spots are available on the class roster, determine how many of the waitlisted students can be added, and email will then go out to those students with a yes or no availability. Waitlisted students will be added in order of their position on the waitlist and there is no guarantee that all waitlisted students will get into the class- as it is subject to roster space.
Students who receive permission from me to get into the class should complete the "introduction" registration procedure immediately. It usually takes approximately 24 hours for your name to be added into Canvas. Check back frequently and when you have access to the course online via Canvas, complete the Day 1 requirements. You will need to move quickly to catch up with the rest of the class.
If you are registered as a COC student but not enrolled in this class
You may email the instructor to request a place in the class on the first day of class (7 am to 11pm)- ONLY ON THE FIRST DAY. I DO NOT TAKE STUDENTS AFTER THE FIRST DAY OF CLASS - for personal reasons. My You will be emailed back that first day IF there is room on the roster after all waitlisted students who have requested have registered. There is an extensive waitlist for this class, so it is unlikely that there will be space available, but you are welcome to email me with the request. It doesn't hurt to ask! If you are given permission to be in the class, register, purchase the textbook and then work on catching up. You will be responsible for all course requirements, regardless of when you started the class.
All students are responsible for all assignments, even if you add after the first day.
What to Expect in this Course
Hardware
You must have daily access to a PC (not just a phone) equipped with reliable online access. This includes access during times when COC computer labs are closed, i.e., you cannot rely only upon COC computer access.
PLEASE NOTE: Technical difficulties, such as loss of internet access, a broken computer, or "my dog ate my hard drive", will NOT be accepted as excuses for failing to complete the required assignments. Don't try it. I've heard them all. Try to find a family or friend computer to work on.
Internet Browsers
I strongly encourage my students to use the browsers Firefox or Google Chrome (both available free online) which have had fewer complications with the websites you will be accessing in this class. I do not recommend using
Internet Explorer. If you do choose to use Internet Explorer and experience problems, please try the other browsers before contacting me for help.
Taking an Online Course
There are many advantages to taking an online course for students with demanding schedules, but it is imperative that you understand before the class begins what will be required of you in order to do well in this class. Please note the following:
The amount of time you should expect to dedicate to this class/week will vary according to your individual abilities (such as reading comprehension skills and comfort with technology) but on average, you should expect to invest about 15 hours per week to successfully complete this course. This time will be distributed across reading assignments, online activities, taking part in discussion postings, submitting homework, and taking quizzes and tests.
This is a very intensive course. Only take this course if you are willing to put in the time needed to complete it successfully.
This course will be conducted 100% online. There will be no face-to-face component required or offered.
In order to pass this course, you will need to complete all assignments (including exams) thoroughly and accurately and submit them to me before their deadline.
Successfully completing an online course requires a student to develop and use strong self-organizational skills in order to stay on top of assignments and to avoid falling behind. If you find it easy to self-motivate and can plan and stick to a study schedule, then you will do well in an online course. If self-motivation is not one of your strengths, you need to develop those skills now!
Please take the following recommendations to heart:
Keep a calendar of all homework, discussion, and exam deadlines. This can be written or you can use an online calendar, complete with emailed reminders.
Complete readings no later than the Monday of each week they are due. That way you can take part more effectively in the online discussion. You will also find that homework assignments are easier to
Get used to emailing me with questions. Please don't be shy. I find that those students who freely communicate with me regarding questions or confusion on the material tend to be the ones who do better in this
If you are struggling with the material in the class, don't wait for several weeks to contact me about your concerns. This is a short class. We don't have time to "wait and see" if those problems will work themselves
Get to know your fellow students. If the opportunity arises, organize a study group at the local coffee shop or library to review material and study for exams. This is the best way to learn the material. This course may be completely online, but there is nothing stating that you must study that way.
Types of Assessments
Quizzes, Learning activities, Unit tests, Discussions & Projects. All exams and quizzes are administered online as timed tests only.
Textbook Information / Link to ZTC Textbook
Turley, Susan M. - "Medical Language-Immerse Yourself", Pearson, 5th Ed., ISBN# 9780134988399
Always check with the COC Bookstore for updated prices.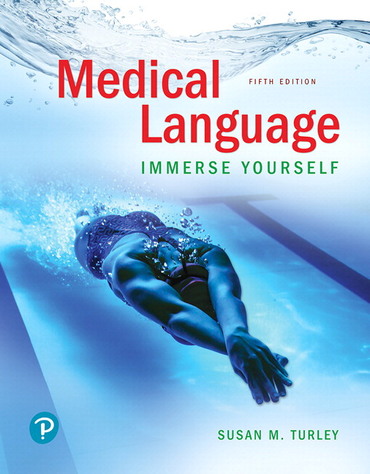 Other Relevant Course Information
I will be giving you the syllabus and course outline roughly one week prior to the course starting via email!!!
WELCOME!!
Professor J. Ruddell, RN, PHN, MSN
---
Additional Resources
Canvas
This course can be accessed on the first day of class via Canvas at https://coc.instructure.com. Log into Canvas using your CanyonsID single sign-on:
CanyonsID Username is your COC student email address (Ex: username@my.canyons.edu)
CanyonsID Password is your COC student email password
Please visit the Get to Know Your Online Classroom page for help logging into Canvas and for tips on using Canvas and Zoom. Canvas Chat Support is also available 24/7 for any Canvas related issues.
Online Education
Check out the Online Education website for more information on a variety of topics that can help you be a successful online student such as: exam proctoring, learning styles, computer skills, and tips for student success. If this is your first online course, feel free to take our online learning readiness assessment to assess your skills.
The Learning Center (TLC)
The TLC provides FREE online tutoring resources to COC students!
Academic Accommodation Center (AAC)
College of the Canyons AAC provides educational services and access for eligible students with documented disabilities who intend to pursue coursework at COC. A variety of programs and services are available which afford eligible students with disabilities the opportunity to participate fully in all aspects of the college programs and activities through appropriate and reasonable accommodations. For more information on their services visit the Academic Accomodation Center website.
Online Counseling
The Counseling Department offers appointments online. You can schedule an appointment by visiting the Online Counseling website. Counselors can help you map out a plan to reach your educational goals as well as advise you on course selection and registration.
Management of Stress and Mental Health
College of the Canyons cares about your emotional and physical health. Learn more about the broad range of confidential student services, including free counseling and mental health services available during this time by visiting the Student Health & Wellness Center website or by calling them at: 661-362-3259.
The National Suicide Lifeline number is 1-800-273- 8255 (TALK). Please call it if you or someone you know is having thoughts of suicide or is in severe distress - it could save someone's life.
You can also use the Crisis Text Line: Just text "Courage" to 741741. It's free, available 24/7, and confidential.
Veterans Resource Center
The College of the Canyons Veterans Resource Center is a department within the Student Services Division at the college, created to help veterans and veteran dependents with applying to College of the Canyons, enrolling in classes, and requesting VA Education or Vocational Benefits. For more information please visit the Veterans Resource Center website, email veterans@canyons.edu or phone (661) 362-3469.
Library
The Library provides live online and in-person research help, access to a full range of e-resources and physical materials that support the curriculum, individual and group study areas, and much more!
Last updated: 06/13/2022 Sub#: 797