MEA 295 - Professional Practices/Portfolio - Jean Miller
| | |
| --- | --- |
| Course: | Professional Practices/Portfolio |
| Professor: | Jean Miller |
| Email: | Jean.Miller@canyons.edu |
| Format: | |
| Course Length: | |
Introduction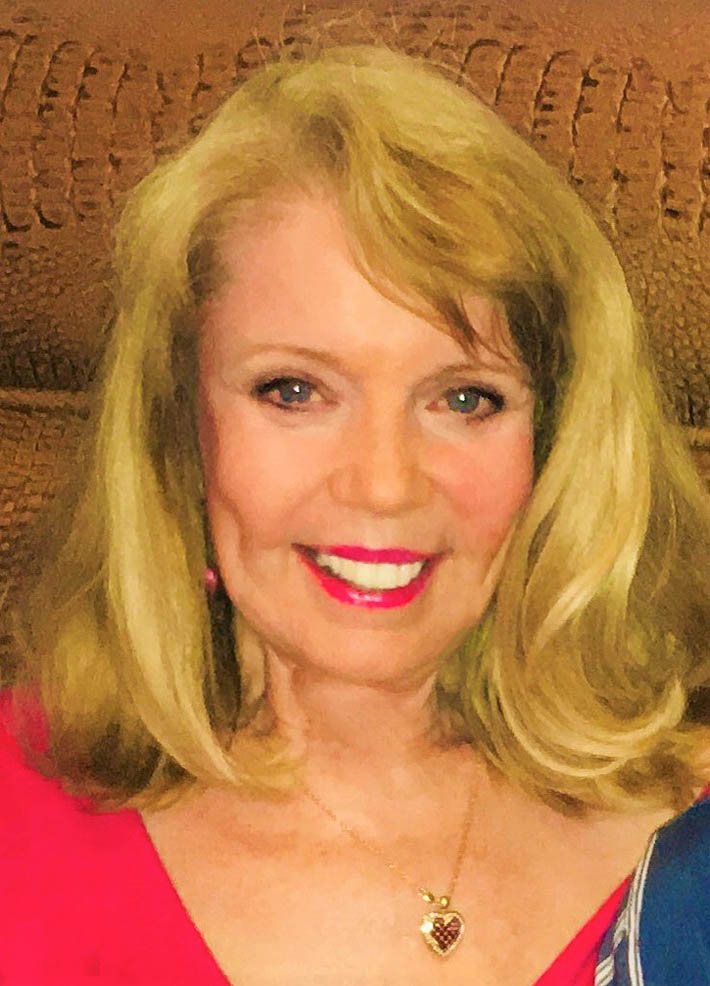 ABOUT YOUR INSTRUCTOR
Jean Miller received her BA and MS degrees from FSU and has been teaching at COC since 2005. She is a national award-winning TV writer/producer and Emmy Award winning host/producer with over 35 years in broadcasting, at stations in Orlando, San Diego, New York and Los Angeles, and on nationally syndicated television shows seen in over 122 markets. She's traveled the globe interviewing celebrities and leaders, producing award winning features and reporting on all kinds of interesting people, places and events. She was a host/producer/reporter for LA City View TV and a Media Trainer for the City of Los Angeles. A theater actress since childhood she has performed in a wide range of films, TV programs, commercials, voiceovers, documentaries, educational, industrial and music videos, web series, and many theater productions around the country. She's an Actors Equity Association and SAG-AFTRA member, a national Emmy nominee for best supporting actor in a drama series, a cast recipient of a SAG Award for Outstanding Cast in a Motion Picture, a short film producer and a screenwriter. She continues to work professionally in the media entertainment arts industry and always loves the opportunity to teach, share what she's learned in her varied career, support her students' creative aspirations, and, in turn, continue to learn, grow and be inspired by them. She has served on both the National Screen Actors Guild Awards Motion Picture Nominating Committee and the SAG Awards Television Nominating Committee. She is an ongoing member of the College of the Canyons Media Entertainment Arts Advisory Committee serving the Santa Clarita entertainment industry community.
Course Introduction
This Professional Practices/Portfolio Course is designed to develop career-building skills for Media Entertainment Arts majors seeking employment in the media industry, transfer to four-year film/media arts degree programs, and application to film and media festivals. It focuses on workforce preparation, including portfolio design and evaluation, creation of professional resumes, cover letters and artists statements and examining networking tools including online marketing and social media.
This course also encourages the development of professionalism suitable to the unique demands of the media industry including personal discipline, adaptability, positivity, creativity, reliability, resiliency and initiative that are prerequisites to success. There is also an emphasis on the "soft skills" of interviewing and networking.
Course Description
This course will provide opportunities to
Examine promotional portfolio materials and formats of basic marketing principles.

Identify requirements for employment and advancement to occupations in Arts, Media & Entertainment

Identify strategies for conducting searches for employment / educational advancement including internships.

Categorize and learn to utilize appropriate tools, including written materials, visual aids, and oral techniques.

Design and assemble portfolio, resume and reference materials that conform to accepted formats and industry standards

Evaluate and assess presentations and interviews according to appropriate advancement activities.
STUDENT LEARNING OUTCOMES
Students will be able to create, examine, assess and utilize appropriate presentational skills to present in professional work or advanced educational formats
Students will be able to design and assemble materials and media for portfolios and resumes and cover letters. The goal is to complete or enhance a portfolio project that can be used as a professional demo, and a personal website that can showcase student work.
What to Expect in this Course
Weekly Work Load
Each week in the Lecture/Discussion section of the course there will be a lecture presentation and class discussion and Q & A relating to the material. Students are expected to participate regularly.
Each week in the lab section of the course students will work individually or in groups to develop resume building materials and portfolio projects.
Students are expected to attend all classes at the regularly scheduled times. Attendance will be noted. Students must actively participate in the discussion, to build the qualities of self reliance and professionalism needed as part of their development in this course.
IMPORTANT: Since there is no assigned textbook, students will receive lecture summary material in class. It is highly recommended that students access and are familiar with the material. It is important for quizzes and test assessments.
The course will be set up in Modules for each major portion of the class. Details will follow in the class syllabus and course schedule available the first day of class.
As we progress through the course more and more time will be devoted to developing two major portfolio projects: (PP1) Portfolio Project 1 due at the Midterm, and (PP2) Portfolio Project 2, due at the Semester's end, either individually or in groups.
Types of Assessments
ASSIGNMENTS AND GRADES
Goals, Resume & Cover Letter, Map of Relationships & LinkedIn – 25% of grad, (5% each)
You will identify your career goals and determine steps to achieve them in class and beyond including a "map of industry relationships" and business media website LinkedIn. You will write a draft and revise as needed, a goals statement and implementation plan, resume and cover letter pertinent to your career aims in the industry. Assignment is complete after final approved versions.
Portfolio Projects 1 & 2 – 30% of grade. (15% each)
You will work individually or in teams to complete two portfolio pieces this semester. Details will be discussed in class. The portfolio projects will require prior approval of the instructor. Portfolio projects might include compiling drawn media (e.g. characters, storyboards), assembling/ rendering computer animation, short films, trailers, promo pieces documentaries/animations/music videos, demo reels, individual promotional websites or sizzle reels. All students are strongly encouraged to develop or enhance personal professional websites.
College Sample or Internship Submissions – 5% of grade.
After reviewing application requirements from various popular film/media schools or industry employers, you will complete sample application materials to help determine if you are meeting or lacking the necessary requirements.
Mock Interview - 10% of grade
All students will work to prepare and present a short mock job interview live in class on Zoom. Students will role play both interviewer and interviewee and participate in class discussion and critique.
Midterm and Final Exams – 30% of grade (15% each)
Exams will be based on information in class lectures/discussions and handouts emailed to inboxes, and any assigned reading or video material
Textbook Information / Link to ZTC Textbook
There is no required textbook, but the following materials are recommended reading:
SUGGESTED READING (Not required, but recommended where applicable):
Book 1: Branston, Gil and Stafford, Ray; The Media Student's Handbook
Book 2 : Parks, Stacy: The Insider's Guide to Independent Film Distribution
Book 3 : Levy, David: Your Career in Animation: How to Survive and Thrive
Other Relevant Course Information
Attendance
IMPORTANT: Students must be present on the first day of class or be dropped as a "no show". Students who miss more than 25% of classes throughout the semester without an excused absence maybe dropped from the course. Waitlisted students will be taken into class on a first come first served basis as some students drop and spaces become available.
Student attendance is documented each class meeting. This constitutes the official attendance record for the course. Tardiness or leaving early from class meetings is disruptive – doing so without permission may result in an automatic absence for that day Besides,iImportant information or instructions may be missed in the first minutes of each class. So please be punctual - just as if you were working at your dream job in the industry.
Participation
Students must be prepared to regularly and actively participate in class discussions, project presentations and project critiques throughout the semester and to support the work presented by fellow students. Networking, communicating, and teamwork are building blocks to success.
CLASSROOM CONDUCT
Academic integrity is important. Plagiarism and cheating are not acceptable and could lead to appropriate disciplinary action. A goal of the course is to help you develop professional standards, and that extends to respectful conduct in the classroom, on discussion boards and when you are working as a team to complete a portfolio project. that can lead to professionalism in the workplace. Because another goal of the course is to encourage the development of teamwork in project assignments, reflective of the demands of the MEA industry, students are expected to maintain cooperative and respectful relationships with their teammates and fellow students, guests and the instructor. Please refer to your COC student guidelines for other policies.
A Final Word or Two
"Only you can make it happen. Believe in yourself, work hard, and always persist toward your dream."
"The best way to predict the future is to create it" - Abraham Lincoln
WELCOME TO PROFESSIONAL PRACTICES / PORTFOLIO!
LET'S HAVE A VERY INSPIRED & CREATIVE SEMESTER TOGETHER!
---
Additional Resources
Canvas
This course can be accessed on the first day of class via Canvas at https://coc.instructure.com. Log into Canvas using your CanyonsID single sign-on:
CanyonsID Username is your COC student email address (Ex: username@my.canyons.edu)
CanyonsID Password is your COC student email password
Please visit the Get to Know Your Online Classroom page for help logging into Canvas and for tips on using Canvas and Zoom. Canvas Chat Support is also available 24/7 for any Canvas related issues.
Online Education
Check out the Online Education website for more information on a variety of topics that can help you be a successful online student such as: exam proctoring, learning styles, computer skills, and tips for student success. If this is your first online course, feel free to take our online learning readiness assessment to assess your skills.
The Learning Center (TLC)
The TLC provides FREE online tutoring resources to COC students!
Academic Accommodation Center (AAC)
College of the Canyons AAC provides educational services and access for eligible students with documented disabilities who intend to pursue coursework at COC. A variety of programs and services are available which afford eligible students with disabilities the opportunity to participate fully in all aspects of the college programs and activities through appropriate and reasonable accommodations. For more information on their services visit the Academic Accomodation Center website.
Online Counseling
The Counseling Department offers appointments online. You can schedule an appointment by visiting the Online Counseling website. Counselors can help you map out a plan to reach your educational goals as well as advise you on course selection and registration.
Management of Stress and Mental Health
College of the Canyons cares about your emotional and physical health. Learn more about the broad range of confidential student services, including free counseling and mental health services available during this time by visiting the Student Health & Wellness Center website or by calling them at: 661-362-3259.
The National Suicide Lifeline number is 1-800-273- 8255 (TALK). Please call it if you or someone you know is having thoughts of suicide or is in severe distress - it could save someone's life.
You can also use the Crisis Text Line: Just text "Courage" to 741741. It's free, available 24/7, and confidential.
Veterans Resource Center
The College of the Canyons Veterans Resource Center is a department within the Student Services Division at the college, created to help veterans and veteran dependents with applying to College of the Canyons, enrolling in classes, and requesting VA Education or Vocational Benefits. For more information please visit the Veterans Resource Center website, email veterans@canyons.edu or phone (661) 362-3469.
Library
The Library provides live online and in-person research help, access to a full range of e-resources and physical materials that support the curriculum, individual and group study areas, and much more!
Last updated: 01/30/2023 Sub#: 329