MUSIC 187 - Commercial Music Ensemble - William Macpherson
Introduction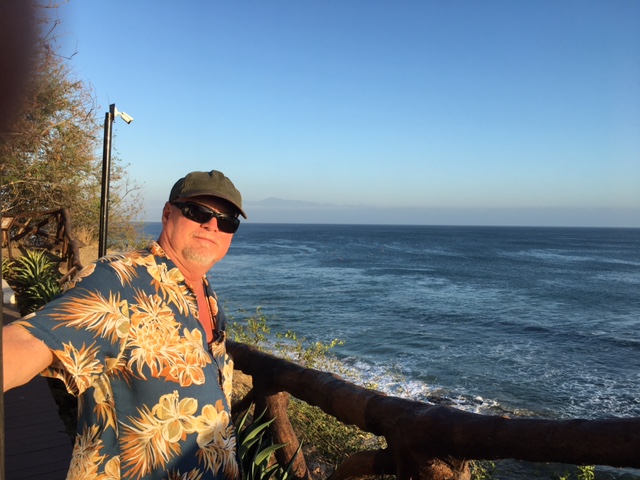 Hello. Here is a little background on me. Officially my first name is William but I go by Bill. I was raised by medical missionary parents in Congo, Central Africa. My classmates in the boarding school I attended were from all over the world so I had an unusual and multi cultural upbringing. Along the way I learned to speak French and two dialects from Congo, Lingala and Kituba. Upon graduation from high school I moved back to my home state of California to attend university. I received my undergraduate degree from The Berklee College of Music (Boston) in Professional Music and then did a Master's in Jazz Performance at San Diego State University. I have been a professional musician for over 40 years and have recorded and toured extensively with my band Native Vibe. Native Vibe plays all original African/Latin jazz fusion music. I also play other styles like blues, rock, pop, soul and other styles of World music. Much of what shapes me as a music teacher was learned from playing those styles in all different kinds of bands. I also learned from the ground up the Music Business. I have my own record label and publishing company and continue to perform and record in Southern California.
I'm really excited about this class's project for the semester. I love Motown and R&B music and culture and look forward to discovering it with you as we record the album described below.
Course Description
Presents the study, rehearsal and public performance of popular music repertoire. This class includes contemporary pop and other commercial styles such as rock, R&B, soul, folk, country and Latin. Audition and public performance are required. This course is intended for singers and instrumentalists who want to advance their ensemble skills.
What to Expect in this Course
1. This ensemble is called Cover Charge. Due to covid-19 we will not be meeting face to face this semester to learn songs and rehearse and perform live. Instead we will select a repertoire of 10-15 songs and record them in rock styles like Led Zeppelin and Pink Floyd styles.
2. Each week we will meet at the designated class time to discuss that week's activities such as the overall process of recording remotely, how to use your gear, professionalism, our production timeline and schedule, selecting the material, getting chord charts together, discussion of the history, important artists and labels and session players for psychedelic rock styles.
3. We will build the songs by starting with a demo of the song, then work out new arrangements, have the parts layered remotely starting with the drum track, then bass, then guitars and keyboards, then the vocals. The project then will be mixed, mastered and manufactured into a full blown CD. One month into the semester we will also start working on the liner notes, art and design for the CD booklet. We will include song titles, writing credits, performance credits and thank yous.
4. We will make a video for one or two of the songs.
Types of Assessments
Participation
Effort
Professionalism
Contribution to the final project
Textbook Information / Link to ZTC Textbook
Each student needs to have some way to record their musical parts at their home. You will need a computer, tablet or smart phone with recording software like GarageBand, Logic or Pro Tools loaded into it. Everyone needs an interface and a mic if you are a vocalist. I will recommend tutorials for home recording should anyone need help with the technology side of things.
To enroll you need to be competent on your instrument, this is not a course for beginning musicians. Everyone will need to be proactive in their contributions to this layered recording project. If anyone lags on turning in their recorded parts it delays the recording project for the next person and in turn the entire project.
Other Relevant Course Information
Course syllabus:
COLLEGE OF THE CANYONS
SYLLABUS: MUSIC 187 COMMERCIAL MUSIC ENSEMBLE
1:00PM-4:50PM FRIDAY via zoom
INSTRUCTOR: Bill Macpherson
Ph.no. 818 679 2423
Email: william.macpherson@canyons.edu, billpmac@gmail.com
Office hours: By appointment via text, phone, email or zoom
REQUIRED TEXT
None
PREREQUISITES
An audition is required before students can stay enrolled in the class. Students must have the ability to either sing, play guitar, bass, percussion, horn or piano at an intermediate to advanced level
REQUIRED MATERIALS:
Staff paper, at least 50 sheets, pencils, a folder to keep lead sheets, lyric sheets and handouts in. Your instrument if you play guitar, bass, sax. Drums, percussion, keyboards, mics and PA are provided.
CATALOG DESCRIPTION:
Explores chamber music literature and practices. Specific technical skills will be addressed including breathing, phrasing, tonguing, bow technique, embouchure development, as well as vocal techniques and rehearsal standards. Public performance is required.
STUDENT LEARNING OUTCOMES:
LECTURE:
1. Analyze structure and historical context of compositions specifically written for chamber vocal and/or instrumental ensembles.
LAB:
1. Perform chamber music literature using proper phrasing, breathing, bowing or fingering techniques for chamber music.
COURSE OBJECTIVES:
LECTURE:
1. Analyze the style of a variety of chamber music.
2. Compare and contrast harmonic and melodic textures of music composed to be performed by chamber music ensembles.
LAB:
1. Identify, through aural analysis, the harmonic, rhythmic and melodic devices of chamber music.
2. Perform music composed for chamber music ensembles by either playing an instrument or by singing within a group.
ADDITIONAL COURSE INFORMATION: Units: 1:00 Transferable to UC/CSU 18.00 hours lecture, 54.00 hours lab This course includes the rehearsal and performance of contemporary pop and commercial styles: rock, R&B, soul, folk, urban styles, country and latin. (C-ID MUS 180)
CLASSROOM ACTIVITIES:
Lecture/Discussion
Listening/Watching videos
Rehearsals
Performance
ATTENDANCE POLICY: You will be dropped from the course if you miss class and don't send a suitable sub that knows the repertoire to be performed that day. Being dropped from the course is at the discretion of the instructor.
LATE POLICY: If you are more than 10 minutes late to class you will be marked tardy. Two tardies equal an absence. After 3 absences you will be dropped from the course.
MAKE-UP POLICY: No late presentation will be accepted.
PERFORMANCE POLICY: No performances this semester due to COVID. Performance activity is your participation in recording parts for the album
ELECTRONIC DEVICE POLICY: Electronic devices may be solely used for note taking only after first asking permission of the instructor, no web surfing, texting or emailing during class. If observed you will be asked to leave class for the day. No cell phones, lap tops or Note Pads to be visible during exams.
ACADEMIC DISHONESTY Students are expected to do their own work as assigned. At College of the Canyons, we believe that academic integrity and honesty are some of the most important qualities college students need to develop and maintain. To facilitate a culture of academic integrity, College of the Canyons has defined plagiarism and academic dishonesty. Due process procedures have been established when plagiarism or academic dishonesty is suspected. At COC, we define plagiarism as follows: PLAGIARISM is the submission of someone else's work or ideas as one's own, without adequate attribution. When a student submits work for a class assignment that includes the words, ideas or data of others, without acknowledging the source of the information through complete, accurate, and specific references, plagiarism is involved. This may include dual submissions of a similar work for credit for more than one class, without the current instructor's knowledge and approval
GRADING BREAKDOWN
A = 90-100 B + 80-89 C = 70-79 D = 60-69 F = Below 60
GRADING:
Contribution to class recording project 50 points
Professionalism 50 points
PERFORMANCE/PRESENTATION/PROFESSIONALISM/ASSIGNMENTS
1. Motown/R&B recording project: 50 points. All students must participate in providing individual parts to a full length album. The album will be recorded remotely, with layering starting with the drum track, then bass, then guitar, then keys, then vocals. The album will be mixed and manufactured. Students will collaborate in the design of the CD jacket
Concept: Take pop tunes and record cover versions of those songs using various Motown/R&B styles and textures
4. Professionalism: 50 points. Students will be taught the important elements of being a professional musician. Elements include being on time to all rehearsals, sound checks, load ins, gigs and sectionals. Coming to class prepared for that day's rehearsal, knowing your parts. Getting along as a team and showing mutual respect to your band mates. Dressing appropriately for each performance. How to maintain gear, how to set up gear. How to negotiate fees. How to book gigs. How to hire and fire musicians. How to communicate with your band. How to deal with venue personnel. How to talk on the mic to an audience. Stage presence. Students will be graded according to how they display professionalism throughout the semester.
PT 1
Select and arrange songs(10-15), start recording basic tracks including drums, perc, bass, gtr and keys
WEEK 1 Auditions. My expectations for the ensemble. Introduction. Lecture on how to learn songs on your own. Review of the syllabus. Students present/perform examples of their talents in class. Discussion of recording process and necessary gear. Selection of material for recording. Designation of individual parts. Establish a production schedule. Tutorials on home recording as needed.
WEEK 2 Lecture on band etiquette. Discussion of how to hire and fire musicians. Watch documentaries. Tutorials on home recording as needed.
WEEK 3 Lecture on stage presence, mic technique. Lecture on lead sheet Listening and discussion of role of drummer, percussion and bass in R&B music. Listening session of various bands. Tutorials on home recording as needed.
WEEK 4 Lecture on booking gigs. Discussion about how to price performances. Listening and watching documentaries Tutorials on home recording as needed.
Start recording vocals. Instrumentalists and vocalists record video segments of selected song. Submit all paperwork for finances
WEEK 5 Lecture on lead sheet preparation. Watch documentaries. Work on the album. Tutorials on home recording as needed.
WEEK 6 Watch documentaries Work on the album. Tutorials on home recording as needed.
WEEK 7 Watch documentaries Work on the album. Tutorials on home recording as needed.
WEEK 8 Watch documentaries. Work on the album. Tutorials on home recording as needed.

Final overdubs due. Mix album, prepare all art, liner notes, credits for CD jacket
WEEK 9 Lecture on gig contracts. Watch documentaries
WEEK 10 Listening session of various music styles and additional documentaries
WEEK 11 Listening session of various music styles and additional documentaries
Master album and submit all liner notes, art and master for manufacturing
WEEK 12 Lecture on repertoire selection and how and when to incorporate original compositions.
WEEK 13 Work on the presentation to the Patrons of the Arts and taping and editing of the video
WEEK 14 Work on the presentation to the Patrons of the Arts and taping and editing of the video
Receive finished album
WEEK 15 Presentation to the Patrons of the Arts of the final project!!
WEEK 16 Last week of the semester-zoom party!!!!
---
Additional Resources
Canvas
This course can be accessed on the first day of class via Canvas at https://coc.instructure.com. Log into Canvas using your CanyonsID single sign-on:
CanyonsID Username is your COC student email address (Ex: username@my.canyons.edu)
CanyonsID Password is your COC student email password
Please visit the Get to Know Your Online Classroom page for help logging into Canvas and for tips on using Canvas and Zoom. Canvas Chat Support is also available 24/7 for any Canvas related issues.
Online Education
Check out the Online Education website for more information on a variety of topics that can help you be a successful online student such as: exam proctoring, learning styles, computer skills, and tips for student success. If this is your first online course, feel free to take our online learning readiness assessment to assess your skills.
The Learning Center (TLC)
The TLC provides FREE online tutoring resources to COC students!
Academic Accommodation Center (AAC)
College of the Canyons AAC provides educational services and access for eligible students with documented disabilities who intend to pursue coursework at COC. A variety of programs and services are available which afford eligible students with disabilities the opportunity to participate fully in all aspects of the college programs and activities through appropriate and reasonable accommodations. For more information on their services visit the Academic Accomodation Center website.
Online Counseling
The Counseling Department offers appointments online. You can schedule an appointment by visiting the Online Counseling website. Counselors can help you map out a plan to reach your educational goals as well as advise you on course selection and registration.
Management of Stress and Mental Health
College of the Canyons cares about your emotional and physical health. Learn more about the broad range of confidential student services, including free counseling and mental health services available during this time by visiting the Student Health & Wellness Center website or by calling them at: 661-362-3259.
The National Suicide Lifeline number is 1-800-273- 8255 (TALK). Please call it if you or someone you know is having thoughts of suicide or is in severe distress - it could save someone's life.
You can also use the Crisis Text Line: Just text "Courage" to 741741. It's free, available 24/7, and confidential.
Veterans Resource Center
The College of the Canyons Veterans Resource Center is a department within the Student Services Division at the college, created to help veterans and veteran dependents with applying to College of the Canyons, enrolling in classes, and requesting VA Education or Vocational Benefits. For more information please visit the Veterans Resource Center website, email veterans@canyons.edu or phone (661) 362-3469.
Library
The Library provides live online and in-person research help, access to a full range of e-resources and physical materials that support the curriculum, individual and group study areas, and much more!
Last updated: 10/22/2021 Sub#: 912