SPAN 101 - Elementary Spanish I - Claudia Rocio Colville
| | |
| --- | --- |
| Course: | Elementary Spanish I |
| Professor: | Claudia Rocio Colville |
| Email: | claudia.colville@canyons.edu |
| Format: | |
| Course Length: | |
Introduction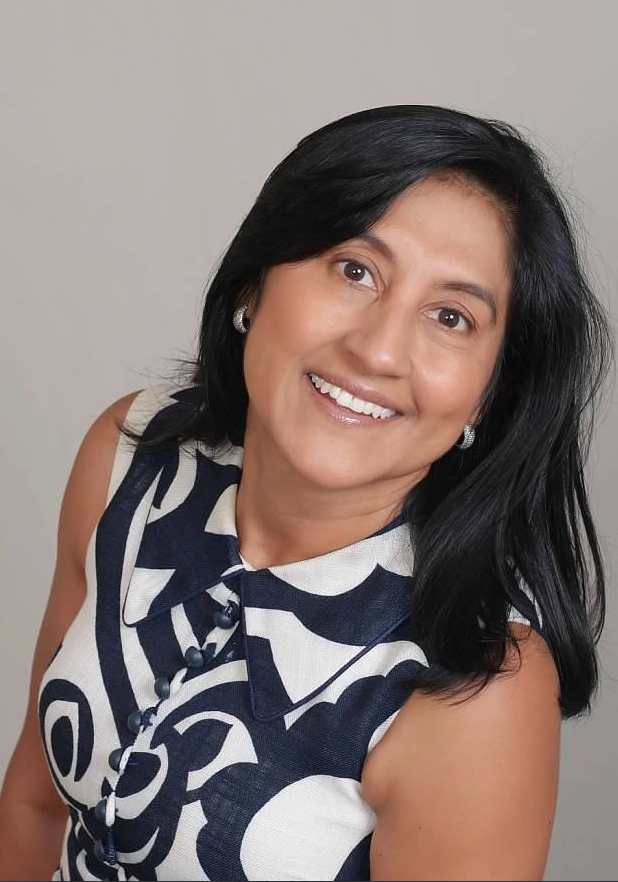 Welcome to Elementary Spanish 101 course. My name is Claudia Rocío Colville, and I will be your instructor this semester. During this language OnlineLIVE course, we will immerse ourselves in the fascinating Spanish language and culture. This introductory course will contribute to helping you to develop communicative competence in all four skills areas: listening, reading, speaking, and writing. Emphasis is on the vocabulary, grammar, and cultural knowledge necessary to communicate in everyday situations. The course will include individual and small group assignments so that students will be active learners. The essential geography and history of Spanish-speaking countries will also be covered. The course will be conducted 90 percent in Spanish.
Course Description
The teaching of this course will be delivered through various series/meetings using the Zoom platform, online activities on MindTap and Canvas. We will cover chapters one through chapter 5 of the Conectados 2nd edition. Including the main structures of the present tense, progressive form, informal commands, and past tense. All within a context is related student life, work, hobbies, travel, and daily activities.
What to Expect in this Course
This course will require the student to attend weekly instructional meetings via Zoom. The class has a structure that includes online activities and assignments, and during the course, we will have five exams, one at the end of each corresponding chapter. Also, each exam will involve fill-in-the-blank, multiple-choice, voice recording, and an essay section. In addition, we will have one major cultural project and a series of weekly discussions. At the end of the course, you will be skilled:
1. To respond correctly to interrogative and declarative sentences (aural and written) using a wide vocabulary, grammar, and situations introduced at the Novice-Low to Novice-Mid level.
2.Compare and contrast common cultural differences between the country/countries where the target language speaks and U.S. culture. We will acquire essential knowledge of the geography of the target country/countries and significant historical events and figures.
Types of Assessments
ONLINE WORK
On the days that class does not meet, you do online work to make up those class hours. This includes a discussion and any other online cultural activity I may include. Your quizzes and exams will be submitted online as well as the exams. Also, all of your assignments will be expected to be complete and turned in online by a date and time that is on your syllabus. Please understand that because this course relies on technology (i.e. the Internet), it is a bad idea to wait until the last minute to complete any online work. It will require that you manage your time well and ask for assistance when needed. In general, do not wait until a minor problem has escalated into a major one.
The content will be delivered in modules, requiring weekly completion. You will need to login to Canvas at least two-three times per week to keep up with postings and to check for updates from your instructor. Students who do not login on Canvas and submit all check in assignments as well as register in MindTap by Monday 11:59 PM will be dropped from the course as a No Show.
All course announcements and individual emails are sent through Canvas which only uses Canyons email accounts. Therefore, you MUST check your Canyons email on a regular basis (several times a week) for the duration of the course. This is the best way to contact me as well. Please note: I will only respond to students within 24-48 hours who email me through CANVAS or their MyCanyons accounts. It is a violation of FERPA for me to connect with you on your personal email accounts.
Textbook Information / Link to ZTC Textbook
MindTap(Digital Platform access only) for Conectados 2nd Ed. – Marinelli & Fajardo–Digital.
A detail information on how to register and access MindTap will be inside the Getting Started Module – Day 1. 90% of the assignments, quizzes and exams will be from your eBook in MindTap. You will need to complete about 65-75weekly activities.
Feel free to e-mail me if you have any questions.
MindTap for Marinelli/Fajardo's Conectados Communication Manual, 4 terms Instant Access
Other Relevant Course Information
Important:
1-All communication related to this course will go to your canyons email.
2- The first day of class log in to Canvas and complete Module Day 1 to avoid being dropped from the course.
Make sure you have a computer with internet access with a working microphone as voice recording activities are an essential part of this course. Tablets, Apps, and other mobile devices can be used to view or read content, and to complete some assignments, however there is required work including some exams that can only be performed on a computer.
---
Additional Resources
Canvas
This course can be accessed on the first day of class via Canvas at https://coc.instructure.com. Log into Canvas using your CanyonsID single sign-on:
CanyonsID Username is your COC student email address (Ex: username@my.canyons.edu)
CanyonsID Password is your COC student email password
Please visit the Get to Know Your Online Classroom page for help logging into Canvas and for tips on using Canvas and Zoom. Canvas Chat Support is also available 24/7 for any Canvas related issues.
Online Education
Check out the Online Education website for more information on a variety of topics that can help you be a successful online student such as: exam proctoring, learning styles, computer skills, and tips for student success. If this is your first online course, feel free to take our online learning readiness assessment to assess your skills.
The Learning Center (TLC)
The TLC provides FREE online tutoring resources to COC students!
Academic Accommodation Center (AAC)
College of the Canyons AAC provides educational services and access for eligible students with documented disabilities who intend to pursue coursework at COC. A variety of programs and services are available which afford eligible students with disabilities the opportunity to participate fully in all aspects of the college programs and activities through appropriate and reasonable accommodations. For more information on their services visit the Academic Accomodation Center website.
Online Counseling
The Counseling Department offers appointments online. You can schedule an appointment by visiting the Online Counseling website. Counselors can help you map out a plan to reach your educational goals as well as advise you on course selection and registration.
Management of Stress and Mental Health
College of the Canyons cares about your emotional and physical health. Learn more about the broad range of confidential student services, including free counseling and mental health services available during this time by visiting the Student Health & Wellness Center website or by calling them at: 661-362-3259.
The National Suicide Lifeline number is 1-800-273- 8255 (TALK). Please call it if you or someone you know is having thoughts of suicide or is in severe distress - it could save someone's life.
You can also use the Crisis Text Line: Just text "Courage" to 741741. It's free, available 24/7, and confidential.
Veterans Resource Center
The College of the Canyons Veterans Resource Center is a department within the Student Services Division at the college, created to help veterans and veteran dependents with applying to College of the Canyons, enrolling in classes, and requesting VA Education or Vocational Benefits. For more information please visit the Veterans Resource Center website, email veterans@canyons.edu or phone (661) 362-3469.
Library
The Library provides live online and in-person research help, access to a full range of e-resources and physical materials that support the curriculum, individual and group study areas, and much more!
Last updated: 11/22/2022 Sub#: 569