FAQs
---
Q. What kind of student should enroll in the Sports Medicine Program?

A. Any student who is interested in a career in athletic training, physical therapy, orthopedic surgery, or any other sports medicine related profession.
---
Q.
How does a student enroll in the Sports Medicine Program? Is there an application?

A. There are no program requirements to get started. Your first step would be to enroll at the college and then register for classes:
COC New Student Enrollment Information
.
The first class we recommend for those students interested in sports medicine is KPET 210 Prevention and Care of Athletic Injuries. This is our introductory class to the field of sports medicine and all the careers available.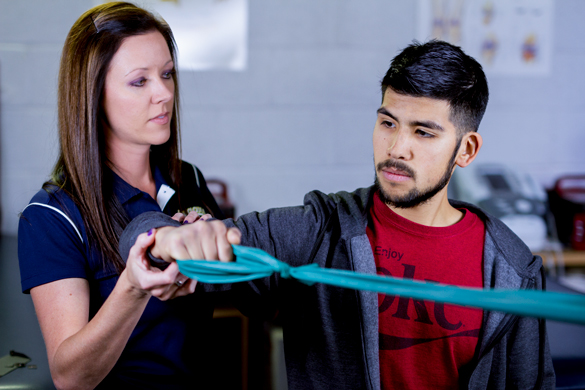 ---
Q. What is the benefit to completing the Certificate of Specialization in Therapeutic Procedures?

A
.
Physical therapy, chiropractic, and other sports rehabilitation clinics search for qualified applicants to work as aides. Most require experience in direct patient care as well as training in how to properly apply modalities, instruct patients in exercises, and document rehab exercise progression. CPR certification is also highly desired. The courses in our certificate of specialization were carefully chosen to prepare the student for work in these settings and to demonstrate to future employers the knowledge, skill, and competency of applicants that hold the certificate.
---
Q.
What kind of degree is required for a career in sports medicine?
A. Most jobs in the sports medicine field require a minimum of a masters degree. Because the medical field and the breadth of required knowledge is vast, advanced degrees are required in order for students to be adequately trained in all the areas necessary to be effective clinicians in their respective fields.
---
Q.
What can I expect if I become a sports medicine student?
A. The Sports Medicine instructors at COC are also either former or current full-time athletic trainers for the college who are able to provide real-life scenarios for students in the classroom and in the clinic.
Students in the Sports Medicine program regularly meet with program instructors to discuss personal, educational, and career goals so that the student can achieve success in the shortest time possible.
Students work directly alongside of and under the direct supervision of certified athletic trainers on a regular basis. They assist with preparticipation physical exams, injury prevention, injury evaluation and diagnosis, acute injury and emergency management, wound care, rehabilitation development and supervision, and medical coverage for practice and games. Some students even have the opportunity to watch surgeries performed on our student athletes by our team orthopedic surgeon.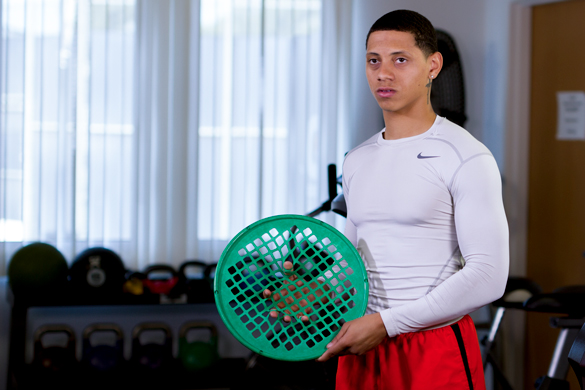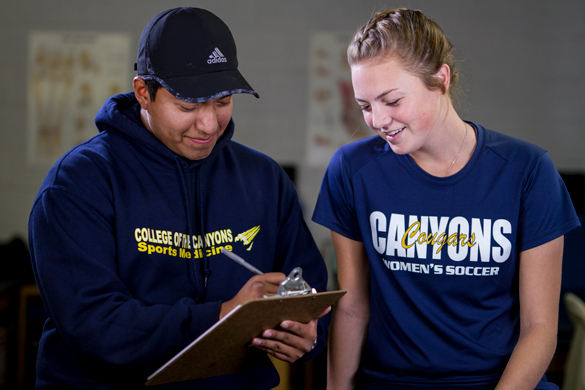 Q. What classes do I have to take?

A. Select the following link for required courses for the Therapeutic Procedures certification. Additionally you can find recommended pathways showing the semester by sequence of courses for those students pursuing their Kinesiology degree who ultimately desire to enter a graduate athletic training or physical therapy program.
---
Q.
How will COCs Sports Medicine Program help me?
A. If you want the best opportunity to explore the career options available in sports medicine and adequately prepare for acceptance into their respective programs, then College of the Canyons Sports Medicine Program is the best place to start.
All the required prerequisites for acceptance into these programs can be attained here at COC.
Program Faculty are knowledgeable about the profession, have connections with various sports medicine professionals, and are committed to helping our students excel.
---
Q. Where are former COC Sports Medicine Students now?
A. Many of our former students are now professionals working in the sports medicine field. Most are currently athletic trainers but work in a variety of settings:
Physician extenders in an orthopedic office
High school athletic trainers
Grad assistants for big D1 programs across the country
High school sports medicine teachers
Outreach athletic trainers for physical therapy clinics and hospitals
Athletic trainers working with our countrys active military
Some have even had internships working with professional sports teams and Olympic athletes