Graduation
---
Associate Degree Graduation
You must submit a petition for an Associate Degree with the Counseling Office by the deadlines listed below for the term in which you plan to graduate. Students may be eligible to graduate in the Fall, Spring, or Summer terms.
It is recommended that you meet with a Counselor at least one semester prior to your intended graduating term in order to confirm requirements are met, and to submit your petition.
Certificate Completion
Petitions for a Certificate of Achievement or Certificate of Specialization are due in the fall, spring, or summer terms in which you will complete the requirements, and may be submitted before your last term or up until the final day of your awarding term.
Petitions to graduate and certificate completion can be reviewed and submitted either through Express Drop-in Counseling, or during a Counseling Appointment.
If transcripts from other colleges need to be evaluated, a one-hour counseling appointment may be required.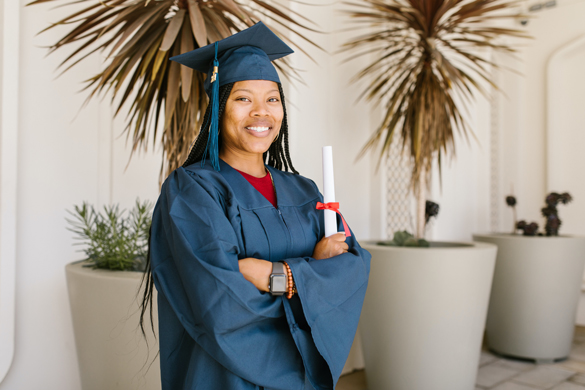 Are you ready to submit your petition?
Have you attended other colleges or universities? Make sure to submit transcripts to COC from any other schools attended. A counseling appointment is required to determine how courses from other colleges can be used to meet general education or major requirements for your associates degree or certificate.

Confirm your associate degree or certificate requirements are complete, or will be complete during the upcoming term, by checking your progress in My Academic Plan (MAP).

Visit Express Drop-in Counseling to submit your Petition to Graduate or Petition for Certificate. If transcripts need to be evaluated (see Step 1), a counseling appointment may be required.

Complete and pass your final coursework for your degree or certificate. Courses must be passed with a "C" or better, or by earning a "Pass" if the course has been approved for a "Pass/No-pass" grade.

If earning an associates degree, check your campus email for information regarding the commencement ceremony held in June. Campus Life & Student Engagement

will begin to email students during the spring semester.

Diplomas and certificates are mailed approximately 3 months after the awarding term.

Make sure your mailing address is current with

Admissions & Records

.
Forms
The following forms are used to petition for associate degrees, certificates of achievement, and certificates of specialization. Each form must be reviewed by and submitted to the Counseling Office for processing.
AA Degree Petition Deadlines
Fall 2023: September 22, 2023
Spring 2024: March 8, 2023
Summer 2024: TBD
Deadlines to petition to graduate, as well as other important student deadlines for the academic year, may be found in the College Calendar.
Commencement
For more information on the graduation ceremony held each June, please visit our Campus Life & Student Engagement Commencement webpage.
FAQ's
Frequently Asked Questions regarding graduation and commencement.
Helpful Links
Campus Life & Student Engagement