CAWT-074 - Introduction to Photoshop - Brief - Alan Strozer
| | |
| --- | --- |
| Course: | Introduction to Photoshop - Brief |
| Professor: | Alan Strozer |
| Email: | Alan.Strozer@canyons.edu |
| Format: | |
| Course Length: | |
Introduction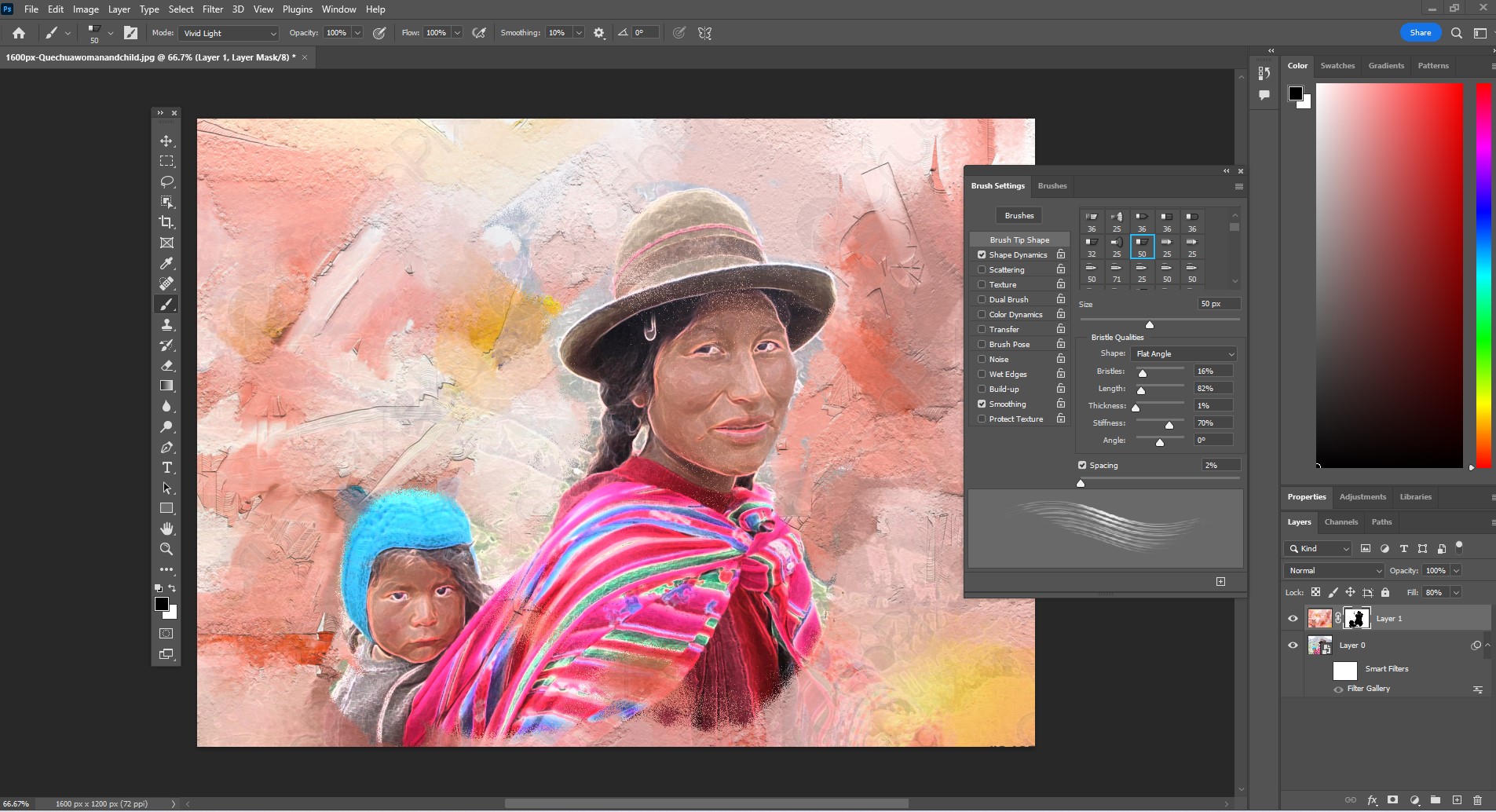 We are happy to bring you this short-term course in Photoshop (hybrid format), making basic graphic manipulation accessible to all, including those without prior imaging editing experience or web technology training.
CAWT 074 is a non-technical class that can be successfully completed by anyone with a desire to edit images, retouch photos, or create original artwork.
I am Alan Strozer, your instructor and Professor of Information Technology in the CAWT Department at College of the Canyons where I have been teaching computer technology courses for the past 26 years. I will be your online facilitator and look forward to getting to know you throughout the semester.
Adobe Photoshop is the current de facto standard image editing software used in industry. It is used extensively by many companies and organizations that have a need for employees with graphic manipulation or creation skills.
The course is administered in the hybrid format involving both on-campus and online study. Only three on-campus meeting are scheduled (Please see class schedule). The remainder of the course is delivered asynchronously online.
Course Description
This 1.5-unit course introduces basic digital image editing using Adobe Photoshop CC, including layers, selections, masks, image retouching, color correction, paint tools, text tools, and special effects, with application to commercial or personal projects.This is NOT an art, design, or digital photography course; rather it focuses on the basic functionality of Photoshop -- its interface, tools, workspaces, and process. If you prefer a course that focuses on expression of your artistic creativity, please check offerings in the GMD and Photography Departments. Familiarity with a PC or a Mac and the computer's operating system is assumed.
This is a HYBRID course, requiring three on-campus meetings (See Schedule of Classes for on-campus dates and times). The remainder of the class is conducted entirely online, asynchronously. Details about obtaining a highly discounted Adobe CC license will be provided during the first week of class.
Currently, it is not possible to purchase a physical copy of Photoshop. Adobe offers Photoshop using an annual, fee-based subscription model only. Photoshop mobile, Photoshop Express, Photoshop Elements, Photopea, Pixlr, or other similar applications are not sufficient for this class. This is a course exploring the application itself, so access to Adobe Photoshop CC running on a desktop or laptop computer is mandatory (MacOS or Windows).
What to Expect in this Course
SKILL REQUIREMENTS -- Prior to taking this course, students should have acquired the following skills:
Proficiency with Microsoft Windows, Ver. 10 or higher, or MacOS (especially file management, including the ability to create, edit, copy, move, delete, and rename files or directories, as well as the ability to upload files, download files, and navigate through directories).
Proficiency with the Internet and browsers (especially Google Chrome)
Proficiency with e-mail, including the ability to send and receive attachments.
Proficiency with the creation and extraction of zip archives (.zip files)
SOFTWARE REQUIREMENTS
Students must have access to or own a subscription to the latest version of Adobe Photoshop Creative Cloud 2022. Substantially discounted pricing for enrolled students is available through the Foundation for California Community Colleges.

NOTE: Photoshop Elements, older versions of Photoshop, such as the CS series, or mobile versions intended to run on phones and tablets, or image editors other than Photoshop CC, are not sufficient to successfully complete this course.

Windows 10 (or higher) or MacOS operating system able to run the latest version of Photoshop CC 2022.
Reliable access to broadband Internet.
Browser software, preferably Google Chrome.
Zoom teleconferencing software
Adobe Reader, latest version (free download at www.adobe.com)
A media player that is compatible with mpg4, mov, avi, and wmv formats (free VLC media player is recommended: www.videolan.org)
HARDWARE REQUIREMENTS
Minimum Photoshop CC system requirements for Windows or MacOS platforms:
Please refer to the Adobe website at https://helpx.adobe.com/photoshop/system-requirements.html
Other hardware requirements:
A laptop or desktop computer. Mobile devices, including phones or tablets are not sufficient for this class.
A microphone and headset for Zoom sessions
Types of Assessments
Hands-on projects, final project, graded discussion, possibly some short quizzes in Canvas.
Textbook Information / Link to ZTC Textbook
There is no required textbook for this class. Students may purchase or borrow any current Photoshop book that appeals to them, if a book is desired.
A free Linkedin Learning (formerly Lynda.com) video library subscription is required.
The Foundation for California Community Colleges (FCCC) will provide all students enrolled in this class with free access to the Linkedin Learning video library (formerly Lynda.com). Enrolled students must complete and submit an online form to obtain a free Linkedin Learning account. To supplement this course and In lieu of a costly textbook, students will be required to access a specific course in the Linkedin Learning video library and to study assigned videos. Free Linkedin Learning subscriptions are dependent upon continued FCCC funding, which is not guaranteed indefinitely. In the case that funding should cease, students enrolled in this class may also qualify for a free Linkedin Learning subscription offered by a number of public library systems throughout the State of California or through other public state agencies throughout the country.
ALTERNATE LINKEDIN LEARNING SOURCES:
Los Angeles County Library URL
https://lacountylibrary.org
Los Angeles Public Library (City) URL
https://www.lapl.org
Other Relevant Course Information
DEGREE and CERTIFICATE ASSOCIATIONS
CAWT 074 is required to obtain the following degrees and certificates offered at College of the Canyons:
A.S. Degree in Web Development
A.S. Degree in Web Publishing & Design
Certificate of Achievement in Web Development
Certificate of Achievement in Web Publishing & Design
Certificate of Specialization in Web Development
A.A. degrees in Animation, Computer Animation, and Animation Production
Student Learning Outcomes (SLO)
LECTURE:
Differentiate the features of Photoshop's tools and assess their application to the integration of various techniques.
LAB:
Create a portfolio of original complex digital images.
Canvas Accounts
The course employs Canvas, the learning management system currently used at College of the Canyons. Student Canvas accounts are created automatically once course fees are paid. Access to Canvas from home will require access to broadband Internet.
During the first week of class, it is important that all students log into Canvas to update their Profile, if necessary, and to change their password. Students who have already used Canvas in previous semesters should still have an active password, which they can continue to use. Make sure that the e-mail address recorded in Canvas is your correct MyCanyons e-mail account.
Students must log into Canvas daily and are responsible for reading all content posted in Canvas. Please do not share passwords with others. The integrity of your Canvas account is your responsibility.
E-MAIL
All students must use their MyCanyons.edu e-mail account created for them by the College. In order to authenticate student identities and comply with FERPA regulations, instructors have been asked by the College to respond only to student e-mail originating from a MyCanyons.edu account. The MyCanyons.edu account is integrated with Microsoft's Windows Live, which includes a free 7GB One Drive account for cloud data storage. All students must make sure that they have activated their MyCanyons.edu e-mail account. To activate your account, log into MyCanyons (WebAdvisor) on the college web site and follow the appropriate links related to student e-mail.
Please always insert your course number (074) in the Subject header of your e-mails and identify yourself at the end of your e-mail messages with your full name.
For class-related issues, all e-mail correspondence to me should be sent to the e-mail address posted in Canvas (ProfStrozer@outlook.com) and NOT to my general COC (.edu) account. If you send your e-mail messages directly through Canvas, they will be routed to the correct account.
If you have further questions regarding the course or need to contact me, please e-mail me at ProfStrozer@outlook.com and insert the course number (074) in the Subject header of your e-mail.
I hope that you find this online course a worthwhile experience and look forward to meeting you online.
---
Additional Resources
Canvas
This course can be accessed on the first day of class via Canvas at https://coc.instructure.com. Log into Canvas using your CanyonsID single sign-on:
CanyonsID Username is your COC student email address (Ex: username@my.canyons.edu)
CanyonsID Password is your COC student email password
Please visit the Get to Know Your Online Classroom page for help logging into Canvas and for tips on using Canvas and Zoom. Canvas Chat Support is also available 24/7 for any Canvas related issues.
Online Education
Check out the Online Education website for more information on a variety of topics that can help you be a successful online student such as: exam proctoring, learning styles, computer skills, and tips for student success. If this is your first online course, feel free to take our online learning readiness assessment to assess your skills.
The Learning Center (TLC)
The TLC provides FREE online tutoring resources to COC students!
Academic Accommodation Center (AAC)
College of the Canyons AAC provides educational services and access for eligible students with documented disabilities who intend to pursue coursework at COC. A variety of programs and services are available which afford eligible students with disabilities the opportunity to participate fully in all aspects of the college programs and activities through appropriate and reasonable accommodations. For more information on their services visit the Academic Accomodation Center website.
Online Counseling
The Counseling Department offers appointments online. You can schedule an appointment by visiting the Online Counseling website. Counselors can help you map out a plan to reach your educational goals as well as advise you on course selection and registration.
Management of Stress and Mental Health
College of the Canyons cares about your emotional and physical health. Learn more about the broad range of confidential student services, including free counseling and mental health services available during this time by visiting the Student Health & Wellness Center website or by calling them at: 661-362-3259.
The National Suicide Lifeline number is 1-800-273- 8255 (TALK). Please call it if you or someone you know is having thoughts of suicide or is in severe distress - it could save someone's life.
You can also use the Crisis Text Line: Just text "Courage" to 741741. It's free, available 24/7, and confidential.
Veterans Resource Center
The College of the Canyons Veterans Resource Center is a department within the Student Services Division at the college, created to help veterans and veteran dependents with applying to College of the Canyons, enrolling in classes, and requesting VA Education or Vocational Benefits. For more information please visit the Veterans Resource Center website, email veterans@canyons.edu or phone (661) 362-3469.
Library
The Library provides live online and in-person research help, access to a full range of e-resources and physical materials that support the curriculum, individual and group study areas, and much more!
Last updated: 11/14/2022 Sub#: 1481