THEATR130 - Fundamentals of Costume Design - Kimberly DeShazo Wilkinson
Introduction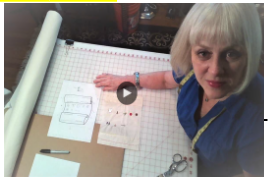 THEATR-130 – Fundamentals of Costume Design – Kimberly DeShazo Wilkinson
ONLINE LIVE HYBRID
Figure 1 Photo of the Teacher
Course Code: THEATR-130; 2021FA:58259
Course Name: Costuming for the Stage
Instructor: Kimberly DeShazo Wilkinson
Instructor Email: Kimberly.DeShazoWilkinson@canyons.edu
Required Textbook: Not Applicable/No Text -: but there are expenses for Fabric, Patterns and Art Supplies!
Course Format: ONLINE LIVE Hybrid – 16 Weeks
Meetings will be on Tuesday & Thursday from 9am-11:20am on Zoom
Room for Class (if we transition to face to face meetings): PAC 114
Hello and Welcome!
My name is Kimberly DeShazo Wilkinson, and I will be guiding you through Fundamentals of Costume Design. This letter is intended to give you enough information so that you can decide if you want to take this online class. Feel free to email me with any questions you still have after reading this letter.
Because so much of your learning is centered around garment construction and the interaction required in Theatre performance, meeting on Zoom each class way allow immediate guidance and feedback on your sewing projects.
And as this is class is formatted as a Lab Class, we are high on the list of classes that would be transferred back to on campus face-to-face meetings as soon as it is SAFE to do so.
Course Description
Course Overview and Student Learning outcome
In our class we will think and work on three aspects of developing Costumes for productions on stage. While many of these foundation skills are also involved with film, television and other media projects – this class is focused on live real time performance needs.
The three areas I mentioned are Design, Clothing History and Sewing Skills.
Designing will involve drawing or rendering sketches and coloring with various mediums, plus information on fabrics and useful ways to break down a script seeing the stage as a whole.
Clothing History is about understanding fashion history as characters in different time periods would wear the clothing of the day.
And the Sewing aspect of the class covers both Hand and Machine sewing.
Student Learning Outcomes:
Analyze the basic skills required of both costume hand and machine sewing.

Synthesize and apply basic theatre and costume design vocabulary.

Demonstrate basic skills required of both machine and hand sewing.
What to Expect in this Course
Typical Weekly Schedule
Here's what a typical week in this course would look like.
TUESDAY:
A new Canvas module will open every week on Tuesday as well with assignments.
The class will meet in person at the scheduled time blocks from 9:30am – 11:50am on Tuesday and Thursday, with a ten-minute break around 10:30am.
We will discuss the week's topics together in the first half of each class and then work on sewing projects in the second half. I will be answering your questions, giving demonstrations, and showing works in progress as examples.
WEDNESDAY:
Work on the upcoming projects by doing online research or continuing to sew at your own pace.
THURSDAY:
There will be a class meeting again from 9:30 am – 11:50 am.
FRIDAY:
Continue homework on project renderings or other assignment tasks.
SUNDAY:
Unless otherwise noted, upload any assignments by end of day (11:59 pm)
Course Activities: what you can expect to be doing…
Quizzes: There will be two within the semester, taken completely online.
Drawing (Rendering): Several group collaborations and also solo design presentations will be developed by you to be shared in Zoom meetings or uploaded. Sketch paper, pencils and markers will be needed.
Sewing by Hand: You will NEED Needles, Thread and one yard of Muslin fabric will be used to practice ten hand stitches commonly used in garment construction.

Sewing by Machine: You will use this power tool to build three garments. You will need to procure and/or Buy the Fabric and Notions (buttons, elastic, etc.) to construct these. The garments will be yours to keep.
PowerPoint File/History Document: Gather from at least three sites (various websites, library, magazines, etc.) pictures, photos or renderings of Clothing History. Organize these as an up loadable file in chronological order with bibliographic citations
Discussion Forums: We will provide constructive, supportive critique of the designs developed by fellow students in class to help each other see the results the way an audience would.
Final Exam: This will be online.
There will be options for Extra Credit as well.
Types of Assessments
Projects and Assignments will be uploaded or submitted in Canvas. Exercises may be uploaded to Canvas.
There is No Proctoring of assignments, exams or quizzes in the course. We will talk about Academic Integrity as we start this semester, so everyone understands what protocols exist in a College level learning environment.
Quizzes: (100 points)
Costuming Terminology
Fabrics
Completed Projects
1 Machine Stitching and Hand Sewing Examples: Samplers (100 points)
2 Construct Costume Pieces (160 points)
Make three of the following garments to costuming quality standards made to fit your own measurements:
1: Pants or shorts
2: Apron
3: Hat or Jacket
Students with advanced skills may discuss with me the option of completing other garments.
3 Research on Period Garments (150 points)
4 Swatch Fabric Submission
5 Rendering, Tear Sheet and Swatch Board (200 points)
6 Discussion on Fairy Tale Concepts (40 points)
7 Participation: Discussion Forum (40 points)
OTHER READING ASSIGNMENTS AND PARTICIPATION IN DISCUSSIONS ON ASSIGNED PLAYS TO BE READ WILL BE REQUIRED.
Final Exam (200 points) – Available Online
Grading: I do not round percentages.
A: 1000-900
B: 899 - 800
C: 799- 700
D: 699 - 600
F: 599 – 0
EXTRA CREDIT OPTIONS:
IF FEASIBLE: WORK CREW ON A THEATRE DEPARTMENT PRODUCTION! Successfully participating in all dress rehearsals and performances as a Dresser will earn you 200 points!
Write a two-page paper (500 words) on a preapproved recorded production of a live theatre event. Focus on the elements involved in the costumes: what could tell about the stylistic choices, the budget, the color palette, the focus of audiences' eyes for storytelling, and your aesthetic reaction to the production. You may do up to three papers, worth 75 points each, if done properly and well.
Textbook Information / Link to ZTC Textbook
REQUIRED DESIGN SUPPLIES: REQUIRED SEWING SUPPLIES:
smooth finish sketchpad Fabric Scissors
drawing pencils Hand Needles
colored markers Seam Ripper
colored pencils Straight Pins
Thread of any color you like
Measuring tape
*1-yard muslin 36" wide
Material Costs
*Up to 3 fabrics for construction
1 yard waistband elastic, or 2 yards of ribbon
SUGGESTED SEWING SUPPLIES (not required, but very helpful for Sewing)
thimble
small snips
measuring rulers
tracing paper for sewing
Other Relevant Course Information
Late Add / Drop Policy
If you are in need of an Add Code, please email me to request one. This can be done in the first eight days of the semester. Once we are well into the second week of classes, you would have great difficulty in catching up with assignments and lecture information.
You can reach me at my email: Kimberly.DeShazoWilkinson@canyons.edu.
How to Succeed in this course
Expect to work 6–8 hours per week on this course.
Requirements: Do you have what you need?
You need proficiency in the following apps and techniques:
Use of web browser You need to know how to adjust options in case you can't see or print a web page, or if a video isn't playing in the web page, etc.
E-mail sending, receiving, forwarding, saving, printing, attaching files, and retrieving attachments. You must use your COC email address (my.canyons.edu) for all e-mail correspondence in this course. I will send e-mail to you ONLY at your COC e-mail address. This includes all course announcements. I do this in part for your own protection. Using COC e-mail makes it possible to keep records of all e-mail communication. You will have to decide how you are going to access your COC e-mail. You are going to have to be diligent in checking that e-mail regularly. COC

Information Technology

can help you set up your mail clients to process e-mail from more than one account.

Use of web-based communication tools, such as discussions, chat, and webinars. These are all accessed through the Canvas website.

Word processing software, including creating, modifying, saving, and retrieving Word You need complete control over font color and size, page layout and orientation, margins, tabs, bullet lists, hyperlinks, and media file insertions.
Troubleshooting and getting help. Online students must know where to go, and have the impetus to do so immediately, when outside help is needed. "I couldn't log in to [upload my file, find my document, see the video, etc." are not acceptable excuses. Online students must be proficient and expedient at obtaining support when needed.

(I am not your technical support resource.)
Download the Canvas App for your smartphone! (Canvas by Instructure)

You need the following software on the computer:

Internet browser (Chrome works best with Canvas)

Microsoft Word. You can download the Microsoft Office Suite for FREE as part of your school My Canyons account (my.canyons.edu)

Adobe Acrobat Reader. You need to be able to open, print, and save PDF files. To view PDF files, you should have a current version of the free

Adobe Acrobat Reader i

nstalled on your computer.
For a complete assessment of your online learning readiness, visit the Readiness Assessment page for students.
For technical support using Canvas, visit the Canvas tech support page for students.
Class Safety: We are dealing with sharp objects and hot items!
So Far So Good? Let's Do It! What's next?
If you have checked off all the items in our checklist above and have decided to join the class, then —
Welcome!
This course uses Canvas for all our online activities. Please log in to Canvas by the first day of class. I will open the class a day early to give you a head start.
Default Student login for Canvas: https://coc.instructure.com/
Username: [your My Canyons username]
Password: students
Please change your password after you log in to Canvas for the first time.
Each day during the beginning of the semester there will be a task to complete. This material will prepare you to hit the ground running when we begin garment construction.
If you do not attend the Zoom meeting of the first class, school policy requires that I drop you from the class for non-attendance.
I divide the course into modules. There is one new module each week. You will begin each week by opening the newest module. The course begins with Module 1, covering orientation activities.
If you have any questions about this course, then email me at: Kimberly.DeShazoWilkinson@canyons.edu.
I look forward to working with you this semester!
Best,
Kimberly DeShazo Wilkinson
Kimberly DeShazo Wilkinson has worked at College of the Canyons for over ten years teaching and designing Costumes in the Theatre and Dance Departments. She is Costume Instructor and Designer for the Theatre and Dance Departments at El Camino College as well (for over twenty years); and Resident Costume Designer for International City Theatre in Long Beach. Productions at other educational institutions include work for Chapman University, Cal State Dominguez Hills, Long Beach City College, and Mt. San Antonio College. Other venues that have showcased her skills include the Hollywood Bowl and the L.A. Phil at Disney Concert Hall, Pasadena Dance Theatre, L.A. Opera, Long Beach Opera, and Shakespeare Festival/LA. Her work has been seen at industrial shows for Nike, Adidas, Skechers, Cherokee and Diesel clothing. Commercials include AFLAC, Best Buy, Target, McDonald's, and Mattel. Television and film credits range from The Real, The Price is Right, and an Ozzy Osbourne's Variety show, to work for the Academy Awards, Nickelodeon and the Disney Channel.
---
Additional Resources
Canvas
This course can be accessed on the first day of class via Canvas at https://coc.instructure.com. Log into Canvas using your CanyonsID single sign-on:
CanyonsID Username is your COC student email address (Ex: username@my.canyons.edu)
CanyonsID Password is your COC student email password
Please visit the Get to Know Your Online Classroom page for help logging into Canvas and for tips on using Canvas and Zoom. Canvas Chat Support is also available 24/7 for any Canvas related issues.
Online Education
Check out the Online Education website for more information on a variety of topics that can help you be a successful online student such as: exam proctoring, learning styles, computer skills, and tips for student success. If this is your first online course, feel free to take our online learning readiness assessment to assess your skills.
The Learning Center (TLC)
The TLC provides FREE online tutoring resources to COC students!
Academic Accommodation Center (AAC)
College of the Canyons AAC provides educational services and access for eligible students with documented disabilities who intend to pursue coursework at COC. A variety of programs and services are available which afford eligible students with disabilities the opportunity to participate fully in all aspects of the college programs and activities through appropriate and reasonable accommodations. For more information on their services visit the Academic Accomodation Center website.
Online Counseling
The Counseling Department offers appointments online. You can schedule an appointment by visiting the Online Counseling website. Counselors can help you map out a plan to reach your educational goals as well as advise you on course selection and registration.
Management of Stress and Mental Health
College of the Canyons cares about your emotional and physical health. Learn more about the broad range of confidential student services, including free counseling and mental health services available during this time by visiting the Student Health & Wellness Center website or by calling them at: 661-362-3259.
The National Suicide Lifeline number is 1-800-273- 8255 (TALK). Please call it if you or someone you know is having thoughts of suicide or is in severe distress - it could save someone's life.
You can also use the Crisis Text Line: Just text "Courage" to 741741. It's free, available 24/7, and confidential.
Veterans Resource Center
The College of the Canyons Veterans Resource Center is a department within the Student Services Division at the college, created to help veterans and veteran dependents with applying to College of the Canyons, enrolling in classes, and requesting VA Education or Vocational Benefits. For more information please visit the Veterans Resource Center website, email veterans@canyons.edu or phone (661) 362-3469.
Library
The Library provides live online and in-person research help, access to a full range of e-resources and physical materials that support the curriculum, individual and group study areas, and much more!
Last updated: 01/28/2023 Sub#: 314