Faculty and Staff Resources
---
Welcome to the Canyon Country Campus (CCC). Please note the following resources to help support your work and instruction. Thank you for all you do to help our campus and students thrive!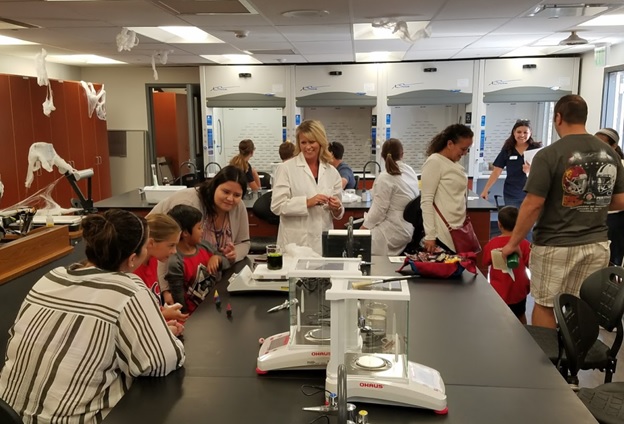 >QUICK LINKS
2023 Fall Welcome Letter
Parking
Communication Center
Keys
Reprographics
Tech Support
Student Printing
Student Services
Library & TLC
Food Services
School Supplies
Faculty Drop-In Offices
Campus Safety
Emergency Procedures
Public Transportation
Campus Escort
Office Hours
---
Parking
Faculty/Staff parking is located in designated spaces in Lots 3 and 6, and in Staff Lots 4, 4B, and 5. See the campus map for details. Faculty permits can be obtained online. Please contact Campus Safety at x3977 for more information.
top
Communication Center/Mailroom
Mailboxes are located in CCSS-335, along with our main Switchboard. If you teach only at the Canyon Country Campus this semester, your mailbox will be here. If you teach at both the Valencia and Canyon Country Campuses, your mailbox will be at the Valencia Campus. For mailbox questions, please call x3831. A scantron machine is also available at the Communication Center for faculty use.
top
Keys
All exterior door locks have been upgraded by Facilities. If you have a gray FOB key from the Valencia Campus, it has been programmed to unlock your classroom door(s) at the Canyon Country Campus. You will need the smaller round black FOB if you teach in either the Science Center or the Student Services Center. If your FOB key does not work, contact the Communication Center at x3831 or stop by CCSS-335. If you have not been issued a gray or black FOB key, one has been ordered for you. You may pick up your key at the Communication Center, CCSS-335. Please call the Communication Center at x3831 for assistance.
top
Reprographics/Copy Services
Reprographic services are located in CCSS-336. A menu of available services is located at the counter. To send an electronic copy request to Reprographics, email cccrepro@canyons.edu. Please make sure to include the number of copies needed as well as any finishing requests in the body of the email to expedite processing. Allow at least one business day for print jobs to be completed. Also, please stop by to use our new self-service copier, open specified hours M-Th, as needed. Contact the office at x3831 for details.
top
Tech Support
If you need technical support using your smart classroom technology, please call x3533 from any classroom phone for assistance. Wi-Di capable projectors are available in most classrooms, allowing you to wirelessly pair your device to the overhead display. Also note, cell phone call and data features are enhanced by the extensive Wi-Fi network on campus. To make/receive calls and texts on campus simply enable "Wi-Fi calling" on your phone (supported by most carriers) and connect to the wireless network (Canyons-Student, Canyons-Employee, or Canyons_Guest). Call x3533 for assistance.
top
Student Printing
Students have several printing options on campus. ASG (Room 204) allows 15 pages (less if color) of free printing with paid Student Support Fee. TLC, Library, and the Student Study Lounge allow printing with paid Print Cards that can be purchased in the TLC (Room 306) or the Student Study Lounge (Room 302). Students are allowed to print four free pages in the Student Services Computer Lab in Building 1B.
top
Equipment Checkout
Computer Support offers iPads, microphones, laptops, projector carts, and other equipment for faculty to check-out. For more information, call Computer Support at x3533 or email your request to: Helpdesk.canyons.edu.
top
Student Services
Please visit the new Student Services & Learning Resources Center and familiarize yourself with the many student support services available to our students! Services offered and operating hours can be found at Canyon Country Campus Service Hours. For assistance with adds/drops, grade changes, and other student support, visit Admissions and Records on Floor 2 (x3819), Counseling on Floor 1 (x3811) and Financial Aid on Floor 2 (x3215). You may also wish to highlight campus services for your students at the beginning of the semester or include them in your syllabus.
top
ASG / Campus Life
The ASG Computer Lab is located in Quad 1-B and offers a study area for students and also a fax machine, copy machine and scanners. Free use of 13 PC computers and 2 Mac computers plus free printing available; 80 back and white and 50 color pages weekly. Campus Life is located in Quad 1-A and offers free student Id's and badges. Students may also purchase blue books, scantrons, discount movie tickets/theme park tickets, and discounted dash passes and bus passes.
top
Library and TLC
The new Library is located in CCSS-314, and provides access to computers, printing and scanning services, course textbooks on reserve, and a diverse collection of physical books and electronic research resources. The Library is fast becoming a popular spot for students, offering comfortable seating, group study rooms, and space for research or leisure reading.
The new TLC is located in CCSS-315, and includes study space, group study rooms, and test proctoring. The TLC provides tutoring, including math, English, computer, and other subjects free to students. Students may also complete supplemental learning activities at the TLC. This expanded and beautiful space is a wonderful resource on campus.
top
Food Services
Vending food options are available in the Science Center third floor, the Student Services & Learning Resources Center third floor, Quad-7, and coming soon to Quad-3. The BaNC (Quad 1A) offers free snacks for students in need.
top
School supplies
School supplies such as Bluebooks, Scantrons, paper, pens and pencils are available in various vending machines such as the third floor of the Student Services & Learning Resources Center and outside CCC-700. The Bookstore is also expected to offer several weeks of services and distribution for students at CCC at the beginning of Fall, in CCC-502A.
top
Faculty Drop-In Office Space
Offices for full-time faculty members may be available in CCC-512, 700, and the Science Center. Please contact the Academic Senate or your department chair for current info. Drop-in cubicles are also located in CCC-205, 507, 700, the Science Center, and a forthcoming computer lab in CCSS-403. Please provide your office hours at CCC (if applicable) to the Communication Center so that they can best direct students. Also note that CCC-507 and the third floor Science Center have a refrigerator, microwave, and printer. CCC-507 also has a round table for meeting with students, and group study rooms in the Science Center are also available.
top
Campus Safety
The Campus Safety office is located in CCC-511. Campus Safety can be reached at x3977 or (661) 666-8738 (cell phone). Dial "6" from any classroom phone in the event of an emergency to reach the Communication Center on a priority line. Emergency procedure and evacuation information is posted in each classroom, with additional info found in the Emergency Operation Plan (EOP): www.canyons.edu/studentservices/campussafety/emergencyops.php
top
Emergency Operations
Take a moment to familiarize yourself with Emergency Preparedness materials and the student guide to emergencies: www.canyons.edu/administration/pio/prepare.php. Additional info, such as evacuation procedures, is posted in each classroom near the door. Please notify us if any of these materials are missing. In the event of a campus emergency, text, phone, email, and/or instructor workstation messages will be sent to students and faculty through our emergency notification system. In addition, each classroom will have an emergency supplies bin, and most semesters, an emergency drill will be conducted consisting of an evacuation or a lockdown scenario.
top
Bus Schedule
The Santa Clarita Transit picks up and drops off on campus across the road from CCC4-400 (designated bus stop). The campus is served by Route 5. Check the schedule at santaclaritatransit.com/2021/12/16/route-5-and-routes-501-502-schedule-changes for the most accurate information.
top
Campus Escort
We have an evening Campus Escort Service with a six-passenger golf cart and driver available Monday - Thursday evenings from 6:00pm to 10:30pm. Campus escorts pick up at various location on the campus and will deliver passengers to the various parking lots. To request service call (661) 362-3801.
top
Office Hours with Campus Administration
Office hour appointments can be made with Ryan Theule, Vice President, and Anthony Michaelides, Dean. For schedule of office hours, contact Jamie Page (ext.3802) or Maria Sanchez (x3114).