Upcoming Events:
---
October 2020
Undocument Student Week of Action Monday, October 19th to Friday, October 23, 2020.

The full PDF version of this flyer can be found here.

Workshop Scheduled for Undocumented Student Week of Action:

Monday, October 19, 2020: "

Complexities in Undocumented Student Identify: From Masked to Unmasked"

Tuesday, October 20, 2020: "Know Your Rights"
Wednesday, October 21, 2020: "Undocumened Students and STEM"
Thursday, October 22, 2020: "Unraveling the Undocumented Identify"
Friday, October 23, 2020: "Coping, Trauma and Resiliency"

For more information on the Community College League of California Undocumented Student Week of Action visit: https://www.ccleague.org/advocacy/federal-advocacy/supporting-undocumented-students
---
Supporting Undocumented Students: The DREAM Center
October 27, 2020
Upcoming CSUN webinar in partnership with CSUN's Outreach and Recruitment Team (SOAR). Open to any prospective students, all they need to do is register for the event. The SOAR team has planned a series of events that can helps students understand the various resources CSUN has to offer them, however, students do not have to attend all of them. Students can register independently for each event they are interested attend,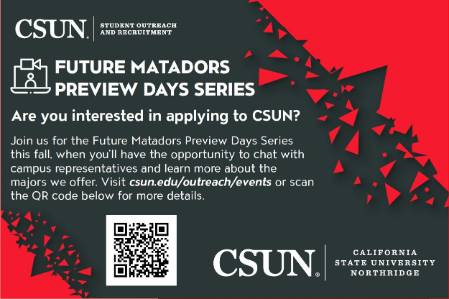 Click here to download PDF version of this flyer
4:00pm to 5:00pm
The link to register for the DREAM Center webinar is as follows: https://www.csun.edu/outreach/events/supporting-undocumented-students-dream-center
---
September 2020
September 16, 2020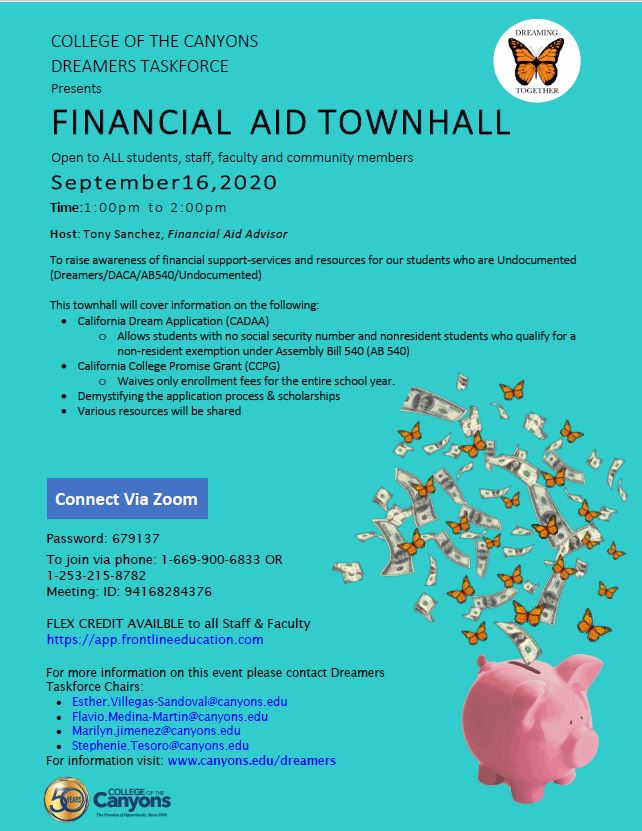 The full PDF document of this flyer can be found here.
SAVE THE DATE!
Financial Aid Townhall
To be held via Zoom
Open to ALL COC Community members
FLEX Credit will be availble for Staff and Faculty
---
August 2020
August 14, 2020
Staff Flyer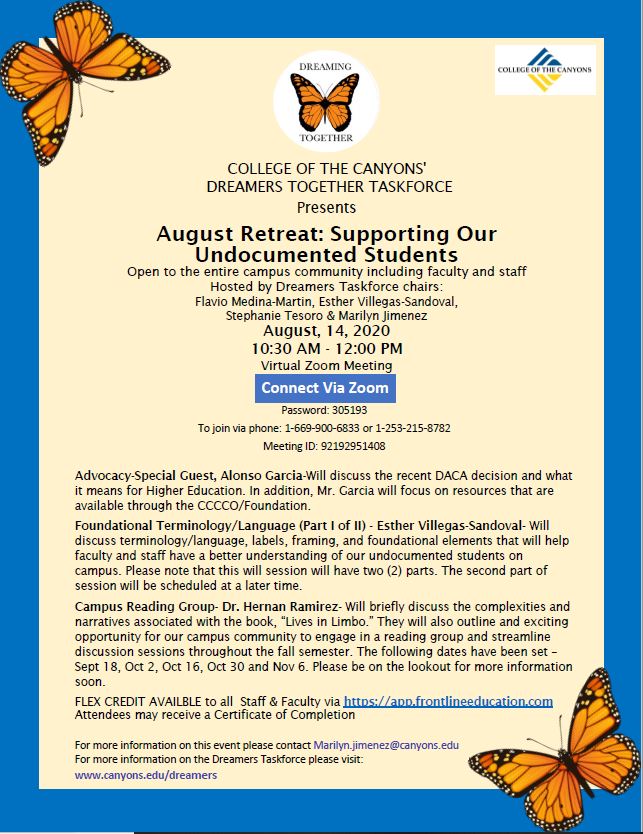 ---
Student Flyer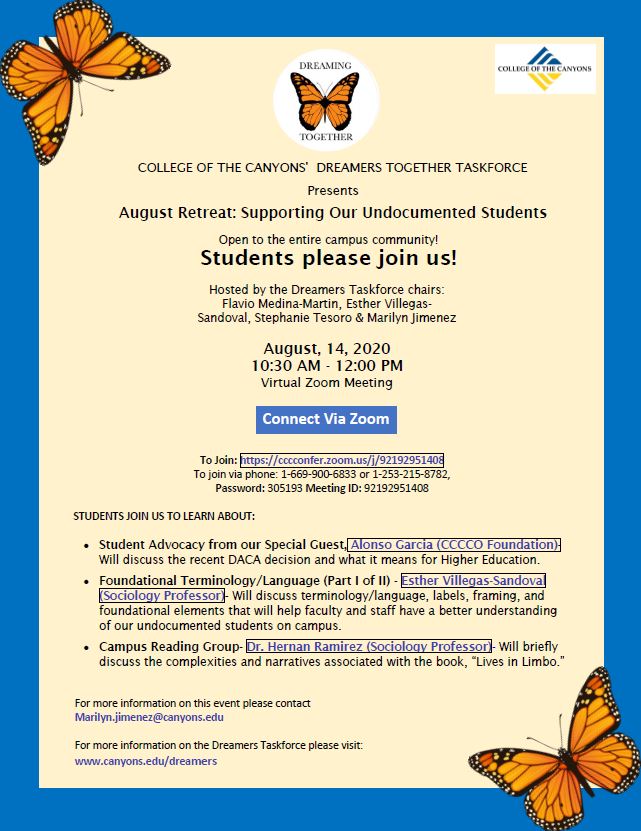 August Retreat: Supporting Our Undocumented Students
10:30 AM - 12:00PM
---
July 2020
July 1, 2020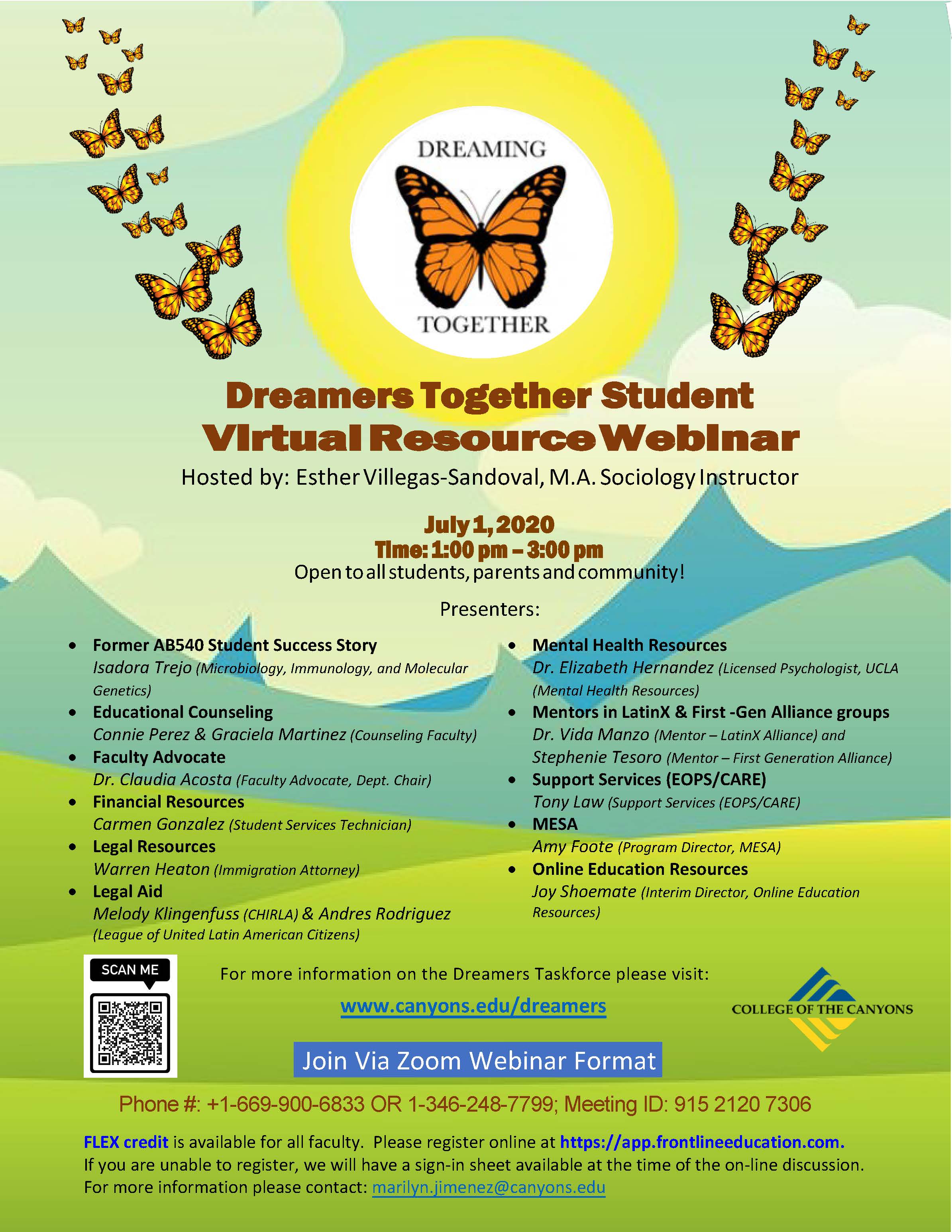 July 1:
Dreamers Together Virtual Resource Webinar
1:00 PM - 3:00 PM
The DREAMERS Together Taskforce will be hosting a Virtual Resource Webinar for students. Join us to learn about the various campus resources that are available for students. We are excited to meet current and returnign students. There will be 20 minutes for Q&A during the meeting.
Meeting Documents:
For more informaiton on this event please contact: marilyn.jimenez@canyons.edu.