Nursing
---
---
COC Nursing Student Perspectives
---
Approved by the California State Board of Registered Nursing, the College of the Canyons Registered Nurse program prepares students to assume the responsibilities of an entry-level registered nurse.

Upon graduation students are eligible to take the national licensure examination known as NCLEX to become a registered nurse. Many COC nursing students take advantage of numerous collaborative options to begin the Bachelors of Science in Nursing while working toward their associate degree.

Take a look at why you should consider this program at COC.
---
Nursing Program Information Sessions
Want to apply to the RN Program? Plan to Attend an Information Session!
Nursing Student Clubs: National Student Nurses' Association,
Honor Society, COC American Red Cross Club
---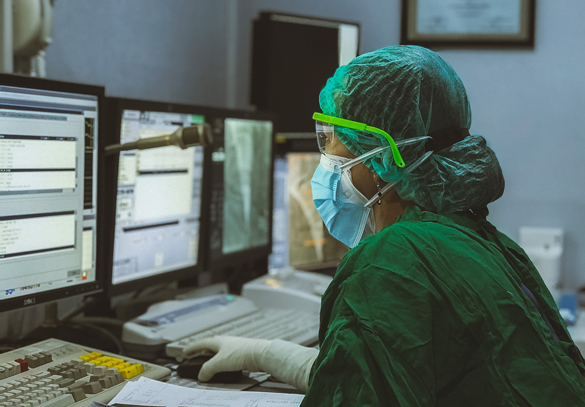 Accreditation Information The College of College of the Canyons, Associate Degree Nursing program is accredited by the National League for Nursing Commission for Nursing Education Accreditation (NLN CNEA) located at 2600 Virginia Avenue, NW, Washington, DC 20037


The mission of the Nursing Program at COC is to provide relevant quality nursing education at the lower division level in order to meet the ongoing needs of the professional nursing workforce. The program adjusts continually to changes within the body of nursing knowledge as well as changes in the health care system to prepare entry-level professionals to work in a variety of settings. The faculty strives to meet the educational needs of students with diverse backgrounds and learning styles while facilitating life-long learning and the pursuit of advanced educational goals.

The primary purpose of College of the Canyons Nursing Program is to prepare entry-level registered nurses. The curriculum is designed to equip the graduate to function safely within the legal framework of registered nursing as set forth by the State of California, Department of Consumer Affairs, and The Board of Registered Nursing. Program graduates are eligible to take the National Council Licensure Exam (NCLEX-RN).

The ADN, Career Ladder (LVN-RN), transfer, and challenge options exist as multiple pathways to provide access to goal attainment and achievement by students. These pathways are designed to make available to students the necessary knowledge, skills, and abilities needed to serve as a foundation for success and excellence in nursing practice. The college reserves the right to determine if and when programs identified in this handbook or in the listing of programs will be offered.

In addition, the nursing faculty promotes the development of graduates who are committed to continuing their education and who are assets to the discipline of nursing, their communities, and society.

In pursuit of these purposes, the faculty endeavors, throughout all program pathways to:

Participate in the process of counseling and assisting interested students preparing for admission to the program.
Recruit, admit, and retain qualified, diverse applicants who progress through the program in a timely manner.
Maintain uniformly and consistently high standards of academic achievement.
Provide students with assistance to promote success.
Provide and maintain an integrated, current, and consistent curriculum which meets the needs of student, graduate, faculty, consumer, and health care providers.
Maintain department protocols which promote student expression and participation in class and program governance.
Produce graduates who attain licensure and demonstrate entry-level competence in initial employment.
Remain current as a faculty in nursing practice and community issues, adult teaching and learning theory, and technological advances.
Foster in students and graduates a commitment to excellence in practice and continued learning.

Veterans applying to the Nursing Program may qualify for advanced placement.

Credit for Prior Education and Experience for Veteran Applicants (Required by the CA BRN)

SB466 (Hill, 2015) required the Board of Registered Nursing to adopt regulations requiring schools seeking approval to have a process to evaluate and grant credit, as defined, for military education and experience.

Click here to read the Veteran Admission Policy for Advanced Placement 2022.

The College of the Canyons Nursing Department is committed to diversity, equity, and inclusion. The diversity that students bring to COC Nursing is viewed as a powerful resource, bringing strength and insight, as our students prepare to be providers of professional nursing care to the diverse communities of patients and their loved ones that we are privileged to serve. We are committed to presenting materials and activities that are mindful of all forms of diversity including but not limited to: age, culture, disability, ethnicity, gender, gender identification, nationality, race, religious beliefs, sexuality, and socioeconomic status.

The Santa Clarita Community College District does not discriminate on the basis of ethnic groups, identity, religion, sex, age, color, national origin, marital status, mental disability or physical disability including persons with AIDS/ARC/HIV in any of its policies, procedure, or practices. This nondiscrimination statement covers admission and access to, and treatment and employment in, the District's programs, services and activities.