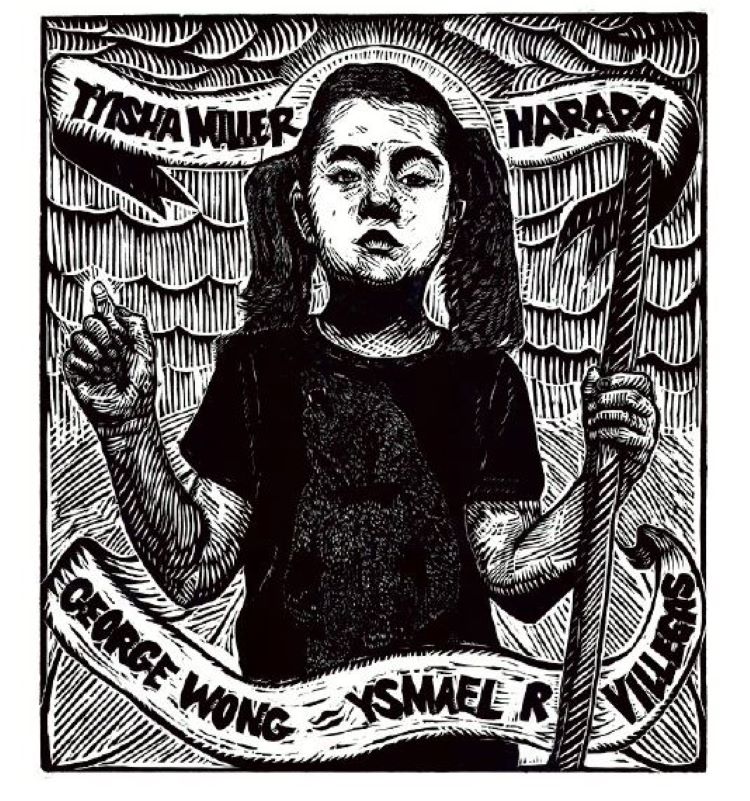 "My images, first carved on a linoleum or wood plate, then printed on paper or painted on a wall -- are the result of a learning process that began in the printmaking workshops/talleres in Oaxaca. I was educated primarily in traditional techniques like lithography, woodcarving and drawing. During this period, I found that using the portrait as my subject was a way to communicate with others.

In 2010, I left Oaxaca and I moved to California. My artwork then used relief printing as a way to talk about my new home, life in the US, and as a way to find myself in this country.

Representing my surroundings and creating portraits is both challenging and compelling to me. Portraits have become portals -- allowing me to tell stories and try to find my language as an artist. Every portrait that I have carved or drawn tells a story of struggle, hope, highways, cities, animals, houses, protest, signs, injustice, malls, or even pre-Hispanic glyphs. The power to exist between two cultures was no longer my goal; my purpose is now to create a third world, with other possibilities within my images and production.

These images are a reminder of where I come from and pay homage to culture and tradition, in a contemporary way. I let the faces inhabit new stories of struggle and perseverance, which exist among many others that have to be told." -- Pável Acevedo


Born in Oaxaca and living in Riverside, CA, Acevedo typifies a new generation of contemporary Mexican artists telling powerful visual stories about Latino identity, personal experiences, American culture and the ever-changing socio-political environment of Southern California. Acevedo studied at the Rufino Tamayo Plastic Arts Workshop in Oaxaca City and La Escuela de Bellas Artes of Oaxaca, where he worked with artists Shinzaburo Takeda, Raul Herrera, Isis Rodriguez, Marietta Bernstorff, Inma Coll and Elvia Esparza. He also assisted in the studios of Demian Flores (Taller Grafica Actual) and Alejandro Santiago (Taller la Huella). Acevedo has exhibited extensively at venues throughout Mexico and the United States including: Casa de la Ciudad Oaxaca (MX); Museo de Los Pintores Oaxaquenos (MX); Arte Cocodrilo (MX); Riverside Art Museum (US); Mission Cultural Center (US), Museum of Art El Paso (US); The Mexico-Arte Museum (US); Comalito Collective (US); Kala Art Institute (US); Self Help Graphics & Art (US).
COC Art Gallery's Artist-in-Residence 2018

The COC Art Gallery launched an ambitious program in 2018 – an Artist-in-Residence Program that brings a prominent artist for a weeklong stay on campus, where the artist interacts closely with students, faculty, and the larger campus community. In addition to his solo exhibition in the COC Art Gallery, Pável Acevedo spent October 1 – 11, 2018 on campus, during which time he shared his expertise with COC students through a relief printing workshop, public lectures in English and Spanish, and working directly with COC students in the in the Art Gallery.

Inland Empire was curated by Pamela Bailey Lewis. The COC Artist-in-Residence Program was made possible by the support of the Visual Art and Modern Languages Departments, the Associated Students, Speedball Ink, and the COC Foundation's Patrons of the Arts.

Pável Acevedo: Inland Empire

October 8 - November 29, 2018
Artist's Talk & Reception: Thursday, October 11th
Artist Talk: 4:30pm
Reception: 5:30 – 8:00pm
Pável Acevedo explores the political and personal effects of migration, immigration, borders, and the duality many immigrants contend with after leaving their homeland for a new nation. He melds elements of Mexican mural painting, printmaking, and classical drawing with symbols and pre-Hispanic imagery from the codex. With Inland Empire, Acevedo confronts issues of housing, displacement, and migration and explores what it means -- metaphorically and practically -- to reside on the outskirts, to commute between cultures, to live in an inconclusive state between families and between lands.