Select the "Agenda" tab (on the right-side of the below Calendar) for an overview of what's taking place this week, and for the links to join online.
Online Education Workshops to Support Distance Education Instruction October 19 - October 23, 2020
Online Education Drop-in Office Hours
During these online open-office hours, drop in with your questions relating to orientation letters,
online course design, online teaching and assessment strategies, Canvas tools, Zoom, and
more! Collaborate with colleagues, get your questions answered, and explore best practices.
Monday, October 19, 4:00 pm - 5:00 pm
Tuesday, October 20, 2:00 pm - 3:00 pm
Wednesday, October 21, 11:00 am - 12:00 pm
Thursday, October 22, 5:00 pm - 6:00 pm
Friday, October 23, 1:00 pm - 2:00 pm
Introduce Yourself to Your Prospective Students with an Orientation Letter! – for Beginner Users
When students look to register for a Winter class at COC, they will be directed to visit the Online Education Orientation Letter webpage. Orientation Letters are written by instructors to help students understand course requirements, anticipate the time commitment, prepare for any necessary hardware / software they need to have or purchase, and plan for any mandatory online meetings they need to attend. Join us for this 30-minute workshop, where we'll discuss the top tips for writing an effective letter, and walk through how to submit your letter utilizing the Orientation Letter Form.
Tuesday, October 20, 5:00 pm - 5:30 pm
Wednesday, October 21, 1:00 pm - 1:30 pm
Friday, October 23, 11:00 am - 11:30 am
Grading in Canvas
Explore the Canvas Gradebook features, tools, and settings. Learn best practices for rubrics and assignment groups, and how to use the Speedgrader to view, evaluate, and provide feedback on student submissions.
Examining and Mitigating Implicit Bias
(External): Reflecting on our own implicit biases is especially important for educators because our biases can impact the actions and decisions we make in both our online and face-to-face courses. In this webinar, featured faculty will discuss processes for reflecting on our own implicit biases, as well as strategies for mitigating the impact of implicit bias in our teaching practice. Presented by the Association of College and University Educators (ACUE).
---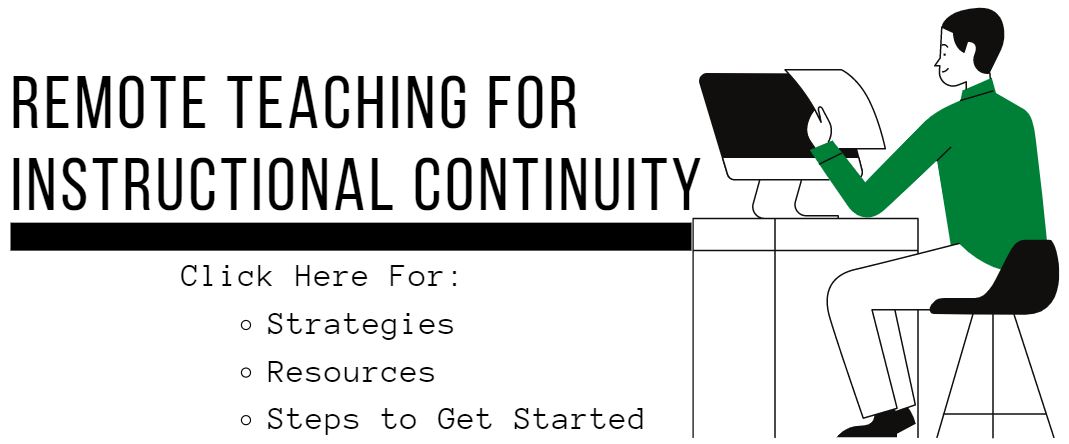 Resources for Instructional Continuity
Instructional, Student Services, and Shared College Resources