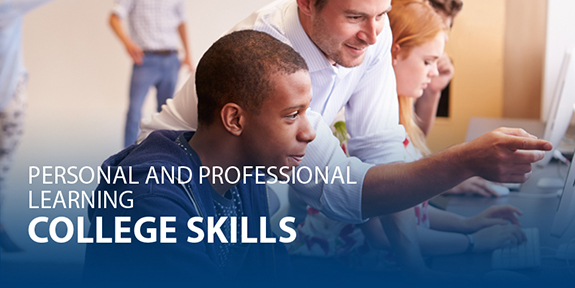 The college skills courses cover topics that will positively impact students' ability to succeed in their academic coursework.


Course Information
NC.COUN 010 Career Exploration: Provides students with career exploration techniques. Emphasis is placed on selecting a career based on self-examination of interests, values, abilities, and personality through assessment inventories, skill exercises, and career research.
NC.COUN 030 Distance Learning and Strategies for Success: Introduces the practical strategies and skills necessary to succeed in distance education. Students will learn how to anticipate, avoid, and/or solve typical problems encountered in the distance learning environments.
NC.ENGL 021 Basic Writing and Reading Skills: Utilizes active reading strategies to develop critical reading skills. Develops critical writing skills by composing well-organized, unified, and coherent essays.
| | | | | | | | | |
| --- | --- | --- | --- | --- | --- | --- | --- | --- |
| COURSE | SECTION # | TITLE | INSTRUCTOR | FORMAT | DAYS | TIMES | DATES | ROOM |
| NC.COUN-010 | 47695 | Career Exploration | STAFF | ONLINE | Tu Th | 6:30PM to 8:15PM | 04/14/20 to 05/14/20 | ONLINE |
| NC.COUN-030 | 47600 | Dist Learn & Strats for Succes | Richter, Christy M | ONLINE | | | 05/04/20 to 06/04/20 | ONLINE |