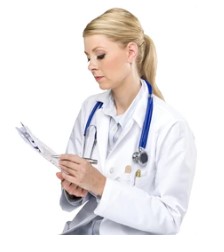 Medical Scribe Certificate of Completion
A Medical Scribe serves as the assistant to the physician, performing documentation of patient visits using electronic medical records. This program was designed to provide students with employability skills in the healthcare field.
HLTH-249 Presents a comprehensive study of medical terminology, emphasizing determining meanings by dividing words into their component parts. Basic anatomy and physiology are discussed. Correct spelling, pronunciation and meaning of common medical terms related to individual body systems, clinical procedures, laboratory tests and pathological conditions are covered.
HLTH-250 Provides students with hands-on training to gain knowledge, skills, and abilities needed for entry-level employment as medical scribes in specialty clinics and hospitals where they collect the needed records in real-time. Prepares Medical Scribes to document visit details such as symptoms, case history, diagnostic tests, medications, and other records in an electronic medical record platform. It is recommended that students type at least 35 words per minute.
For Questions Call 661-362-3304 or email PPL@canyons.edu